Time & Date:
June 16, 2006 @ 11:40 pm
Categories:
This college coed's nipple slip has been floating around cyberspace for quite a while now, so you have seen it already. I posted it because it's still a great nip slip, and on a drunk college cutie. It looks like the ole strap-slips-off-the-shoulder slip, which is actually probably the most common form of nipple slipage.
I have a buddy that was actually at this very party, where this photo was taken. I believe he even knows most of these girls, and that includes the dude be-bopping in the background. It all took place several years ago, at a wild frat party, at Indiana University, also known as one of the top party schools, in the U.S. This group of drunken hussies all belong to the same sorority, from what I remember, and one of one of them happened to get caught slipping.
Free Sites:
Drunk Galleries / Stile Project / Amateur Made Videos
Sponsored By:
Wild College Parties
Time & Date:
June 12, 2006 @ 1:17 am
Categories:
Don't you just love it when cute college coeds, desperate for attention, get shitfaced drunk? This is what happens! They start playing around with eachother and start getting some male attention, which leads to kissing, then partial nudity and finally, an all-out drunken lesbian lick fest, right there, on the coffee table! Not to mention that every dude at the party are crowding around them getting very horny, and egging them on to take things further.
These two drunk coed cuties appear to be taking their lesbo show pretty far. There's not much more they can do besides get completely naked and possibly, maybe even a little bit of some sixty-nine action, and if you're lucky; double-dildo, ass-to-ass, fuck show action! But I think they'd have to be REALLY drunk to let it go that far, and in front of a group of dudes, all snapping pics with their cell phones.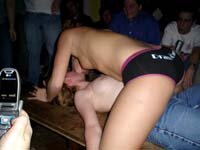 Free Sites:
Rate Nude Girls / Exhibitionism / Home Teen Series
Sponsored By:
Frat Party Fuck Fest
Time & Date:
June 7, 2006 @ 3:29 am
Categories:
This poor girl in white. When she saw these pictures of her and her friend, she was probably thinking, "Damn blonde bitch! She stole my thunder again!" Someone was finally giving her attention by taking a her picture, while the whole time, her drunk-ass girlfriend in the background, is letting her bare boob hang out. Oh well, I guess she's going to have to expose her tits the next time, to stay in the competition.
This titty slip is obviously accidental. It looks like it's the ole strap-slips-off-the-shoulder slip, which can very easily happen to any woman, busty or flat-chested. They have nipple tape, you'd think they would have something to keep their shoulder straps on, too. Of course, I don't want to give any women any bright ideas about making their boobs less visible. Judging by the expression of the dude sitting next to her, I'd say he would agree with me.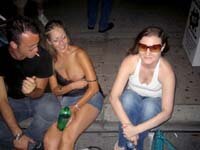 Free Sites:
Uncensored Drunks / Home Made Videos / Teen Rave Pics
Sponsored By:
Real College Girls
Time & Date:
June 5, 2006 @ 9:20 pm
Categories:
These drunk party girls are dressed a bit too hip to be at your regular, everyday house party. My guess is that this is some sort of after-hours or primer party, for a bunch of wild clubbers. They are already looking a little on the 'wasted' side, so I'm sure they already had a long night of partying, before this photo.
It appears a few buttons have popped open on this perky-breasted, braless blonde. I do like it when women wear tight fitting shirts with a few buttons undone, but I never have see that style with this much flesh showing. I'm not complaining, though! I'll take it where I can get it.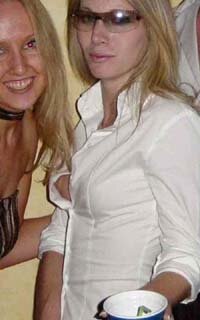 Free Sites:
Rate Nude Girls / Exhibitonism / Stile Project
Sponsored By:
Hardcore Partying
Time & Date:
June 3, 2006 @ 6:33 pm
Categories:
I love it when I'm at some wild party and a couple of the drunk hotties are so far gone that they're already becoming lesbians, for all the male attention. I've had a few crazy bashes, where some of the girls actually go as far as having full blown sex with eachother! It's beautiful! The only problem is, that you better make sure you have a woman around , because you're going to be so horny after that, that you'll have no other choice, but to bust a nut anyway you can. If you're really lucky, maybe one of the drunk lesbos will be so horny that they just MUST have you right then and there! That's wishful thinking, of course.
In this photo, it's actually the nipple sucker, rather than the suckee, that's slipping her nipple, as she's bending down to suck on her girlfriend's nipple/titty during some drunken revelry. If you notice in the background, that there's a lot of booze bottlews, and what looks to be a group of drunk and horny frat dudes, cheering the girls on. A typical scene during some of the wildest parties you will ever see.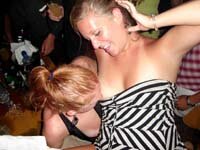 Free Sites:
Drunk University Girls / Sexy, Drunk & Funny / Drunk College Pics
Sponsored By:
Wild College Parties
Time & Date:
May 22, 2006 @ 3:14 am
Categories:
At first, I was going to say that this party girl was a bit more sophisticated than what we usually see here, but when a woman wears an open blouse, she's even more susceptible to a nipple slip than most. And how I could I really say that this one's classier when her nip has slipped out into the public, like all the rest? I just can't. I won't!
It appears that both this blonde party gal and her boyfriend have a thing for showing off their chests. Like, "Hey! Look at me!" The only difference is that with her, it's hot; with him, it's not. Although she obviously had a boob job to make her little tits, that perky, but she still have a nice set of torpedos on her, nonetheless.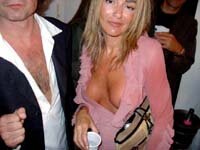 Free Sites:
Uncensored Drunks / Home Teen Series / Teen Rave Pics
Sponsored By:
Candid Crush
Time & Date:
May 13, 2006 @ 11:43 pm
Categories:
Yummy! This drunk coed is a cutie! I don't know what kind of dress she's wearing, but it accentuates her hot, little bod. Judging by her friend's t-shirt showing "The Shocker", my imagination is running wild with what those two may be up to later on that night.
I don't know if it was intentional to wear her bra as a top (like Sue Ellen Mishky), or if she somehow lost her top during her drunken stupor, but it looks like she's about to loose her bra, too! *fingers crossed* Judging by her cleavage and her dark brown areolas/nipples becoming visible as her bra slips down her little body further, I'd say she's got a very nice rack behind that lycra.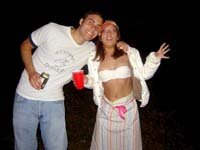 Free Sites:
Drunk University Girls / Dumpster Sluts / Peep Hole Cams
Sponsored By:
Frat Party Fuck Fest
Time & Date:
May 10, 2006 @ 8:21 pm
Categories:
There's always been something I've loved about sorority girls. I think it's the idea of so many young, naive girls in one place, together; having cocktails, getting drunk, talking about dick-size, then having a pillow fight in their skimpy nighties and it all ends in a sweaty heap of naked, lesbian lust. That is, of course, until the men arrive, where they have the task of satisfying all those horny coeds. A man's job is never done, is it?
It never hurt anyone to have an active imagination. Of course, I'm sure none of those things happen in a sorority house. They're girls. They're made of sugar, spice and everything nice. But not men. When we see an opportunity to catch a downblouse shot of a drunk sorority girl's tit/nip slip, we're going to take it, and maybe even exploit it, if possible. It's a good thing for booze or we may never get to see girls exposing themselves, accidentally or not.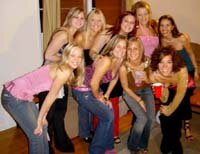 Free Sites:
Drunk Galleries / Viva Voyeur / Drunk College Pics
Sponsored By:
Wild College Parties
Time & Date:
May 7, 2006 @ 3:28 am
Categories:
I still don't understand why a woman would want to attempt a kegstand, except to be accepted as, "one of the guys". It's laughable, really. In just about every photo I've seen of a girl attemtping a kegstand, either her boobs have popped-out or they are about to; or it's just a complete disaster one way or another. Maybe that's why dudes talk them into it, to sneak a peek at their unprotected boobies.
This college girl's attempt at a kegstand is even funnier, because she has a dress on. I'm assuming that it's not going to work-out in her favor with her wearing a dress and her big, natural jugs are about to swing free from her bra, but if that crowd was lucky, it worked out well for the dudes.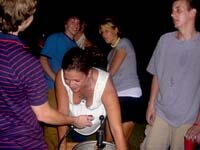 Free Sites:
Drunk Galleries / Peep Hole Cams / Sexy, Drunk & Funny
Sponsored By:
Real College Girls
Time & Date:
May 4, 2006 @ 2:04 pm
Categories:
I've seen plenty of nip slips over my life, but I discovered there is one way to see a nipple slip if you really, really want to. That's right! Just pull down an unsuspecting girl's top, and see for yourself. If you're lucky, you won't even get sprayed with pepper-spray, or socked right in the kisser. It reminds me of when I would be working my way through a crowded bar/club. If I was walking behind a buddy of mine, I would reach in front of him and grab a chick's ass, making it look like he was the pompous pervert with no shame. Watching a woman beat the shit of them, when they didn't know what the hell was going on, was always a good laugh.

Apparently, this college party girl isn't drunk enough yet, to be exposing her titties to the public, but it looks like the guy forcing her nipples to be exposed, already is drunk. As another hand in the photo is pointing out, her nipple is just about to slip completely out. We didn't catch the whole thing, but we do have some nipple/areola. She doesn't look too upset about it, so if she's fed a few more beers she'll probably be ready to take on the whole party.
Free Sites:
Drunk University Girls / Exhibitionism / Sexy, Drunk & Funny
Sponsored By:
Hardcore Partying
« Previous Page | Next Page »