Time & Date:
October 27, 2005 @ 3:31 pm
Categories:
Unfortunately, I've never had the pleasure of involving female nipples when doing shots of tequilla. Actually, I can't believe I've never even thought of it. I mean, I've snorted rails off girls' tits and even their ass, but the idea of a nipple involved in a tequilla shot never crossed my mind.
Evidently, these college coeds know how to one-up me by taking their shots into their own hands and added some very nice, erect nipples into the mix. It's even better knowing that this is at least two chicks. I always thought girls got into their nighties and had a pillow fight when they were alone together. I like this generation better. Where girls get drunk and sexual with eachother when men aren't around. My fantasies have finally been proven as truth!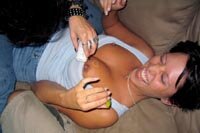 Free Sites:
Drunk Galleries / Amateur Photo Album / Drunk College Pics
Sponsored By:
Wild College Parties
Time & Date:
@ 8:57 am
Categories:
To be honest with you, I'm not sure if this is a woman or a man. She kind of has one of them freaky, transvestite-looking faces. In fact, if it weren't for that huge rack about to bust out of that top, I might have originally thougt it was a man. But, who the hell am I to judge?
Maybe I should have been a bit nicer, because the rest of her looks to be all woman. It's always tough to tell what kind of rack a girl is smuggling when they wear tops like that. Their tits are all scrunched together and pushed up. Of course, it works out nicely from a man's point of view, because we get a peek at nice nipple/areola slips such as this. Can you imagine a man having to do that to his balls!? Yikes! It's good to be a man.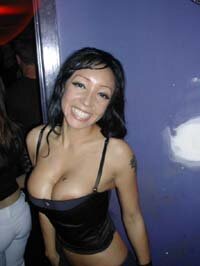 Free Sites:
Viva Voyeur / Extra Long Nipples / Drunk & Slutty
Sponsored By:
Drunk Girls
Time & Date:
October 26, 2005 @ 10:06 am
Categories:
This goes to show that nipple slips doesn't just target young babes, in skimpy clothing, dressed like street-hookers. This woman appears to be a classy and well put-together lady (with great jugs!), and a little alcohol just brought the nipple out of her top.
She looks like she's being dipped, which I'm sure added to the slipping possibilities. Maybe if someone wasn't copping-a-feel, she may have had a full-on titty slip on her hands. I guess I would have taken a feel over a boob slip too, but the groper should have thought about the rest of us, dammit!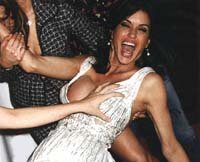 Free Sites:
Uncensored Girlfriends / Dumpster Sluts / Amateurs Gone Wild
Sponsored By:
Drunk Girls' Night Out
Time & Date:
@ 7:27 am
Categories:
Personally, I've never been a big Paris fan, nor a fan of the Hilton Sisters in general. I think Paris is kinda ugly, to be honest. She's just sexy as hell and that makes up for her looks. Though, I did see her sex tape and she has a great pair of titties and has the ability to 'suck the chrome off a trailer-hitch'. Her sister, Nicky, I have always thought to be much cuter and less of a slut.
I guess showing-off your tits runs in the family, though, because we have Nicky almost more revealing than Paris in this one! I just read somewhere where they were asking, why does Paris even bother to wear a top anymore? In fact, I think she should just continue to make home sex tapes and then peddle them on the Net and DVDs. I believe Paris' "One Night in Paris" is one of the top selling adult DVDs. Paris Hilton probably would actually have a better chance at a career with just shooting porn for the rest of her life…or until her looks fade.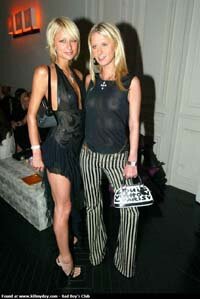 Free Sites:
Celebrity Nipples / Nude Celebrity Post / Celeb Nip Slips
Sponsored By:
Paparazzi Filth Exposed
(May Contain Pop-Up)
Time & Date:
October 25, 2005 @ 5:33 pm
Categories:
You know you've spotted a couple of wild ones when you see two girls like this. If they're trying to draw attention, I think it's working. I don't think even other women can ignore this, not to mention the plethora of drunk, horny men that will be following them around for the rest of the night. I already noticed some dude is checking out the girl-in-black's ass as she flashes her pretty, little titty.
Is this how women drink for free?.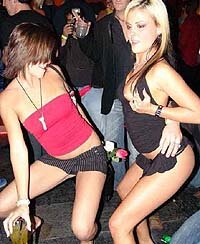 Free Sites:
Teen Rave Pictures / Amateur Album / Nude Club Pics
Sponsored By:
Public Exposure
Time & Date:
@ 5:24 am
Categories:
There's not too many downblouse shots at this angle. The photographer must have been standing on something, but who the hell cares, right!? There's an inadvertently exposed nipple on some drunk, cluless girl, and that's all that matters here!
You really have to look closely on this nipple slip, but I promise, it's there. Just take a peek down the blouse of the girl in white earrings and you should spot it. I'm not 100% sure, but it also appears that her friend has just spotted the nipple slip.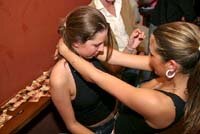 Free Sites:
Drunk Galleries / Extra Long Nipples / Accidental Voyeur
Sponsored By:
Fucking Drunk Girls
Time & Date:
October 24, 2005 @ 3:53 am
Categories:
Now, I wonder why I never get this lucky to catch a full-on boob slip like this, where the whole titty pops out of their top or dress, or whatever? Especially, when it's a smoking hot blonde, in public and so completely wasted that she doesn't even realize she's giving us all one hell of a show!
I'm not exactly sure what she's doing in this picture, but she looks tanked and just swaying back and forth, with her cocktail in her hand. She's completely oblivious at this point, as to how much boob she's exposing. And if you look closely, it looks like there are someone's hands reaching up her skirt. Maybe she's one of those types of girls that when they get really drunk, then suddenly become a free-for-all for horny men. Those types of girls are a lot of fun!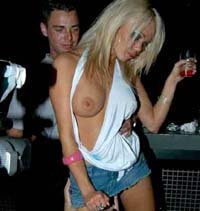 Free Sites:
Uncensored Drunks / Peep Hole Cams / Home Made Videos
Sponsored By:
Wild Club Videos
Time & Date:
@ 3:21 am
Categories:
Time & Date:
October 23, 2005 @ 11:27 pm
Categories:
I like the idea of a hot babe being passed-out, drunk in my presence. I would never actually do anything to her, but just the thought of it is hot. Then when you throw in some accidental nudity into the mix. Forget about it! I would have to cover the nudity up or I would be going out of my mind with temptation.
This shit-faced, drunk chick appears to have a pretty nice rack from this angle. It almost looks like the photographer of this photo might have even propped-up her blouse somehow to get a clear shot of her boob slip. Either way, this is a beautiful nipple/boob slip on a perfect unsuspecting victim.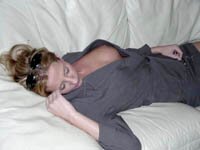 Free Sites:
Viva Voyeur / Dumpster Sluts / Sleeping Sex
Sponsored By:
Dead Drunk Girls
Time & Date:
@ 5:10 am
Categories:
I wish more girls would flash their hot ass these days. Especially when it's an ass as hot and sexy as this one! I also really appreciate the slight glimpse of her beautiful meat-flaps
I'm still amazed by the number of girls that do not wear any panties under their short skirts. I'm learning it's a fairly common thing that women do. Now I imagine all of the gorgeous women I have met or talked to, wearning no panites underneath their skirts. How sexy is that!? Just wrap those legs around my neck, baby and I'll do the rest!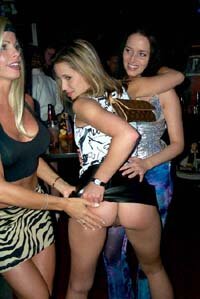 Free Sites:
Amateurs Gone Wild / Teen Rave Pictures / Night Club Galleries
Sponsored By:
Crazy Club Flashers
« Previous Page | Next Page »