Time & Date:
April 6, 2006 @ 1:10 am
Categories:
Ok, she's probably not drunk in this photo. I like to push the drunk and careless factor of naughty party girls, but every once in a while I come across a non-drunk nipple slip that I just can't pass up. This just so happens to be one of those times. I'm sure you can see by now, that this is a beautiful nip slip. It looks like when she was pulling her shirt off, her big natural boobies sprung out of her bikini top. Very nice!
I've never actually been to a bikini car wash. I live in the city, so you really don't see that sort of thing here. Judging by this photo, it appears that they're everthing I ever dreamed it would be; or at least it has the potential to turn into everything I ever dreamed. Except in my dream, all the bikini-clad girls are naked, and they're not cleaning my car, they're cleaning my rod…followed by a wax and polish, and maybe even a buff.
Free Sites:
Rate Nude Coeds / Drunk University / Home Made Videos
Sponsored By:
Candid Amateurs
Time & Date:
April 5, 2006 @ 9:12 pm
Categories:
This is what I like to see! You always know that the party is heading in the right direction when you have a few drunk coed cuties, naked in your motel room. Somewhere through-out the night, you did the right things, or made the right moves to get drunk girls, willing to get completely naked in your room. And not just one, but at least, two.
The only thing I can think of, as to why everyone's naked in this photo, is either strip poker (or some sort of drinking game) or it's one of those parties of drunken debauchery. I like to think of it as the latter, since drunken sex orgies sounds way hotter. The kind of get-togethers that I've always been a big fan of.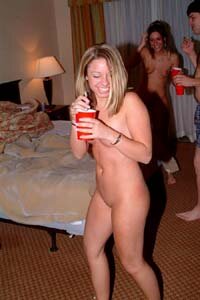 Free Sites:
Dumpster Sluts / My Drunk Girls / Drunk College Pics
Sponsored By:
Spring Break Sex Adventures
Time & Date:
April 4, 2006 @ 3:44 pm
Categories:
I've always liked going to costume parties. It's kind of fun to dress up in a costume and be someone else for the night. I don't think you'd catch me dressing like one of the Village People, like the fruitloops below, but I usually dress up like something, or another. Plus, a lot of times, that's like a green light for girls to dress half-naked and like a slut, which always makes attending the party worth it to some degree. Especially, if you can finish getting her all-the-way naked.

This nipple slip looks like she's a victim of a loose clothing and small tits. If she made the costume, or rented it, it probably didn't fit right to begin with. She probably took a gamble, by wearing that loose-fitting costume, and once the alcohol started flowing, she lost that gamble. As a result, we get to see Pocahontas' nipple make itself visible.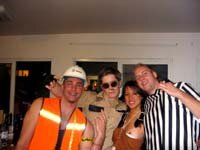 Free Sites:
Uncensored Drunks / Peep Hole Cams / Drunk Video
Sponsored By:
Drunk Girls
Time & Date:
April 3, 2006 @ 10:13 pm
Categories:
Sometimes I really miss those good ol' college days, with the wild parties, the easy girls and all around drunken revelry. I was always one of them guys that you would see at every party, every bar, every night club, ingesting some sort of scooby snacks or buying a round of drinks for everyone. Not only that, but my roommates and I always were the ones throwing huge after-hours parties. Gorgeous wasted women everywhere, and always giving special 'attention' to the host(s).
Evidently, this is one of them theme-parties, where the idea is to dres up in certain kinds of costumes, depending on the theme, of course. Some of the more popular themes I've heard of, are: Pimps & Hos, Underwear, Pornstars, etc. All of which I'm sure men, or fraternities, have come up with as an excuse to get as many half-naked (or almost naked) women to a party, and get them drunk as hell. Which, in opinion, is one hell of an idea. Create an atmosphere where it's required for good college girls to dress like a slut, get shitfaced and it's all completely accepted. This drunk coed got a little wild and carried away when jumping into this guy's arms, and let her nipple/titty slip out a bit, while giving us a beautiful downblouse peek. Perhaps a 'Pormstar' party?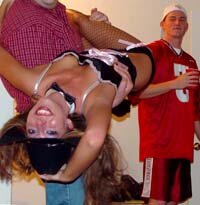 Free Sites:
Dumpster Sluts / Drunk University / Stile Project
Sponsored By:
Wild College Parties
Time & Date:
March 29, 2006 @ 3:49 pm
Categories:
I love a girl with a nice, meaty ass. Something you can really grab and hold on to. In my experiences, women just love when a man grabs a good hold of each one of her ass cheeks, like he owns them. At least during the throws of passion. You might have a problem if you try that on the street with a strange woman.
This looks like an all-girl drink fest. A little get-together with the girls in their dormitory, or even perhaps, their sorority. Either way, I would've liked to be peeping in on this party! Especially, if this drunk college girl flashing her sexy, little ass, is just a preview of what's really going on in all-girl dorm rooms!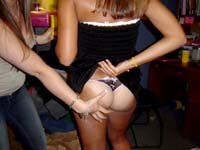 Free Sites:
Drunk Galleries / Dumpster Sluts / Beer Bong Coeds
Sponsored By:
Candid City
Time & Date:
March 28, 2006 @ 4:55 pm
Categories:
I just love a couple of drunk and wild girls, without a care in the world, who just decide to walk around topless, drink beer and be merry. Plus, a girl who walks around topless, in America, at least, is a pretty good sign of her character, and better yet, her sexual restrain. In other words, with a couple of drunk coeds, like these two, you have a pretty good chance that they are going to be easy.

In a way, this is kind of the opposite of a nipple slip. As you can see, only their nipples are covered by the Playboy insignia, while they are both completely topless in public. Apparently, if a woman's nipple isn't visible, she can let her tits bounce and jiggle as freely as they want. Like, when girl paint their nude bodies. They can walk around nude and/or topless in public, and it's consider acceptable. In some places, at least. I don't see that happening anywhere along the Bible Belt.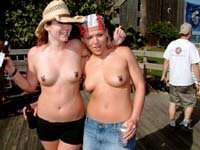 Free Sites:
Rate Nude Girls / Home Made Videos / Stile Project
Sponsored By:
Girls Gone Wild
..:: Official Web Site
Time & Date:
March 24, 2006 @ 3:41 pm
Categories:
Another case when nipples easily slip out, into the public, is when girls where them tube tops. They're always great for accentuating a girl's huge boobs and really show off what they're packing. I used to live with a stripper and her and all her stripper friends, with big fake tits, always wore those tube tops. They were always so tight, you could clearly see their nipples poking through the material. I'm not a fan of boob jobs, but, day-yum they looked hot!
When I first saw this photo, I thought the drunk coed licking her nip, had pulled down her girlfriend's top in order to tongue her nipple. Upon further inspection, her nipple has clearly slipped out of her tube top, accidentally. Obviously, at least the lesbo licker knew her friend's nipple was visible, but I'm not sure if the slipee actually knows. Of course, for a careless drunk coed, partying hard, a nipple slip is almost a rite of passage.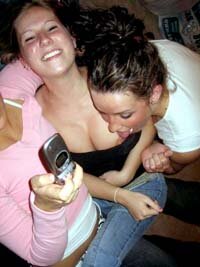 Free Sites:
Drunk Galleries / Teen Rave Pictures / Drunk College Pics
Sponsored By:
Wild College Parties
Time & Date:
March 23, 2006 @ 10:03 pm
Categories:
First off, I must say, judging by the talent in this photo, I really wish I were at this toga party! They're giving me a boner without being naked at all. Of course, that nipple in the upper left corner, does help the erection process. But, imagine being caught in the mix with this group of drunk coeds. As cliche as it is, I'd be like a kid in a candy store!
I'm not sure how this college girl's nipple/titty slipped out of her top, because I can't tell if it's toga or if she's just wearing some sort of cut-off t-shirt. I can easily see her titty slipping out the side of her toga. In fact, I believe I've see it many times before, but it does kind of look like it's nothing more than a ripped dego-tee, with her titty popping out. Either way, we have a beautiful nipple/titty slip.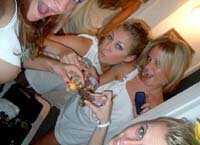 Free Sites:
Home Made Videos / Peep Hole Cams / Amateur Voyeur
Sponsored By:
Frat Party Fuck Fest
Time & Date:
March 22, 2006 @ 10:42 pm
Categories:
I can't decide if I'd rather have one of these drunk coeds sitting on my shoulders with their legs wrapped around my neck, or watching girls grabbing and titties slipping out, from a distance. I wouldn't mind having either one of them wrap their legs around my neck, but I'd much rather have their clothes off when I do that. So, catching an eyeful is just fine with me.
I didn't realize people still had chicken fights (at least that's what they were called where I come from) these days. I've been noticing a lot of chicken fighting on the college circuit, so apparently it's become another great drinking game, so as long as it's only the ladies. No one cares about a couple of dudes doing this, besides maybe the guys involved.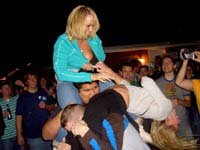 Free Sites:
Drunk Galleries / Dumpster Sluts / My Drunk Teens
Sponsored By:
Girls Get Crazy
Time & Date:
@ 12:21 am
Categories:
As much as I would love to believe that these two drunk coeds' string-bikinis just suddenly came untied in public, I know that they purposely untied their own bikinis. They haven't started flashing those college titties yet, so in my book, this is still a nipple slip. These two party girls just made it very easy for their nipples to appear, is all.
I can tell by the background that all eyes are on these two, so I'm assuming they're about to put on one hell of a drunken, dancing titty show for the whole crowd. We just happened to catch them pre-nude. Judging by the exposed portion of these girls, I'd say the crowd is about to get a nice eyeful of drunk college girl nudity.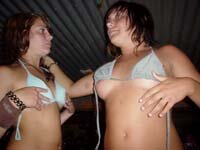 Free Sites:
Uncensored Drunks / Peep Hole Cams / Drunk College Pics
Sponsored By:
Girls Gone Wild
..:: Official Web Site
« Previous Page | Next Page »