Time & Date:
December 27, 2005 @ 6:49 am
Categories:
Ok, so I was originally going to post this on Christmas Eve, but I procrastinated on my my shopping and I figured I better get a move-on before it's too late. So, 3 days later I finally get to it. A little late, but it's still the 'holidays', so Santa is still in the mix.
It looks like this party girl lost her strap over her shoulder, resulting in a very nice titty/nipple slip. It looks like she's in lingerie already, so she was already dressing provactive. When I first saw this photo, I got this image in my head of what Santa does after he delivers all them toys in a 24 hour period. I figure, he's a man and he probably does what men do after a long-ass, hard day of work. We hit the titty bar for a few beers and some T & A before we go home to the wife, girlfriend, or whatever. Why wouldn't Santa do the same thing? He probably gets all FREE lap dances, not to mention that everyone wants to sit on his lap anyway, and when it's beautiful, naked women they can just talk about the first thing that comes 'up'.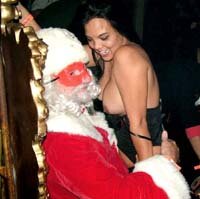 Free Sites:
Viva Voyeur / Exhibitionism / Home Made Videos
Sponsored By:
Hardcore Partying
Time & Date:
December 24, 2005 @ 2:28 am
Categories:
I can't seem to figure out if this wasted club girl's top slipped down, exposing both of her bare tits, accidentally. The guy just saw his opportunity and took it. Or maybe, this horny dude came up behind her and yanked down her top and started feeling her up. A stealth-move of sorts, where you can skip all the getting-to-know-you bullshit, and just go for what you're really after. Or perhaps, she's very horny and needed some sexual healing immediately, blocked out the people and public, and asked this dude to get to work on her tiny boobies right away.
Since her blouse is down, instead of the usual lifting their shirt to flash their tits, I'm going to guess it's somehow accidental. She also looks a bit surprised that her tits are suddenly getting an unexpected cool breeze of fresh air, and warm hands are cupping her cute, little breasteses.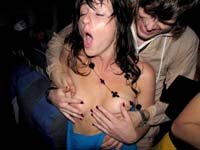 Free Sites:
Uncensored Drunks / Peep Hole Cams / Amateur Voyeurs
Sponsored By:
Sex In The VIP
Time & Date:
December 23, 2005 @ 5:13 pm
Categories:
Apparently, big, fake boobs also can not hold this style of blouse/dress closed. At least with this drunk party girl, because her tits are desperately trying to bust out of that top, and it's working. Either that, or we should be thanking the genius who came up with faulty nipple tape. He's made this world a better place. No sarcasm intended.
You have to look closely because of the horrible render job done by a previous party, but her nipple is slipping out of the blouse, loud and clear. I just wish I was at this party for ring-side seats to the nipple show.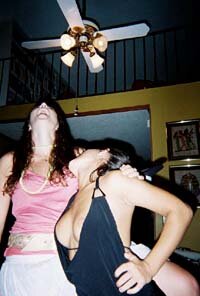 Free Sites:
Drunk Galleries / Amateur Album / Sexy, Drunk & Funny
Sponsored By:
Drunk Girls
Time & Date:
December 22, 2005 @ 5:32 pm
Categories:
This looks like my kinda party! Actually, any party where hot, young babes are only wearing bras and panties, and are drinking a lot of alcohol, is my kinda party. Especially, if I can pick-up a girl wearing rabbit ears. Can you imagine banging a chick while she's wearing rabbit ears? That would great! And hilarious at the same time.
I'm not sure what kind of party this is. Probably a costume party. It seems that chicks can dress super slutty on Halloween at get away with it, without being labeled a slut by the other girls. However, us guys know better, but we still like to see it. This drunk college coed seems to have left her bra a bit loose and is letting us get a glimpse downblouse, at a slight nip slip. Too bad she's not wasted enough to let it all come off.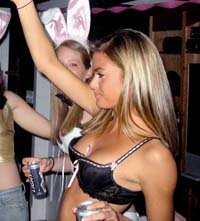 Free Sites:
Viva Voyeur / Teen Rave Pictures / Drunk College Pics
Sponsored By:
Wild College Parties
Time & Date:
@ 1:56 am
Categories:
These two wasted club girls look like a couple of hard partying babes! The type that likes it when you're snorting lines off her ass, then lets you stick it in her ass. I like those types of girls. They're a lot of fun.
Evidently, she's advertsing the goods, but accidentally let the cat out of the bag. And when I say 'cat', I mean her titty. And when I say 'out of the bag', I mean, her tity is slipping out of her loose blouse. It looks like she just realized what the photogrpher is taking a picture of, and tries to cover herself. The only problem is she's blocking the wrong boob. Well, actually it's the correct boob to be grabbing, for us. Otherwise, we wouldn't be able to see that big ol' natural titty, with the hard, erect nipple sticking out, totally expose in public.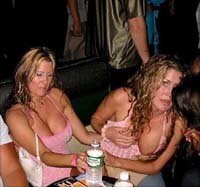 Free Sites:
Uncensored Drunks / Drunk Galleries / Max Nipples Pics
Sponsored By:
Wild Club Videos
Time & Date:
December 20, 2005 @ 3:34 pm
Categories:
It looks like these party people are dressed-up for Carnivale (no, not the TV show), or some sort of big celebration. I know the dudes aren't painted up for a football game or anything.
Luckily, we don't only see man nipples in this photo. The brunette can not seem to keep her boob in her dress and it's freely hanging out the side. She's completely clueless to the exposure of her tit and nipple too, which I just love!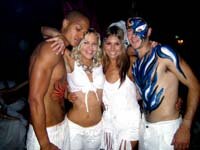 Free Sites:
Home Made Videos / Amateur Made Videos / Drunk Video
Sponsored By:
Crazy Party Girls
Time & Date:
December 19, 2005 @ 11:02 pm
Categories:
One thing I think is really sexy on a woman with a hot ass is that little tan line right under their ass cheeks. The part where the round of the ass just barely hangs over the top of their legs and inner thighs. I think that's way sexier than thong tan lines anyday of the week. Actually, I hate when chicks where them lowrise, hip-huggers just to show off their bikini/thong tan lines.
Of course, if there's a couple of beautiful, drunk club girls lifting their skirts and flashing their ass, I think I can make an exception.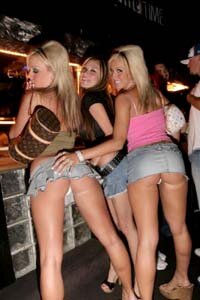 Free Sites:
Viva Voyeur / Peep Hole Cams / Night Club Galleries
Sponsored By:
Party Girl Upskirts
Time & Date:
@ 4:11 am
Categories:
Well, we definitely know that this titty/nipple slip is not accidental, yet it's not intended either. That's when option 'C' comes in; the forced titty slip. I usually see the forced slips of girls doing it to their girlfriends to be funny, but once in a while a super wasted girl will also think it's funny when some drunk, horny dude forces the slip.
Evidently, this is what we have here. Since these girls are average in looks, they probably don't mind as much the drunk, horny guy, wearing beer goggles, whipping out their tit, and what looks like trying to pinch her nipple in the process. All of this right in the middle of the crowded bar. Very nice. It looks like the guy picked the best pair of fun bags in the bunch to expose, as well.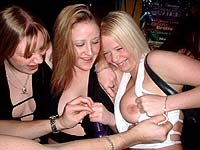 Free Sites:
Uncensored Drunks / Dumpster Sluts / Drunk Girl Galleries
Sponsored By:
Real Drunk Girls
Time & Date:
@ 12:06 am
Categories:
This girl might have slipped a nipple anyway, without her helping. The laces for her top are totally loose and untied, and the material looks kinda flimsy. But if a girl wants to help herself expose her tits, and flash her nipple in public, that's just fine with me.
I am very curious what she's pouring on herself. I'm also curious as to what she's got strapped around her head. It looks like it's some sort of leather BDSM device, which makes her a bit of a kinky girl.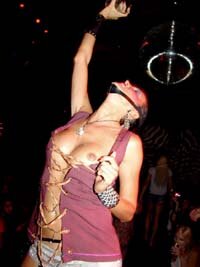 Free Sites:
Teen Rave Pictures / Home Made Videos / Hi-Rez Nips
Sponsored By:
Crazy Club Flashers
Time & Date:
December 17, 2005 @ 4:06 am
Categories:
In my experiences, limos make women horny. At least they make drunk and wasted women horny. If you hit the town in a limo and bring a few party girls back to do some partying in the back, you have a pretty good chance you're going to be getting some sort of action out of one of them. I guess it is kind of hot to do it in a limo. Even a blowjob is nice. Of course, those are always nice.

I can see how this drunk party girl could slip her nipple in this position. She has the perfect blouse for a slip, number one, and the angle she's leaning allows the weight of those natural boobies to slip right out of the side. That guy needs to pull her in towards him and plant his lips on those nips!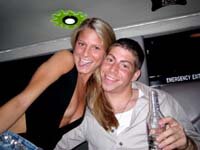 Free Sites:
Drunk Galleries / Rate Nude Girls / Downblouse.It
Sponsored By:
Easy Drunk Girls
« Previous Page | Next Page »