Time & Date:
July 2, 2007 @ 11:20 pm
Categories:
Isn't wonderful when girls get so drunk that they start getting naked in public? Or better yet, when the booze gets them so hot and horny that they need sex, and now, no matter where you're at. Ok, the latter is kind of a reach, but it isn't unheard of, and you can't blame a guy for dreaming.
I'm not 100% sure what exactly is going on in this photo, but one thing I DO know is that we have a couple of drunk and horny girls at a wild night club. Even though we only see one girl's nipple/boobs being exposed, it appears that they are both loosing their clothes, slowly, but surely. If their pants come down any further, they might not be wearing pants at all, which is even better! And it looks like there's a couple of guy lucky enough to be at the front line for the best chance of bringing one of them home. God bless drunk and immoral women!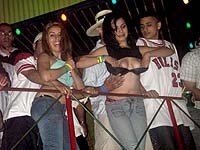 Free Sites:
Nipple Pics / Dumpster Sluts / Drunk Girls
Sponsored By:
Girls Gone Wild
Time & Date:
May 14, 2007 @ 11:53 pm
Categories:
When I was a regular at some of the hot night clubs, lots of women would flash their tits or flip-up the back of their dress, revealing a hot ass, outlined by thong panties. I'm sure the booze had a lot to do with it, but my point is that it doesn't matter what the setting is, if a girl wants to show off her body to the masses or privately, she's going to do it.
I don't usually post photos of girls willingly flashing their boobs, or any other part of their body for that matter. But since these drunk club girls are in a public setting and the one girl DOES have very nice boobs and even better nipples, I figured, "why the hell not." I just wish I was aware that wearing one bright red, fingerless glove was fashionable. And here, I've been walking around wearing no gloves at all, like some sort of chump.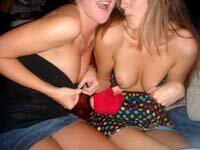 Free Sites:
Exhibitionism / Nipple Pics / Night Club Galleries
Sponsored By:
Club Girl Flashers
Time & Date:
February 1, 2007 @ 6:01 pm
Categories:
This is woman who needs no introduction. These days, Tara Reid is kind of a sorry excuse for a "celebrity", since she's now mostly famous for being stumbling drunk somewhere and accidentally exposing her tits or ass. In this photo, she's still looking pretty hot, so I'm not sure how long ago it was taken. Either she's recently cleaned herslef up, or this was taken before she became a lush.
Obviously, this photo is not your traditional nip slip, like we're used to seeing, but definitely inadvertently exposing her nipples to the public. Even though her original nip slip showed us all her jacked-up boobs, I still enjoy looking at them. After all, it's STILL Tara Reid's tits!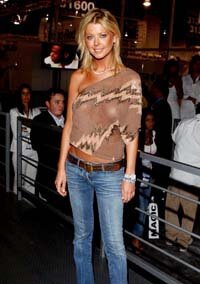 Free Sites:
Celebrity Nipples / Celebrity TGP / Real Celebrity Sluts
Sponsored By:
Mr. Skin's Nude Celebrities
Time & Date:
October 11, 2006 @ 3:24 am
Categories:
I never knew this chick's name until I ran across this nip slip pic of her. Devon Aoki is her name and I believe she got her start as a runway/magazine model. It must be her exotic, pouty and innocent looks mixed with sex appeal. I didn't notice Devon Aoki until I saw the movie, "Sin City" where she plays one of the bad ass hookers, towards the end of the film.
It turns out, Devon Aoki has been a several somewhat-known flicks out there, including "2 Fast 2 Furious" and the very stupid, "D.E.B.S.". Not exactly Oscar material, but it seems she likes to play the sexy, mysterious, bad ass, superheroine chick. She's petite, feminine and dainty yet she can easily take-out a group of muscle heads with only a few swift kicks, as they patiently wait their turn to attack her. Isn't Hollywood great!?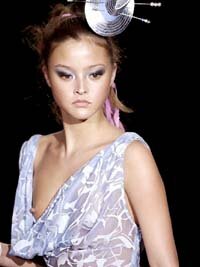 Free Sites:
Celebrity Nipples / Celebrity TGP / Real Celebrity Sluts
Sponsored By:
Paparazzi Filth Exposed
Time & Date:
October 4, 2006 @ 11:21 pm
Categories:
Oh man! I love this party girl's erect, perky nipples! That's one reason why I prefer smaller tits on women, because girls with tiny, little titties, usually have great nipples. Apparently, the exhibitionist in her leaves her completely comfortable being exposed in front of all those people.
Where a lot of women might be a bit shy about exposing their tiny tits to the public, this chick seems to be more than proud to be laying on her back, on a bar and topless, participating in body shots. Or maybe she's just completely drunk with zero inhibitions. Judging by her erect nipples, one might say that she's even a little turned-on by the whole event, but then again, she might just be laying underneath the air conditioning. Actually, I really don't care how or why her nipples are erect, I just wish I was there with my lips latched around them, right about now.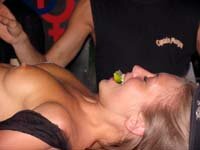 Free Sites:
Drunk Galleries / Platinum Voyeur Videos / Teen Rave Pics
Sponsored By:
Girls Gone Wild
..:: Official Web Site
Time & Date:
September 6, 2006 @ 3:10 pm
Categories:
Yes, I know this photo isn't of an actual nip slip, but drunk college cuties, showing off their boobs at a wild party ain't too shabby. That's one less hang-up a guy has to worry about, when trying to get into a drunk floozy's panties. If they're that willing to expose themselves in public, it shouldn't be too much of a problem to get the rest of their clothes off, in private.
These two drunk coeds don't look all that smashed yet, but if they're already getting naked in front of all the party people, just imagine how far they will be willing to go after a few more beers and the relentless encouragement to take things further, from all the drunk dudes.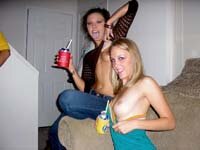 Free Sites:
Home Made Videos / Exhibtionism / Sexy, Drunk & Funny
Sponsored By:
Wild College Parties
Time & Date:
August 23, 2006 @ 1:20 am
Categories:
I know this isn't really a nipple slip, per se, but it IS a nipple exposed to the public, and who can argue with that? Especially when a woman is dressed as a dirty, little devil and makes a half-hearted attempt to cover her nipples/boobs. Personally, I think more women should wear tops (for lack of a better word), likes this one, in public more often. And if this is what I'm looking forward to, as far as Satan goes, I'm pretty sure I will be selling my soul sometime very soon.

Obviously, by the way they're dressed, this is some sort of "Pimp and Hoe" costume party. For those of you that don't know what that is, just think about it for a minute and you'll get it. Gorgeous bimbos in skimpy attire, or almost no clothes at all, is no rarity at parties, such as this, but not every girl shows off her goodies. It's more like they tease you by not really showing anything at all. So, exposed nipples, intentional or not, is still sporadic, but there's no shortage of nipples on this site.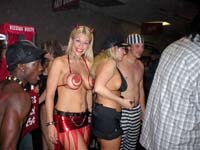 Free Sites:
Home Made Videos / Drunk 365 / Wild Amater Girls
Sponsored By:
Drunk Girls
Time & Date:
July 13, 2006 @ 5:41 pm
Categories:
I just love Marisa Tomei! She's one of the most beautiful women/celebrities alive, in my opinion. She's so cute and perky, I just want to throw her down and have my way with her. I'm like George Costanza, I'll even watch "Only You" just to see Marisa Tomei. I've heard rumors that she can be a real bitch working with her. I don't know how true that is, but after "My Cousin Vinny" and an Oscar, she surprisingly disappeared for a while. Maybe her head was too swollen. Whatever the case, I'm sure I can deal with it, with eye candy like Marisa.
Alan Cumming has the right idea. I'd be pointing out to the paparazzi, where I plan on burying my face, too. Especially with Marisa Tomei's cute, little tits and pointy, erect nipples staring me in the face, through her sheer top. It's not a technical "nip slip", but Marisa's hard nips are definitely very visible. She obviously wanted to show off her perky titties a little bit, otherwise she wouldn't have gone braless and let her boobies bounce freely, under her top. If Marisa Tomei is looking for attention, she's definitely got mine.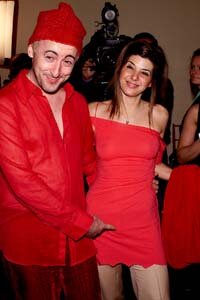 Free Sites:
Celebrity Nipples / Celebrity Movie Blog / Nude Celebrity Post
Sponsored By:
Celeb Tits & Nipple Slips
Time & Date:
July 1, 2006 @ 5:13 am
Categories:
Awww, yeah! It's one thing to see your buddies sucking the whip cream off some drunk coed's nipples, but it's quite another when it's another girl cleaning off her nipples. I don't know if they do it for the attention or because they genuinely want to suck on another girl's tits/nipples, and they're using the alcohol as an excuse, so she's not judged. Maybe it's more acceptable for women, if another girl sucks on their titties, rather than a man.
You have to look closely to catch this drunk coed's exposed nipple(s). It appears another wasted coed is licking whip cream from her tits, while the lickee is exposing her boobs more and more, so her friend laps it all up. Meanwhile, if it wasn't for her hair, she's completely exposing her tits/nipples to the whole party. Always one of my favorite party games to play!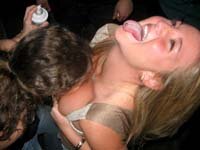 Free Sites:
Drunk Galleries / Home Made Videos / Sexy, Drunk & Funny
Sponsored By:
Wild College Parties
Time & Date:
June 15, 2006 @ 5:27 pm
Categories:
This drunk club girl reminds of the types of girls I love to bring home after a night of wild partying. She has a bit of that trashy look going for her, which, in my experiences, usually means she's a "sure thing" for a drunken romp in the sack. If you just keep feeding her alcohol, she'll remain yours for the evening.
The fact that she's flashing her milky-white tit in public also tips me off that she might be an easy score. I know I'd be all over her, like a fifth grade crush, once I saw those nipples. She has great tiny nipples, but they're also long and erect, which just drives me crazy. It looks like her girlfriend has the right idea. She's doing what I'm thinkin'.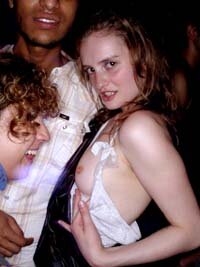 Free Sites:
Rate Nude Girls / Downblouse.It / Sexy, Drunk & Funny
Sponsored By:
Crazy Club Flashers
| Next Page »