Time & Date:
February 14, 2006 @ 9:07 pm
Categories:
You got to love when party girls, or any women for that matter, try and flash their cleavage, but accidentally their nipple slips out. Apparently, that can happen when you quickly and carelessly pull down the neckline of your top, all the way to your belly. But if a girl wants to flash me her cleavage and I get a nipple along with it, I'm all for it!
I'm not sure exactly what's going on in this photo, except that this party girl is flashing her cleavage and, as I said before, she accidentally exposes her nipple. If I had to guess, I would say that she's at a boxing match, or some sort of sporting event. Whatever the case is, she can show me her boobies anytime.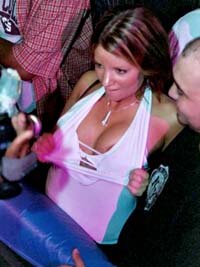 Free Sites:
Drunk Galleries / Splinter Home Video / Amateur Album
Sponsored By:
Public Exposure
Time & Date:
@ 1:45 am
Categories:
I think it's pretty sexy when hottie country girls get all dressed up in their cowgirl gear for a night of two-steppin' on the town. At least it's hot when they know how to dress sexy, and a lot of them do. My sister-in-law is a big country music fan, so for her birthday we all went to see Josh Gracin (remember that geek from "American Idol"?), and their were a ton of drunk hotties there in full cowgirl attire. I was getting whiplash from turning my head so much to check out all the tail everywhere. It made me really wish I dug country music a lot more. That just ain't happenin', though. Josh Gracin sucked-ass, by the way.
I'm not a huge fan of big, fake tits, however, I am still a man and a couple of massive mammories busting out of some drunk chick's top, fake or natural, is still going to get my attention, and maybe even keep it. Now, if I notice some of her dark areola/nipple starting to slip out of her tight, black leather vest, than she will definitely have my undivided attention, whenther she likes it or not.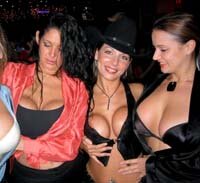 Free Sites:
Viva Voyeur / Home Made Videos / Stile Project
Sponsored By:
Amateur Party Girls
Time & Date:
February 12, 2006 @ 12:59 am
Categories:
I like those platforms/boxes in night clubs they have on the dancefloor, made especially for hotties wanting to show off the goods. I used to have a roommate that was a go-go dancer/stripper, and she was paid to be one of those hotties in probably one of the biggest clubs Chi-Town has to offer. She loved the attention she got from all the men (after all, she was also a stripper), standing in front of her, ogling her hot, little body wiggling around up there.
At first, I thought this dual titty slip was just this drunk college girl flashing her boobies to her audience. The thing is, I can't find ANY evidence that she's flashing. None of the other college girls up there are naked, or flashing any of their goodies. Her hands aren't anywhere near her bikini top and she doesn't look like she even realizes her two jiggly, natural boobs are exposed. Of course, the girl on our left looks like she's getting her ass felt up by her girlfriend. In my opinion, she was shakin' her stuff so hard while she was dancing, that those two funbags just slipped right out of her bikini.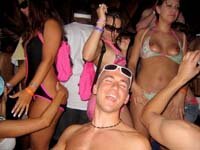 Free Sites:
Drunk Galleries / Teen Rave Pictures / Peep Hole Cams
Sponsored By:
Wild College Parties
Time & Date:
February 11, 2006 @ 4:09 pm
Categories:
In most cases, aging rocker-bimbos, with big fake boobs and draped in faux-bling, don't do a thing for me. She might catch my eye, because, after all, I am a man and just about any girl wearing a tight t-shirt of types is going to grab my attention. Especially is that big ol' fake titty is poking out the side, completely exposed in public.
When I first saw this photo I thought it was a full-on titty slip, where somehow her boob found it's way out the side of her top, through the arm hole. After closer inspection, I don't see how that big, hard boob would be able to escape her tight shirt, and especially at that angle. So apparently, like a lot of girls with boob-jobs, she likes to show them off to anyone will pay attention. It works, becasue it got my attention!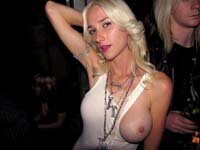 Free Sites:
Rate Nude Girls / Viva Voyeur / Sexy, Drunk & Funny
Sponsored By:
Crazy Club Flashers
Time & Date:
@ 1:22 am
Categories:
I think I remember first taking notice of Allison Lohman in the Michelle Pfeiffer flick, "White Oleander" where she played a a passive foster kid screwing her way from foster home to foster home. I knew she was going somewhere, because she was just way too cute not to be in movies. Allison's probably better known as Ewan McGregor's love interest in "Big Fish", and also as Nick Cage's daughter in "Matchstick Men".
Allison Lohoman hasn't been in any major roles yet, but that's a good thing because that means there's still a chance we will see her in a nude/sex scene. A lot of times, when an up-and-coming actress exposes her boobies in a movie, it pushes her over the edge, into stardom. Halle Berry is a perfect example, or better yet, Paris Hilton. The they won't get naked at all, until their career is heading back South; and they start taking nudity roles again. Hopefully, Allison will be in one of those nude scenes, because she's got a few new flicks coming out soon.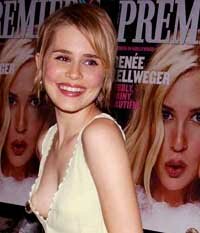 Free Sites:
Celebrity Nipples / Celebrity Movie Blog / Nude Celebrity Post
Sponsored By:
Paparazzi Filth Exposed
Time & Date:
February 10, 2006 @ 3:14 pm
Categories:
Older chicks can be 'party girls' too. In my late-teens/early-20s I nailed quite a few older drunk babes. They were usually divorced, single mothers that took a night off from it all, to hang out, get drunk and party with her other single girlfriends. They're almost always out for young meat that has the libido and stanima to go all night long, because come monday morning she will be back in her normal, everday, mom routine. I gotta say, the older they are, the more sexually experienced they are and that usually means that they know what it takes to completely satisfy some young stud.
I don't know what this drunk chick is all fired-up about, but she's got her friend excited enough to be juggling her boobs. She's juggling them so much that her boobs are being pushed up and her nipples begin to slip right out of her top. Now, I would like to see that blonde hottie in the lower-left corner, get up and start sucking on the older chicks nipples, then just let the rest happen naturally.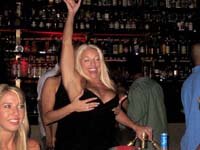 Free Sites:
Dumpster Sluts / Amateur Album / Exhibitionism
Sponsored By:
Drunken Girls Night Out
Time & Date:
February 8, 2006 @ 7:39 pm
Categories:
Personally, I much rather have a girl that's conscious when I'm trying to get into her pants, but some dudes like to take a much easier, fail-proof approach. I've been with wasted girls before that are half-in/half-out of consciousness, all the while I'm trying to keep them awake so we can finish what we started. I wouldn't feel right continuing if she were completely passed-out, whether she was a willing participant in the begining, or not. I'd be lying, though, if I said that I never thought about it.
It appears this guy almost there. He's got some drunk, unconscious bimbo laying on his lap, her pants almost down-around her ankles and her titty slipping out of her bra. I just wish I knew if her began removing her clothing before or after she passed-out. If I had to guess, I'd say he began slowly and carefully getting her naked after she passed-out, while she's off dreaming in drunken slumberland.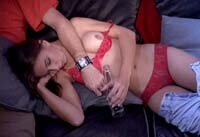 Free Sites:
Drunk Galleries / Sleeploitation / Drunk College Pics
Sponsored By:
Frat Party Fuck Fest
Time & Date:
@ 2:53 am
Categories:
If you read the previous post at all, these girls' blouses are more along the lines of what I was talking about. A perfect set-up for the almighty public nipple slip. I've been noticing it more and more lately, too. The chicks get cheaper and their outfits just keep getting skimpier. Such a beautiful combination! Cheap and fast women in skimpy attire.
I also mentioned in the previous post how lucky we are that almost all nip slips are coming from some scrum-diddley-umptious and well-formed titties. Again, we have a perfect example. This drunk party girl obviously has some cute, little titties, and apparently she mis-judged this outfit, because her boobs are too small for a top like that. I'm not going to be the one to tell her though. We need girls like her, who are completely oblivious to the fact that their tits/nipples are exposed to the public. Keep up the good work, blondie!
The blonde in white has a striking resemblance to a good friend of my sister…hhhmmmmmm.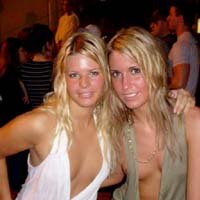 Free Sites:
Uncensored Drunks / Home Made Videos / Private Amateurs
Sponsored By:
Drunk Club Cuties
Time & Date:
February 6, 2006 @ 10:40 pm
Categories:
I always knew that DJs got a lot of action from the ladies, but this ridiculous! Well, not really. It actually pretty hot to have a sexy naked women standing by your side as you perform. I used to perform in a rock band, but I never had naked girl at my side. After the show, the 'naked ladies' situation was a different story.

I can't seem to figure out what a naked club girl is doing in the DJ booth. It's not a strip club and everyone else around her is full dressed and minding their own business. Amazingly, not even the DJs are paying any attention to her. She's just hanging out, completely nude, except for her high-heels, and snapping her fingers to the beat. Maybe she's sucking off the DJs and they had to take a quick time-out to change the record. She's just waiting for them to finish so she can get back to the business of sucking. I think I'll take a number and get in line.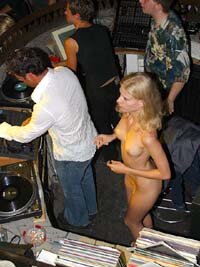 Free Sites:
Drunk Galleries / Viva Voyeur / Exhibitionism
Sponsored By:
Sex in the VIP
Time & Date:
February 4, 2006 @ 8:50 pm
Categories:
Drunk college girls in bikinis. You gotta love 'em! It's the next best thing to drunk, horny and naked college girls, and I can't think of too many things that can top that. It always helps a girl to give a little more of a sneak preview than just a bikini. Lately it seems that a lot of drunk chicks in bikinis either end up lifting their top, or losing the bikini completely in a desperate attempt for attention. An attempt that's 100% guaranteed to work.

This girl has the right idea, whether she intended to give us a sneak preview, or not. I'm guessing she's doing some kind of shimmying with her shoulders, because of the ripple in her exposed boob from the motion/inertia, and the fact that her bikini top is out far enough where it looks like someone pulled it off. Now I think she needs to remove her top completely and then shimmy those titties right in my face!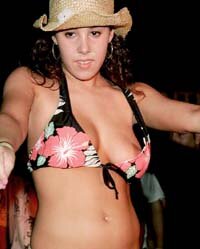 Free Sites:
Drunk Galleries / Teen Rave Pictures / Wasted Coeds
Sponsored By:
Bikini Voyeur
« Previous Page | Next Page »