Time & Date:
March 29, 2006 @ 1:18 am
Categories:
I've said it, here, probably a million times, on how club girls are always wearing sexy, skimpy duds. It's pretty rare that one of these clubber cuties actually have their blouse almost completely unbuttoned and open. Of course, it's always possible that she's just so drunk that she didn't realized her blouse is unbuttoned.
I'm not sure exactly what she's up to, in this photo. She's in a booth at a night club and is doing something to her blouse, but it appears she's focusing on the wrong area. Not the 'wrong area' for us, but for her. Only if she doesn't want her titty to slip out, but if she doesn't care, then I'm going to take full advantage of the situation.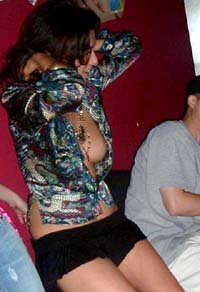 Free Sites:
Teen Rave Pics / Peep Hole Cams / Drunk Girl Galleries
Sponsored By:
Hardcore Partying
Time & Date:
March 28, 2006 @ 1:48 am
Categories:
I've seen some crazy things in night club VIP rooms. Everything from being piled around a booth-table, blocking a giant smiley of blow from the bouncers; to hot, lesbian strippers making out and feeling eachother up, and sometimes they get pretty sexual. I was even lucky enough to have a sexual experience in a dark corner of a club's VIP room, once. Let's just say, we both came out of the dark with a big smile on our face, and it had nothing to do with the coke-smiley I mentioned above, either. Not yet, at least.

This drunk, club girl cutie is attempting a sexy, yet drunken, pose in a booth seat. A common place in the VIP room, where you will see a lot of photo-taking. They're usually photos we wish we were never in; possibly, like this chick.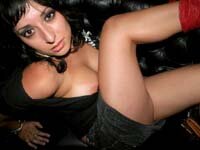 Free Sites:
Drunk Galleries / Viva Voyeur / Accidental Voyeur
Sponsored By:
Sex in the VIP
Time & Date:
March 27, 2006 @ 6:05 pm
Categories:
Christina Aguilera showing off her sexy, almost-nude body is nothing new, I know, but something about this see-thru, nipple slip photo I thought is hot. Of course, it probably really wouldn't matter if it were Christina Aguilera or the girl next door, with her pierced nipples showing through her shirt. It's the fact that I can see some big, fake boobs/nipples through her shirt when I'm not supposed to be seeing it. Almost like I'm wearing some cool x-ray specs, like the kind you would find in the back of comic books.
I don't think Christina gets the credit she deserves for her talent. She's way more talented than Britney Spears or Jessica Simpson, yet she's at the bottom of that totem pole. I'm sure her record company has something to do with that, though, becasue it seems like she tried WAY too hard to be extra slutty, for her image. Don't get me wrong, I like the slutty Christina Aguilera, I'm just saying she'd probably do better with her career if she ditched that look. Of course, lately she's been starting to resemble a hip-hop version of Marilyn Manson.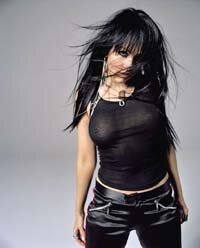 Free Sites:
Celebrity Nipples / Celebrity Movie Blog / Nude Celebrity Post
Sponsored By:
Celebrity Orgy
Time & Date:
March 26, 2006 @ 12:13 pm
Categories:
I was always under the impression that girls wore a bra under this type of blouse. Apparently, I was wrong, but now I have that image stuck in my head. Braless boobies bouncing around under only a thin, skimpy blouse. Everytime I see a woman wearing one of these tops, I'm going to be checking if she's wearing bra, now.
I'm not exactly sure how this wasted party girl's titty slipped right out of her blouse. It must be one of them spaghetti-strap dealies, that slipped off her shoulder, unbeknownst to her, and before she put her jacket on. So, she may have been walking around with her titty just bouncing and flopping around freely in the wind, without her realizing a thing! Her boob might have gotten a bit cold, but she's drunk as hell and numb. She probably can't feel a thing.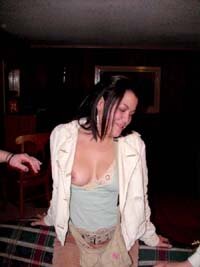 Free Sites:
Dumpster Sluts / Exhibitionism / Peep Hole Cams
Sponsored By:
Party Pimps
Time & Date:
March 24, 2006 @ 3:41 pm
Categories:
Another case when nipples easily slip out, into the public, is when girls where them tube tops. They're always great for accentuating a girl's huge boobs and really show off what they're packing. I used to live with a stripper and her and all her stripper friends, with big fake tits, always wore those tube tops. They were always so tight, you could clearly see their nipples poking through the material. I'm not a fan of boob jobs, but, day-yum they looked hot!
When I first saw this photo, I thought the drunk coed licking her nip, had pulled down her girlfriend's top in order to tongue her nipple. Upon further inspection, her nipple has clearly slipped out of her tube top, accidentally. Obviously, at least the lesbo licker knew her friend's nipple was visible, but I'm not sure if the slipee actually knows. Of course, for a careless drunk coed, partying hard, a nipple slip is almost a rite of passage.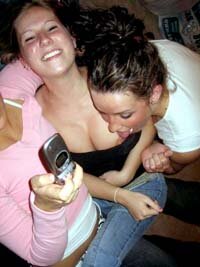 Free Sites:
Drunk Galleries / Teen Rave Pictures / Drunk College Pics
Sponsored By:
Wild College Parties
Time & Date:
March 23, 2006 @ 10:03 pm
Categories:
First off, I must say, judging by the talent in this photo, I really wish I were at this toga party! They're giving me a boner without being naked at all. Of course, that nipple in the upper left corner, does help the erection process. But, imagine being caught in the mix with this group of drunk coeds. As cliche as it is, I'd be like a kid in a candy store!
I'm not sure how this college girl's nipple/titty slipped out of her top, because I can't tell if it's toga or if she's just wearing some sort of cut-off t-shirt. I can easily see her titty slipping out the side of her toga. In fact, I believe I've see it many times before, but it does kind of look like it's nothing more than a ripped dego-tee, with her titty popping out. Either way, we have a beautiful nipple/titty slip.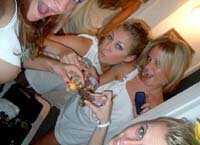 Free Sites:
Home Made Videos / Peep Hole Cams / Amateur Voyeur
Sponsored By:
Frat Party Fuck Fest
Time & Date:
@ 1:58 pm
Categories:
I really prefer to get a face shot in these photos. I like to see the whole package, but the real reason why we're here is for the love of slippery nipples. And when I say, "slippery", I mean, nipples that easily escape the confines of a woman's blouse/bra, especially in public.

I think this downblouse view of this wild club girl's nipple about to slip, is classified as one of them lucky shots. Like, she just happened to be walking by as the photographer took the shot, and her "slippery" nipple wasn't noticed until later. Too bad the camera didn't follow her around the club that night, because those guns look very nice, and it appears they could pop-out of her blouse/dress at any time. That, I would've loved to see!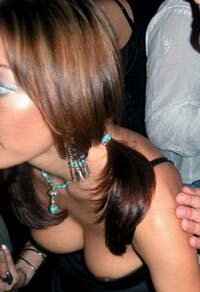 Free Sites:
Rate Nude Girlfriends / Exhibitionism / Splinter Home Video
Sponsored By:
Wild Club Videos
Time & Date:
March 22, 2006 @ 10:42 pm
Categories:
I can't decide if I'd rather have one of these drunk coeds sitting on my shoulders with their legs wrapped around my neck, or watching girls grabbing and titties slipping out, from a distance. I wouldn't mind having either one of them wrap their legs around my neck, but I'd much rather have their clothes off when I do that. So, catching an eyeful is just fine with me.
I didn't realize people still had chicken fights (at least that's what they were called where I come from) these days. I've been noticing a lot of chicken fighting on the college circuit, so apparently it's become another great drinking game, so as long as it's only the ladies. No one cares about a couple of dudes doing this, besides maybe the guys involved.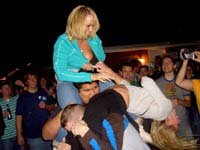 Free Sites:
Drunk Galleries / Dumpster Sluts / My Drunk Teens
Sponsored By:
Girls Get Crazy
Time & Date:
March 21, 2006 @ 12:58 am
Categories:
Awwwww, a special moment between two drunk girlfriends, posing for a photo in the night club. I used to live with a stripper/go-go club dancer, and when her and all her girlfriends were all fuckered up after the clubs, they always seemed to be best friends, no matter how well they know eachother. It must have been the booze (or other substances) bringing them closer together. Sometimes, they would get VERY close together, if you know what I mean.
This club girl cutie's nipple has somehow made a fairly decent appearance. I say, 'somehow', because her top looks like it covers her cute, little tits quite well. Like, she had to be doing some sort of unusual maneuvers to work that puppy out of there. I just want to see her girlfriend drop that fan and reach over and start copping a feel off her tiny tit, while tongue-kissing her.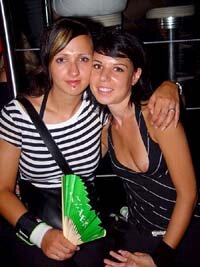 Free Sites:
Rate Nude Girls / Amateur Gone Wild / Stile Project
Sponsored By:
Drunk Club Cuties
Time & Date:
March 20, 2006 @ 2:20 pm
Categories:
I love it when girls wear a loose blouse/dress without a bra underneath. There's something about a braless boob, bouncing and jiggling free that just gets my motor running. I used to date this chick that almost never wore a bra under her t-shirts, dress, blouse, whatever. She had small tits, but great nipples that were always erect and poking through the material of her top. This, of course, led to most of our time together with me trying to get her out of her clothes.
It looks like this party girl got stuck hanging out with her little brother and his friend. She's probably a regualr club-goer who's well known in that scene, and little brother wants to tag along, to be cool. What can she do? It's family. I wonder how her brother is going to react when he notices her nipple slipping out the top of her blouse? I'm sure his friend will be having wet dreams about her, now that he got to see someting.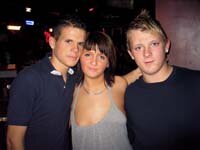 Free Sites:
Drunk Galleries / Amateur Made Videos / Drunk Teenies
Sponsored By:
Night Club Girls
« Previous Page | Next Page »