Time & Date:
April 24, 2007 @ 9:44 pm
Categories:
Ah, yes. There's nothing like getting drunk on the beach, under the piping hot sun. Of course, I'm being sarcastic, but a hot sun has never stopped from drinking before. Apparently, it's not stopping these cute and wild honies, either, which is great otherwise we might not be seeing her nipple/titty slipping out of her bikini right now.
The beach in my town, we are not allowed to drink on the beach, so that would be a luxury for me. No thongs allowed on the beach either! What kind of beach doesn't allow girls in thongs or drinking? Mine, apparently, but that's not the point. The point is I rarely get to see this drunk girls on the beach.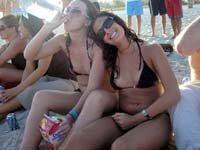 Free Sites:
Drunk Galleries / Nipple Post / Big Floppy Tits
Sponsored By:
Crazy Drunk Chicks
Time & Date:
March 26, 2007 @ 9:39 pm
Categories:
I don't know what's going on here. I think she's doing some kind of weird booty dance, while hanging over the DJ booth. If the chick in the yellow, dancing behind our slipee, was a dude, I would think they were doing it on the dance floor. Apparently, she doesn't notice her very visible nip slip, because it's her whole titty hanging out in the open. I would think she would be aware of that.
I always love when chicks go without a bra on, but when there's barely any material, loosely clinging on to those braless bosoms, with plenty of possibilities of accidental exposure; well, that just drives me crazy. I think I've seen more nip slips with women wearing tops, such as this one. The great thing is that their tits/nipples easily can slip out each side. I love where women's fashion is going; they just keep getting closer and closer to being completely naked.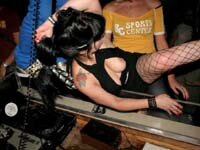 Free Sites:
Exhibitonism / Stile Project / Teen Amateurs
Sponsored By:
Sex in the VIP
Time & Date:
February 12, 2007 @ 8:16 pm
Categories:
Yummy! This girl is sexy as hell! Of course, a downblouse view of her beautiful, all-natural boobs helps a whole lot, but I think most of you would agree. that her inadvertently exposed boobs are not the only reason she's sexy. I can't exactly pinpoint what is about her; maybe the ratted, blonde hair, but I would be one of them annoying, drunk and horny dudes hitting on her, if I saw her out, or at a party.
It's kind of funny, because I never given that type of top (corset/bustier?) any thought, as far as a nice downblouse shot. I mean, always secretly hope I'm standing front-and-center when a boob pops-out of one of them things, but it never crossed my mind to just peek over the cups to get an eyeful. I'll have to remember that the next time I'm feeling a little voyeuristic.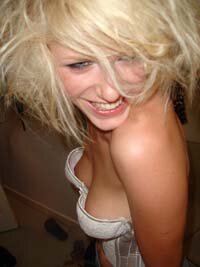 Free Sites:
Rate Nude Girls / Exhibitionism / Amateur Made Videos
Sponsored By:
Easy Drunk Girls
Time & Date:
February 8, 2007 @ 9:18 pm
Categories:
This is the first time I've seen a nip slip on a top like this drunk club cutie's. Even though there's not much to her top, I would think a nipple slipping out of there would be tough. If those straps went straight up-and-down instead of crossing her chest, then yes, easily a nip slip, but it seems like those cross-straps would hold those beautiful boobies in there fairly well. Apparently, I'm wrong. Either that, or she's really gettin'-down and boogyin'.
I can tell, just by looking at this photo, that these two babes like to do some serious partying. My guess is that they're regular clubbers, that like to hit the night clubs every weekend (or night) and show up at all the after-hours parties. It's those parties where you actually get to hook up with all them hotties you just saw grinding eachother on the dance floor. They sound like my kind of girls!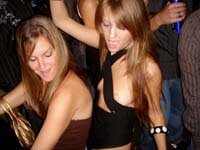 Free Sites:
Drunk Galleries / Sexy, Drunk & Funny / Home Teen Porn
Sponsored By:
Crazy Club Flashers
Time & Date:
February 1, 2007 @ 6:01 pm
Categories:
This is woman who needs no introduction. These days, Tara Reid is kind of a sorry excuse for a "celebrity", since she's now mostly famous for being stumbling drunk somewhere and accidentally exposing her tits or ass. In this photo, she's still looking pretty hot, so I'm not sure how long ago it was taken. Either she's recently cleaned herslef up, or this was taken before she became a lush.
Obviously, this photo is not your traditional nip slip, like we're used to seeing, but definitely inadvertently exposing her nipples to the public. Even though her original nip slip showed us all her jacked-up boobs, I still enjoy looking at them. After all, it's STILL Tara Reid's tits!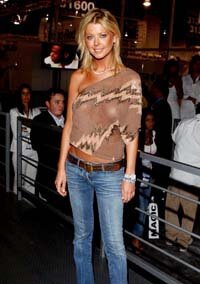 Free Sites:
Celebrity Nipples / Celebrity TGP / Real Celebrity Sluts
Sponsored By:
Mr. Skin's Nude Celebrities
Time & Date:
January 22, 2007 @ 12:22 pm
Categories:
I just think it's hot when a woman's boobs are busting out of her top, or bra. To me, it gives the illusion that those tits are so spectacular that they can't be contained, but she's doing everything she can to be a lady. Either that, or she's so shit-faced drunk and sloppy that she's the furthest thing from a lady, and she's just letting it all hang out, so to speak.
There's really no way to tell if this chick is just drunk or not. I know bartenders are not supposed to be getting drunk behind the bar, but I don't know of one bartender that doesn't drink while working. Then again, there's always the possibility that this sexy bartender is purposely letting her nipples/areolas slip out of her bra. I don't know about you, but I would keep tipping her to get her to come over to fill my drink again, just to get another gander at that cleavage and her nipples slipping.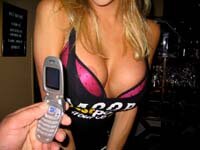 Free Sites:
Uncensored Drunks / Stile Project / Voyeur Sexpert
Sponsored By:
Hardcore Partying
Time & Date:
January 18, 2007 @ 12:12 am
Categories:
Now, that's what I call one helluva dress! Especially for a woman with a body like this sexy club girl's. And her huge, all-natural boobs really make the dress what it is. In other words, not just any girl would look as hot as this one does, in that little number. Apparently, she didn't count on those massive mammaries being so hard to contain in that thing, because, as I'm sure you already noticed, one of her boobs is slipping right out the side. Any sudden movements and those things could easily break free, exposing her boobs to the public.
It's always a fashion show for regular club-goers, for both men and women, alike. Men's clothes don't change much, but over the years I've noticed women's club styles getting trampier, skimpier and tighter. It's a great time to be alive, but if women's fashion trends continue in this direction, I'm hoping by the time I hit my mid-life crisis, they will be wearing nothing but high heels and smile, when they hit the clubs.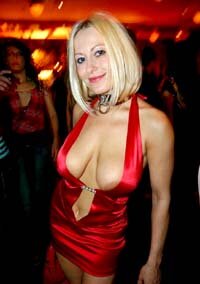 Free Sites:
Exhibitionism / Peep Hole Cams / Party Galleries
Sponsored By:
Sex in the VIP
Time & Date:
January 7, 2007 @ 11:13 pm
Categories:
To be honest, I'm having a hard time distinguishing whether this is an accidental titty slip or if this drunk club girl is intentionally flashing her big ol' plastic boob. Upon first look, it appears she's just posing with her boob intentionally exposed for the camera, but studying the photo harder, it could just as easily have been a slip. Her boobs look hard and I could see how her top could slip right down, making one of them hard boobs pop right out into the public.
One of the many things I learned, hanging out in the night club scene for many years, is that a lot of those girls have fake boobs, and boy do they love to show them off. That's what's mainly holding me back from believing this to be a titty slip, but either way, we have cute, drunk girls and public nudity. That's what I like to see!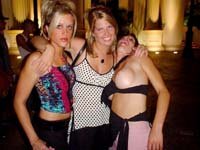 Free Sites:
Uncensored Drunks / Party Galleries / Sexy, Drunk & Funny
Sponsored By:
Crazy Club Flashers
Time & Date:
January 2, 2007 @ 9:02 am
Categories:
I really don't know much about Sienna Miller except that she's a total hottie and she and Jude Law used to be a couple. Well, that's not exactly true. I also know she's an actress and once a model. I've seen some sexy photos of her not weariung very much at all, and that's when she won me over. Unfortunately, I couldn't find those pics to show you what I mean. Luckily, I have a few photos of her with her nipple(s) slipping out of her dress and into the public eye. It's not Sienna posing scantily-clad, but I'd much rather take a nip slip anyday, over that.
Sienna Miller could be considered an international celebrity, because she's American born, as well as working mainly in the U.S., but she was raised in the U.K. As I mentioned above, she got her start as a print fashion model, before she entered the world of acting, landing big roles in such flicks as, "Casanova" with Heath Ledger and the remake of "Alfie" with Jude Law (which I'm assuming is where her and ol' Jude hooked-up). Since she's on the market now, I wonder if she knows that I'm also single. *hint, hint*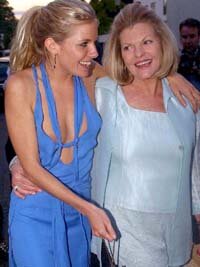 Free Sites:
Celebrity Nipples / Celebrity TGP / Real Celebrity Sluts
Sponsored By:
Paparazzi Filth Exposed
Time & Date:
December 27, 2006 @ 10:17 pm
Categories:
Don't you just love when cute girls go out in scantily-clad attire; loose fitting and wearing no under garments? Not only do they usually look amazing, but there's always a helluva better chance for nip slip, or quick upskirt shot, while on the dance floor, wiggling and jiggling without a care in the world. It's during these times that they don't notice that their titty has bounced right out of their blouse, or they forgot they went pantyless, while platform dancing.
It's obvious that this club girl cutie doesn't have a clue that her nipple, and almost her full boob, has worked itself out the top of her blouse/dress, as she dances at the night club. Lucky for us, there was an observant and quick photographer at the scene to catch this girl accidentally slipping her nipple in public. She's pretty cute, too, and what appears to be possessing a very nice rack. I would love to see the rest of her, now.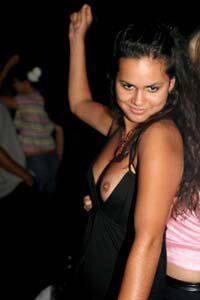 Free Sites:
Rate Nude Girls / Nude Club Pics / Drunk 365
Sponsored By:
Wild Club Videos
« Previous Page | Next Page »