Time & Date:
September 30, 2006 @ 11:07 pm
Categories:
I really prefer women with smaller tits, but the apparent drawback of having tiny tater tots are a lot of downblouse shots, of their exposed little boobies. Obviously, that's not a drawback for us, but I can see where a chick might not be all that content with that situation. Especially, after they're already shitfaced, where checking to see if their nipple/tit has slipped out.
This drunk dancing club girl seems to be getting so jiggy-with-it that her little tit is about to pop right out of her dress, but I think she's in the clear from a full-on titty slip, because her boobies aren't big enough to make it that far. Unfortunately, for her, her dress top/blouse is loose enough where we get a nice, little downblouse shot of her tits/nipples, whatever. It looks like she has some really big areolas/nipples from the little bit we can see. I think I need to see more to make an official judgement.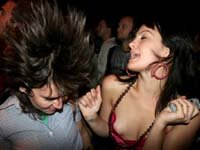 Free Sites:
Exhibitionism / Nude Club Pics / Amateur Made Videos
Sponsored By:
Crazy Club Chicks
Time & Date:
September 28, 2006 @ 1:33 am
Categories:
Isn't it lovely when women dress all trampy? Especially when they have long, beautiful legs that lead up to a mini-skirt that's heavy on the "mini". It's a rarity, but I think I have a enough photos posted on this site to prove it, that sometimes we're even lucky enough to catch an upskirt view of hottie without any panties on, underneath her skirt. As you can see, this is one of those times.
I know it's not the clearest pantyless crotch-shot you've seen here, but they ARE pantyless, nonetheless. From what I can see, those are two exposed crotches that I wouldn't mind looking up at, right now. Besides giving the boys something to smile about, a girl in a skirt and no panties is also easy access, if you just MUST have it right then and there.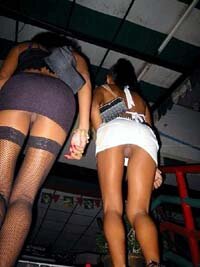 Free Sites:
Rate Nude Girls / My Drunk Girls / Maximum Nipples
Sponsored By:
Party Girl Upskirts
Time & Date:
September 25, 2006 @ 5:40 pm
Categories:
I'm sure that if you were looking at this drunk club girl from the front, you wouldn't be able to catch her nip slip, but from the side, and downblouse angle, we get some pretty decent eye candy. Of course, it does a appear her bra has slipped out of her dress' neckline and it's awefully loose for a normal fitting bra. So someone, somewhere was going to get a view anyway. we're just lucky enough someone had a camera handy.
I've noticed it's usually the shitfaced-drunk girls that are too wasted to realize that their boob or nipple has slipped out of their blouse/top. It must be the numbness alcohol can create, because I think I would notice a cool breeze if my wang were hanging out, accidentally. Of course, their outfit has a lot to do with it, as well. As chick's wardrobe's get skimpier and sluttier, the more their bound to inadvertantly show. So, I say, keep wearing skimpy clothing and drink more, ladies!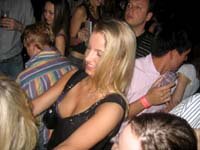 Free Sites:
Drunk Galleries / Peep Hole Cams / Buck's Amateur Links
Sponsored By:
Drunk Club Cuties
Time & Date:
September 23, 2006 @ 3:32 pm
Categories:
I love it when Halloween comes around, because for some reason it gives women the green light to dress-up like dirty tramps, and you won't catch me putting on the red light. Of course, that's not really dressing-up, because they usually wear far less clothing, than usual. I remember one year, a group of girls I used to party with, all went out to the clubs dressed as Victoria's Secret models. They went out in public, only dressed in their skimpy underwear, or in sexy lingerie and high heels. Oh, and they had angel wings strpped to their backs. Needless to say, they got a LOT of attention that Halloween night.
This drunk party girl's costume doesn't seem so much slutty, as it does loose. Apparently, she should have gotten a costume that fits her better, because she's leaving us with a nice nip slip, almost a full tity slip. I guess that's the price one pays when they're trying to look sexy in a Halloween costume. Kind of like when I squeezed my fat, hairy ass into assless chaps, this Halloween. How's that for a mental image?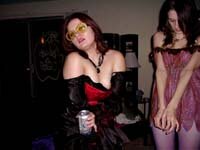 Free Sites:
Uncensored Drunks / Drunk 365 / Stile Project
Sponsored By:
Crazy Party Girls
Time & Date:
September 22, 2006 @ 10:48 pm
Categories:
I never thought I would see super-cutie, Kate Bosworth's boobies. She just seems like she's too much of a goodie-two-shoes to be naked, or topless, in movies. She's more of a "America's Sweetheart" type celebrity, than a sultry seductress of the silver screen. Though a downblouse view isn't the ideal way I would like to see Kate Bosworth's boob(s), it's better than never seeing her boobs at all, and we have a pretty good view, all things considered. Definitely more of a downblouse, than a nip slip, for we can see almost her whole breast.
For those of you who don't know who Kate Bosworth is, she was the cutie in "Win a Date with Tad Hamilton", and most recently as Lois Lane, in "Superman Returns". I believe her break, that started to make her known, was "Blue Crush", the surfer chick movie, with Michelle Rodriguez. She's not a super-star yet, but it seems she's well on her way.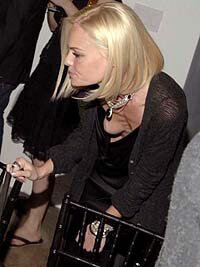 Free Sites:
Celebrity Nipples / Celebrity TGP / Real Celebrity Sluts
Sponsored By:
Nude Female Stars
Time & Date:
September 21, 2006 @ 1:13 am
Categories:
Ooh-la-la! Even more drunk and easy coeds. I got to say, it kind of makes me want to re-enroll into a university, strictly for chicks. Then again, I could always skip all that and just head directly to the parties. I never did all that great in class anyway, but I excelled at the partying aspect of college.

As I'm sure you noticed already, that cute, brunette party girl is about to slip her free-swinging boobs right out of her blouse. Unfortunately, we don't get to see the final outcome, but we have the areola part of her nipple, peeking out. Though it's not ideal, it's a pretty good start. Her cleavage ain't too shabby, either. I bet she has a nice rack.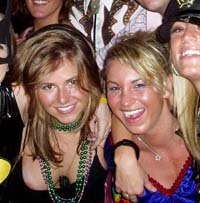 Free Sites:
Home made Videos / Cute Teen Girlfriends / Drunk College Pics
Sponsored By:
Party Pimps
Time & Date:
September 19, 2006 @ 11:34 pm
Categories:
This is a group of college party girls I wouldn't mind being sandwiched in between. I'm especially digging the blonde cutie, on the end. Yummy. But when it comes to women, I'll take the one that's closest to being naked, and in this case, the Asian coed, on the other end already has one of her boobs out and raring to go. That doesn't look intentional, by any means, so I think it's safe to consider this a full-on, accidental titty slip.
I don't know if this group of coeds are drunk yet, but from the looks of it, I would say they're not too far away from that, or at least, maybe they're getting primed for evening out. If she's already showing this much skin, imagine how she'll be after she gets a few too many cocktails in her.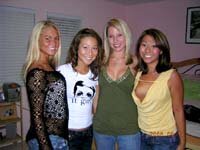 Free Sites:
Rate Nude Girls / My Drunk Girls / Sexy, Drunk & Funny
Sponsored By:
Stupid Drunk Coeds
Time & Date:
September 18, 2006 @ 5:26 pm
Categories:
Personally, I've never had any luck attempting this kind of maneuver on women. Even with the ones I'm dating! I usually get smacked, so I eventually learned that it's not good for me, if I try and pull down a women's top, exposing her boobs. As we can see, some dudes have whatever it takes to get away with this. I used to have a buddy like that. He was always feeling-up and grabbing women's goodies, but they always just laughed it off, like it's no big deal.
It's obvious that this drunk club girl doesn't mind a bit, that some dude is pulling down her bra/top, forcing her boob to be exposed in public. It's a very nice boob, too. And any girl that's willing to let you do that, in my perception, is probably willing to show you a whole lot more in private. It's more-than-likely the booze in her that has killed any desire to stop you from exposing and groping her public.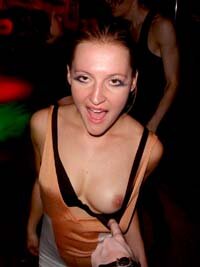 Free Sites:
Drunk Galleries / Nude Club Pics / Dumpster Sluts
Sponsored By:
Club Girl Flashers
Time & Date:
September 15, 2006 @ 6:18 pm
Categories:
I've alwaysed loved when club girl cuties get all into their dancing, at the clubs. They're off in their own little world, shaking and gyrating those hips, and moving all sexy like. They may or may not know that there's a swarm of drunk and horny dudes gathering, all drooling over one girl, but these dancing girls always keep-on going. I think that's when women are at their sexiest; when they're feeling it all over their hot, little bodies and not holding back even a little bit.
It appears this drunk club girl is dancing, and caught-up in the moment, but there are a lot of possibilities, since we can only see the top half of her body. For instance, she could be taking a little mustach ride, judging by the look on her face, and her arms swung-up, over her head, like that. But, whatever she's doing, her bikini top has loosened and is slipping off her cute, tiny tits, and that's what we're here for.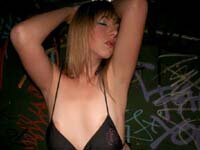 Free Sites:
Wild Amateurs / Peep Hole Cams / Floppy Tit Babes
Sponsored By:
Drunk Club Cuties
Time & Date:
@ 6:10 pm
Categories:
Hey guys and gals! I just got a new site going that I would really like it if you checked it out. It's a social site for adults, where you can view, discover, vote, submit and share both other surfers' favorites, and of course, your own favorite adult links, pages, posts or whatever. You have to create an account to participate, but it's totally FREE, and with no sneaky tricks, whatsoever. It's called All Fluff (as in "fluff your stuff") and it's actually kind of fun. It's still in it's infancy, but with your help we can build a high quality free site for adults. So, please check it out, submit some links and vote (or 'Fluff') for your favorites.

Check it out here:
All Fluff (main page) - Main page of the latest links added in real-time.
Surfer's Favorites - The highest rated links by you and other surfers
Tag Cloud - The most popular tags/categories viewed and submitted.
« Previous Page | Next Page »