Time & Date:
December 4, 2005 @ 7:12 pm
Categories:
I love it when two drunk and horny sex kittens start getting all playful with eachother. Especially, when they are giving the rest of us drunken perverts a nice, little naughty show.
I can't figure out if these two lovelies have any panties on underneath their short skirts or not. It looks like they're both completely pantyless, but those hot, little asses might have eaten the butt-floss we call "thongs" between their cheeks. Either way, I wouldn't mind grabbing myself a handful of that sexy blonde's ass, panties or not.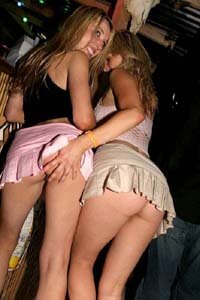 Free Sites:
Amateurs Gone Wild / Amateur Photo Album / Night Club Galleries
Sponsored By:
Public Ass Pics
Time & Date:
@ 3:55 am
Categories:
It looks like we have another one who's a little drunk and a little sloppy. At least she's sloppy-drunk enough to let her little titty slip out of the side of her blouse. I think we have the cat to thank for getting her to bend down far enough to catch glimpse.
I gotta say, this picture is not a flattering one at all. I'm think it would be that bad if her blouse wasn't falling down so much. I mean, I'm glad it did fall for our sake, but it doesn't do any wonders for the photo as a whole. But, hey…I've been this shit faced in the middle of the day before too. Luckily, I don't have any titties exposing themselves to worry about.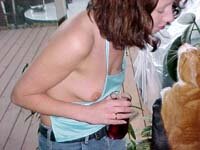 Free Sites:
Uncensored Drunks / Drunk Galleries / Dumpster Sluts
Sponsored By:
Drunk Girls
Time & Date:
December 3, 2005 @ 3:31 am
Categories:
She would be pretty cute, I bet, if she wasn't sportin' that drunken sneer on her face. Since she's contributing to public nudity, we'll let the sneer slide. Of course, she IS a female and she IS drunk, so it's starting to matter less what her face looks like. Now, I just need to down a few and she'll be looking really good in no time.
I really dig smaller tits on most girls. Of course, some also look great with big titties too, but it's the tiny tits I like. This girl I would have to say has no tits at all. Besides her erect nipple, I don't even see a lump on her chest where her tits should be. Who really cares, though. She still possesses the equipment that really counts, plus I could suck on those nips all night.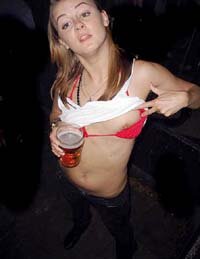 Free Sites:
Teen Rave Pictures / Peep Hole Cams / Exhibitionism
Sponsored By:
Wild Drunk Chicks
Time & Date:
December 2, 2005 @ 6:22 pm
Categories:
Those afternoon parties are always rough. I mean, they're a blast when you're actually partying, it's when 7/8 pm rolls around and you're already completely shitfaced is when things start getting tough. Sometimes you're in bed and sleeping sound by 9:00 pm, or you keep that party going. Besides the obvious nose-candy to keep you going, a few drunk lovelies always helps too. Of course, you probably don't want to mix the two (nose-candy and girls). There's nothing worse than having a case of limp-dick when you have a girl in your bed, raring to go.
Now, if you spot a couple of drunk girls like these two, you probably have a pretty good chance of scoring. Especially when one of them has her nipple peeking out of her blouse and she's too drunk to notice. Plus, they look like they might be greatful for the male attention and would be willing to let you take things further.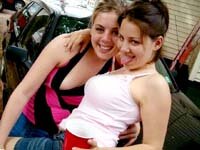 Free Sites:
Drunk Galleries / Viva Voyeur / Drunk College Pics
Sponsored By:
Wild College Parties
Time & Date:
@ 2:22 am
Categories:
I like them when they're sloppy drunk and falling down. They're still coherent enough that they'll stay awake for sex, and nowhere near being sober enough to reject your advances. If you play your cards right, you'll be getting your twinkie stinky before the end of the night.
Normally, I would categorize this photo as 'average' at best, and I probably would never post it here. But if you look closely, under her lifted skirt and thru her light-blue panties, you can see her ripe pussy lips pressed up against the sheer fabric. Of course, I would dig this photo much more if she weren't wearing any panties at all under her skirt, but I'll settle for a semi-exposure of a drunk college girl's pussy lips any day of the week.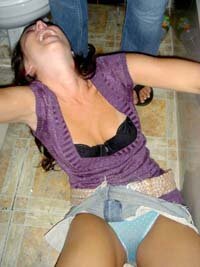 Free Sites:
Uncensored Drunks / Extra Long Nipples / Amateur Voyeur Movies
Sponsored By:
Frat Party Fuck Fest
(May Contain Pop-Up)
Time & Date:
December 1, 2005 @ 5:23 am
Categories:
Getting a girl to dance with you at a club is always a good excuse for some cheap thrills. You can always get away with feeling her up and grinding into her. Well, maybe not always. You might get slapped across the face if you try that with the wrong girl. But still, dancing is an opportunity to get as close to her as possible without actually removing your clothes. Rub up onto a girl standing at the bar, you might have problems. Rub up onto a girl on the dance floor, and she might just rub you back.
This guy in the photo, looks like he was all over this wild club chick, and not shy about groping her in front of the camera either. I believe his 'busy hand' was trying to get a little tit action, and he accidentally is pulling down her top. It's a pretty nice nip slip too. Her facial expression looks like she might've noticed her nipple peeking out, right when the camera snapped their photo.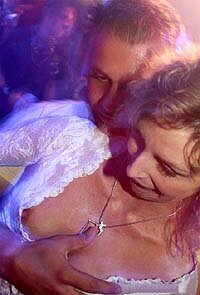 Free Sites:
Viva Voyeur / Peep Hole Cams / Amateur Photo Album
Sponsored By:
Sex In The VIP
Time & Date:
November 30, 2005 @ 7:27 pm
Categories:
Such a wonderful site to see, a group of party-girl hotties, getting primed and drunk for their 'girl's night out'. Ready to flaunt their stuff all over town.
These types of group of girls can either go two ways. One, they could be that group that defends eachother from drunk men on the prowl, or two, they could be that group that all goes out together, but all leave with different men they've picked up. The group that defends eachother usually have a few uglies in the mix. These girls are hot, and since at least one of them is letting it all hang out, and slipping a nipple, I'm going to guess they're on the prowl themselves. God bless the lucky dudes that get to take on of these drunk lovlies home.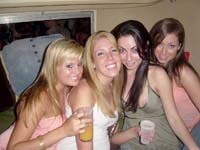 Free Sites:
Drunk Galleries / Home Made Videos / Dumpster Sluts
Sponsored By:
Drunk Girls Night Out
Time & Date:
@ 5:44 am
Categories:
Everytime I scan thru my photo collection of gorgeous club girls and drunk party sluts, this one always catches my eye. Obviously, this isn't a nipple slip. This is one fine-ass blonde club girl, flashing her even finer natural boobs in public, inside the night club. At least, I think those puppies are natural, but definitely a beautiful set, nonetheless.
I know you've probably seen a ton of girls flashing their tits, wheather it was in real-life or just photos on the Net. There's just something about flashing indoors, where the public is plentiful. I think it's because it has a more intimate feel to it, plus it's a rare occurrence, except, of course, strip clubs. She isn't in a strip club though, she's in a regular house-beats pounding, cocaine snorting, glamourama, American night club. For that, I applaud her…and urge her to expose those two lovelies in public more often. Especially when I'm present.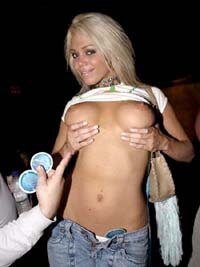 Free Sites:
Uncensored Drunks / Exhibitionism / Night Club Galleries
Sponsored By:
Crazy Club Flashers
Time & Date:
@ 1:16 am
Categories:
I like all kinds of female nipples, but my favorite are them long, pointy nipples. I also really dig puffy nipples. I'm not sure if it's because they are so rare on girls, or if it's just the freaky side of me, being turned-on by abnormal body parts. I guess it's just like a chick that craves monster-size cocks, only nipples in my case. I had to be sure to clear that up. Me like nipples, girls like big dick.
Apparently, this cute Asian club girl didn't anticipate a nice side-view of her semi-open blouse. It's almost a perfect shot of her whole tit. Nipple and all. Very nice, erect and pointy nipples. I like them a little longer and a smidgen bigger, but that's just my personal preference. I'm not complaining though. This club girl's nipples are still very nice and very suckable.
Free Sites:
Viva Voyeur / Teen Rave Pictures / Extra Long Nipples
Sponsored By:
Drunk Club Cuties
Time & Date:
November 29, 2005 @ 1:38 am
Categories:
When I first looked at this photo, I thought for sure that this shitfaced party girl was passed-out, unconscious while standing in the middle of the dance floor. Especially, since she's looking down, yet she doesn't noticed her nipple slipping out of top. Then, I found this photo of the same girl, all bright-eyed and bushy-tailed.
I've noticed that girls with smaller tits also slip a lot. The other type I noticed slips nips a lot are girls with big, fake boobs. They girls with small tits don't have enough there to hold up their top, while the fake boobie girls, they just can't be contained as easily. Those big ol' mamba-jambas just want to bust right out of the material. I love small tits though, they usually have great nipples.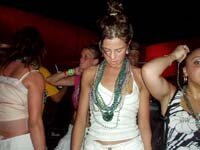 Free Sites:
Amateur Photo Album / Private Amateurs / Sleeploiatation
Sponsored By:
Real Drunk Girls
« Previous Page | Next Page »