Time & Date:
March 18, 2006 @ 4:39 pm
Categories:
This looks like a few party-girl cuties, from the popular crowd, being nice to the fat girl by taking a picture with her. They're all probably drunk off their ass and figured, "What the hell, let's throw her a bone." The fat girl kept and framed the picture until the girl who slips her nipple, was mean to her. So the fat girl's revenge was spreading her exposed nipple all over the Net. Ok, I just made all that up, but seems logical.
Once again, the low-cut blouse with small, perky boobs have struck. Of course, a top like our slipee's could easily expose any sized breast with the right movement, I suppose. So, we can't blame her for being trampy, just drunk and careless, like most of the girls on this blog.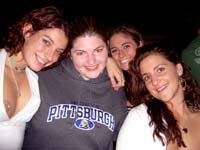 Free Sites:
My Drunk Girls / Peep Hole Cams / Drunk Girl Galleries
Sponsored By:
Drunk Girls
Time & Date:
March 17, 2006 @ 3:59 pm
Categories:
Ok, so there's no visible nipples on this one, but I love unsuspecting downblouse shots, just as well. Especially, when it's some drunk chick attempting to do a keg stand. I think it's because I think it's so stupid when chicks try to do a keg stand. To me, it's their attempt to be "one of the guys". So, when their titty/nipple slips out, or we get a nice downblouse shot, it's like, "Ha! You got what you deserved". Make sense?
This drunk, college cutie looks like she's got her tits fairly bundled up, under her clothing. Evidently, the laws of gravity, and a nice set of all-natural knockers, has taken it's course and given us a nice downblouse shot, regardless of her feeble attempts to keep her bosom under wraps. So, you girls keep doing keg stands, and fellas…get your cameras ready.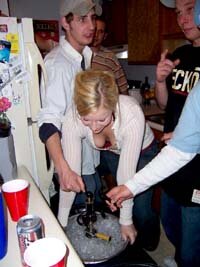 Free Sites:
Rate Nude Girls / Amateurs Gone Wild / Drunk College Pics
Sponsored By:
Wild College Parties
Time & Date:
March 15, 2006 @ 2:56 pm
Categories:
Oh Mischa, Mischa, Mischa…you're such a cutie. For those of you who don't now who this is, it's actress, Mischa Barton. Known best for her role as, Marissa Cooper, on Fox's "The O.C." I have also posted a past, full-on. titty slip of Mischa back in October of last year, so there's not a whole lot more I can say about her. I don't watch her show, so I have no iodea how she is on it, but I have been kind of a fan of hers since she was only a kid. I didn't realize it until she became popular that it was Mischa who was acting.
I'm not usually all that attracted to women as skinny as Mischa Barton, but there's something about her that makes me want to swoon (did that sound faggy?). She has a very sexy look about her, and ever since she sprouted some fantastic, rather large tits and long legs, she's all the better. She doesn't have any major scandals under her belt, yet, but she's been in front the paparazzi's lens quite a few times, so far.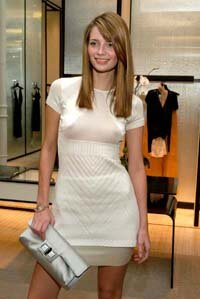 Free Sites:
Celebrity Nipples / Celebrity Movie Blog / Nude Celebrity Post
Sponsored By:
Celeb Tits & Nipple Slips
Time & Date:
@ 1:14 am
Categories:
Why don't more women wear loose, skimpy, revealing clothes? They should just let it all hang out and bounce freely within the confines of whatever loose, skimpy, revealing clothing they choose. After all, it IS a women's right to choose. The right to choose how they're going to present their tits, and the rest of their assets, to wanting men, like me.

I really dig this drunk club girl's very small attempt at covering her boobs. She's not wearing a bra or anything, and has only one button fastened on her vest, the only thing she's wearing as a top. In my opinion, she's already swinging around a pole in a club, so she mine as well just keep going and remove the rest of her clothes. I think from the first time she swung around that pole, she found home.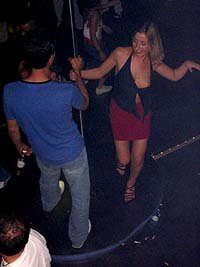 Free Sites:
Uncensored Drunks / Peep Hole Cams / Stile Project
Sponsored By:
Wild Club Videos
Time & Date:
March 12, 2006 @ 3:31 pm
Categories:
You can probably bet your whole pile of chips that a girl in a schoolgirl skirt, boots and walking around a night club with her shirt pulled up over her bra, that she's got a bit of a naughty side to her. The schoolgirl outfit alone, should be a tip-off that she's a dirty girl, but the shirt up-over the bra thing is kind of an odd thing to do in public, or even in private for that matter.
Evidently, this drunk schoolgirl clubber either doesn't realize or doesn't care that when she shimmys those natural boobies in her bra, that her nipples are exposed to everyone in the club. I'm thinking that's what she's going for, though, and that's just fine by me. I wish more women would walk around, shimmying their titties.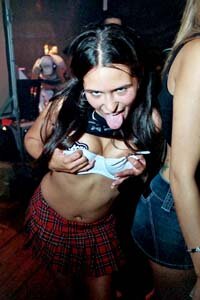 Free Sites:
Uncensored Drunks / Peep Hole Cams / Night Club Galleries
Sponsored By:
Party Girl Videos
Time & Date:
@ 1:17 am
Categories:
I've always enjoyed watching drunk college girls, in front of the whole crowd, ripping off their t-shirt or just getting naked, all together. One rare occasssions, you even get a public sex show with some of the more extreme and more shitfaced girls. I'll probably always love that scenario, but I always wondered what compels a chick to do that. It must be the massive amount of attention they get when they show even a little bit of skin, because I can't think of any other reason why a girl would want to get naked and/or have sex in front of a huge crowd of drunk men. Besides for maybe being an exhibitionist, I just don't get it. I applaud it, but don't get it.
Now, I'm sure the way this drunk college girl's titties are slipping out of her skimpy top, is planned. I can't see any girl wearing a shirt like hers without expecting her boobs to be showing at some point. Plus, her pretty, little titties are decorated with some hot, 'nipple bling'. I think she came prepared to win some sort of drunken-titty-flashing contest as soon as she got enough booze into her system. Keep on keepin'-on, honey!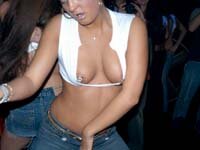 Free Sites:
My Drunk Teens / Amateur Made Videos / Drunk Girl Galleries
Sponsored By:
Silly Drunk Coeds
Time & Date:
March 11, 2006 @ 5:34 am
Categories:
There's nothing really speacial about this girl that makes her stand out, or wearing anything to says, "Look at me!", either. She just looks like a typical chick out to have a good time, and there's nothing wrong with that. It amazes me that this photo was taken at the precise spot and moment where you can see down her blouse, and see her lovely nipple, from a side-angle.
This poor girl is out partying, dancing and probaly drinking too; not wearing any particularly trampy clothes, and her nipple still gets exposed. You probably wouldn't even be able to catch this downblouse shot if she were to walk by you. It seems this is something only a photo can catch, and it was a pure fluke that it captured her nipple.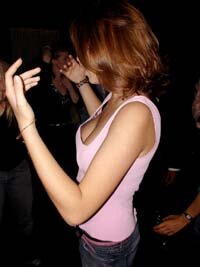 Free Sites:
Viva Voyeur / Exhibitonism / Accidental Voyeur
Sponsored By:
Drunk Club Cuties
Time & Date:
March 10, 2006 @ 3:39 am
Categories:
I've actually had these photos of Nicola Stapleton for quite some time. I didn't know who she was, so I didn't want to post them until I knew for sure. As far as I was concerned, I had a few nip slip photos of some blonde, cutie, but they kind of looked like paparazzi shots, so I had to investigate. You see, I'm from the U.S. and I'm not familiar with UK starlets, such as we have here; with Nicola Stapleton. It turns out she does quite a bit of acting work, starting as a child-actor.
Unfortunately, that's about all I know of Nicola Stapleton, but I have a few more pics of her nipple slips!

Check these out: slip #1, slip #2, slip #3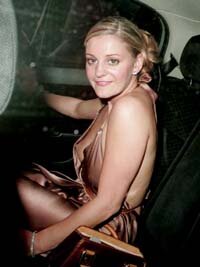 Free Sites:
Celebrity Nipples / Celebrity Movie Blog / Nude Celebrity Post
Sponsored By:
Nude Female Stars
Time & Date:
March 9, 2006 @ 10:35 pm
Categories:
Apprently, getting one last pop in with a stranger before you tie the knot, isn't just for men anymore. I've been noticing more and more groups of women out at the bars and clubs, all in the name of the 'bachelorette parties'. Here, we all thought soon-to-be brides were only dreaming of their wedding day with the man of their dreams, but in reality, they're out hunting down strange cock for a no-strings-attached one-night-stand, before they get married. a lot of these chicks are running around in the clubs, with dildos and wearing strap-ons. It's very surreal.
It looks like this bachelorette; or at least one oif the girls from the party, is getting in some man time, all the while her titty is sticking out of her blouse. Is that some sort of body-language that's saying, "take me home, rip off my clothes, and bang 'til the next morning"? Maybe the guy she's making out with pulled her boob out while kissing her. I think it's completely accidental, though. It looks like her blouse was pulled back while she was turning away from him.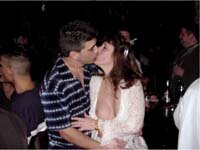 Free Sites:
Splinter Home Video / Dumpster Sluts / Sexy, Drunk & Funny
Sponsored By:
Drunk Horny Bachelorettes
Time & Date:
@ 6:42 am
Categories:
I know exactly how this chick feels. You've been drinking all day, since happy hour, it's only 2:00am and you're completely shitfaced, just barely hanging in there. The only reason is because you don't want to miss the party, so you keep going, getting more wasted by the hour. That's a rough night, and it's usually never worth it.
It kind of looks like the cameraman walked up and told her to flash for the camera and she just barely got her hands up to her neckline, to expose her cleavage. Being completely drunk and careless she pulls down her top a little too much, revealing her areola/nipple. It's not the best one I've seen, but at least she's trying.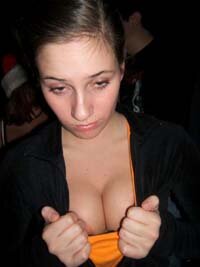 Free Sites:
Uncensored Drunks / Wild Amateurs / Viva Voyeur
Sponsored By:
Drunk Girls
« Previous Page | Next Page »