Time & Date:
February 22, 2006 @ 1:07 am
Categories:
Well, if this girl's blouse isn't an attention-getter, then I don't what is. She mine as well just pull her big ol' floppy knockers out of her top and walk around like that. It is kind of sexy, except for the fact that it looks like something her grandmother knitted for her for christmas. I guess, as long as she's flashing some skin, accidental or intentional, she can dress like a bag lady for all I care.
Judging by her heavy-metal wrist band, her messed up hair, and, of course, her overall outfit, I'm going to say she was doing some heavy duty partying that night. She's a bit on the 'chunky' side for my tastes, but she would be a great drunk sex partner. Once you get your buzz on, those big ol' titties are going to start to look mighty scrumptious, and something tells me she would greatly appreciate the attention; therefore she just might be willing to go that extra dirty distance.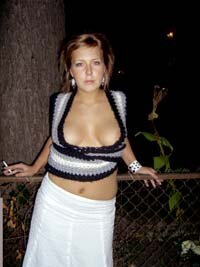 Free Sites:
Drunk Galleries / Home Made Videos / Sexy, Drunk & Funny
Sponsored By:
Girls Get Crazy
Time & Date:
February 20, 2006 @ 9:17 pm
Categories:
I wonder what these two club cuties are on? There have been many o' times when I've felt exactly how she looks. I just can't remember which concoction of which drugs and alcohol I did to feel that way. There were so many good ones, how could I possibly remember all of them? And using them didn't help my memory either. Sacrificing a few brain cells in exchange for a good time never killed anyone. It may turn you stupid, but not kill ya.
I can see how this nipple slip would happen. I'm sure she noticed a mili-second after this photo was snapped, the photographer just happened to take this shot at the right moment. But when a girl is a wearing a top like that (I think it's called a bustier), with her cute, tiny tits and suddenly throws up her arms in a burst of ecstatic euphoria, you can bet there's a good chance her tits/nipples are going to make a public appearance.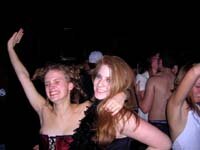 Free Sites:
Viva Voyeur / Dumpster Sluts / My Drunk Girls
Sponsored By:
Drunk Club Cuties
Time & Date:
@ 12:43 am
Categories:
That blonde-bimbo look can be really hot sometimes. Personally, I couldn't imagine myself have any kind of real relationship with a girl like that, but by all means, I'm still a man and I still love all the features a so-called 'bimbo' might have. The big blonde hair, big boobs, legs that would stop traffic, jacked-up cleavage, the tight ass, heavy make-up and a dainty fake laugh to top it all off. But this drunk chick has REAL boobs, which is al ways a plus in my book, and they're real nice boobs to boot.
I'm not sure if this cute party girl could've planned a titty slip this good, and she has the perfect boobs for a downblouse shot of this calibur. Her blouse being completely loose and open might have something to do with it, but sometimes when you're wasted you don't think of those sort of things. And as guys, we're relying on woman to be drunk, sloppy and forgetful just so we can exploit the situation.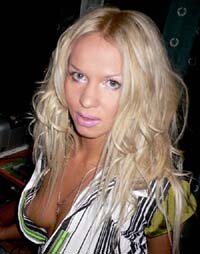 Free Sites:
Uncensored Drunks / Peep Hole Cams / Teen Rave Pictures
Sponsored By:
Real Drunk Girls
Time & Date:
February 18, 2006 @ 10:21 pm
Categories:
Two pretty party girls just hittin' the clubs. It seems innocent enough. They go out and have some drinks, maybe get some dancing in, and more than likely pick up a few horny studs while they're at it. And then it's back to someone's place for a night of hot, drunk sex. Sounds like my kinda night.
Though they look like a couple of hard partying girls, don't appear to be wearing anything particularly slutty, that would easily result in a nip slip. So, apparently, this is just a good old fashioned accidental nipple slip, unless, of course, she just had her titty out to let some passer-by suckle on her teat. Either way, that little sucker is out there, exposed in public.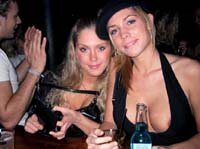 Free Sites:
Drunk Galleries / My Drunk Teens / Stile Project
Sponsored By:
Night Club Girls
Time & Date:
February 17, 2006 @ 6:46 pm
Categories:
I have to say, this chick looks pretty fuckered-up. Not only do I see liquor bottles sitting in front of her, but I'm guessing the alcohol has caught up with her. Plus, I know that demeanor, when your sitting, hunched over and your face is buried into your hands, and all you're thinking is, "Why!? Why, did I drink so much, so fast!? Please, God, gimme the strength to go on!"
The perfect side view of her exposed boob reinforces my opinion. I'm thinking, either she doesn't realize her titty has slipped out the side of her dress, or she's so shitfaced and hurting that she doesn't care. She's tore up from the floor-up, beat up from the feet-up, and the last thing she's thinking about is if some pervert is snapping photos of a hanging, exposed boob.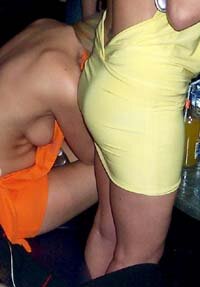 Free Sites:
Viva Voyeur / Splinter Home Video / Night Club Galleries
Sponsored By:
Wild Club Videos
Time & Date:
@ 1:08 am
Categories:
You have to respect a man that knows what he wants and takes it. He sees it in his mind's eye, zeros in on it and makes his move, abruptly and aggressively. Women love that shit, too. They will say that they want a nice, passive and sensitive man, but once they get it all they want is man to treat them like dirt. I believe there's even a song called, "Chicks Dig Assholes".
This dude doesn't appear to be holding back even an little bit. It looks like he just went up to this drunk club cutie, yanked her top down, and began to give her nipple a tongue lashing. Unfortunately for him (and us), she caught him before his tongue made contact to her nipple, or more importanly, before the nipple even made an appearance! We do get a little shot of her areola, the darkened area around he nipple, though.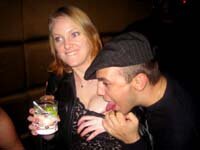 Free Sites:
Uncensored Drunks / Drunk Galleries / Peep Hole Cams
Sponsored By:
Sex in the VIP
Time & Date:
February 16, 2006 @ 6:05 pm
Categories:
I never even heard of Traci Bingham until she showed up at some awards show wearing nothing but jewels glued to her body, as her top. As it turned out, the designer of her jewel-top is the daughter of a guy I did business with. It was then that I had to find out who Traci Bingham was. I must say, I was very pleasantly surprised. Not only did she look amazing in theat jewel-top, but she was a total hottie all the way around. A gorgeous body, with a rack to match.
Traci Bingham is probably known best for her role as "Jordan Tate", one of the many buxom babes on the "Baywatch" TV series, as well as being a former Playboy Playmate. Since her stint on "Baywatch", she seems to have stuck to television acting and doing a lot of reality TV shows, not to mention a little skin exposure now and then. I believe the guy in this photo, with Traci's tounge down his throat, is either her finace or husband. Either way, she's taken now, fellas.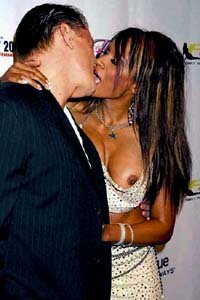 Free Sites:
Celebrity Nipples / Celebrity Movie Blog / Nude Celebrity Post
Sponsored By:
Celeb Tits & Nipple Slips
Time & Date:
@ 12:44 am
Categories:
You gotta appreciate some drunk, cute party girl so wrapped up in dancing and wiggling her body that she doesn't even notice her nipple slipping out of her top. She's just dancing the night away, like she would if her tiny, little titty wasn't popping out of her blouse. A very fortunate accident for us.

She has all the makings going on to insure a public nip slip. A loose shirt, small titties with pierced nipples, a heavy mane of beads bouncing and moving her already loose shirt around, and she looks pretty sloshed to me. Plus, her nipple-ring has snagged her top under her exposed nipple, making sure the her nipple stays in public view, for everyone to see. I love it!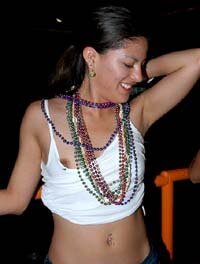 Free Sites:
Dumpster Sluts / Exhibitionism / College Dorm Spy
Sponsored By:
Drunk Girls
Time & Date:
February 15, 2006 @ 3:46 pm
Categories:
A group of hotties, all dressed sexy and cute, whether it's for Halloween or not, is enough to get my motor running. There's little hope that you would be able to break into the pack, but it's a lot of fun to try, and once in a while it is possible to get inside, in more ways that just one.

If the drunk coed in the bright green dress hasn't captured your eye already, be sure to direct your attention towards her, and her full titty that's slipped out of her strapless dress. She looks like she's grabbing for something on her dress, but she's reaching in the wrong area, perhaps completely unaware that her bare breast is exposed to whoever is in that room. I bet it's a guy's roon, judging by the pornstar poster in the background. He's probably the lucky guy taking this photo, and more than likely joining them for their night out of doing some serious partying.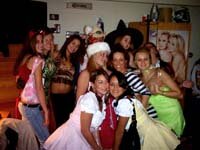 Free Sites:
Rate Nude Girls / Teen Rave Pictures / My Drunk Teens
Sponsored By:
Party Pimps
Time & Date:
February 14, 2006 @ 9:07 pm
Categories:
You got to love when party girls, or any women for that matter, try and flash their cleavage, but accidentally their nipple slips out. Apparently, that can happen when you quickly and carelessly pull down the neckline of your top, all the way to your belly. But if a girl wants to flash me her cleavage and I get a nipple along with it, I'm all for it!
I'm not sure exactly what's going on in this photo, except that this party girl is flashing her cleavage and, as I said before, she accidentally exposes her nipple. If I had to guess, I would say that she's at a boxing match, or some sort of sporting event. Whatever the case is, she can show me her boobies anytime.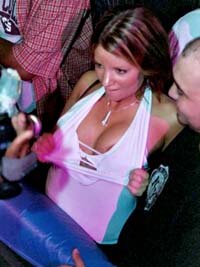 Free Sites:
Drunk Galleries / Splinter Home Video / Amateur Album
Sponsored By:
Public Exposure
« Previous Page | Next Page »