Time & Date:
January 1, 2006 @ 2:25 pm
Categories:
Happy New Year!
I know, drunk girls flashing their tits in public has become 'a dime a dozen'. If you've ever surfed adult sites before, I'm sure you have seen a million photos. If you've been young in the past 10/15 years or so, I'm sure you've seen flashing boobies more than once, in real-life. There's just something about girls flashing in a establishment, such as a bar or night club, that make flashing tits hotter. I mean, shit, if you ladies want to flash us your boobies, at least sex it up a bit and make it hot for us.
These two wasted club girls are definitely not shy about exposing their tits, in public, and in the night club. In my opinion, they both have a great set of lungs, and they should make them as viewable to all of us as much as possible. It's kinda funny though, because it looks like these two are only getting attention from the ladies. None of the dudes in the photo are paying any attention. Is it a gay bar?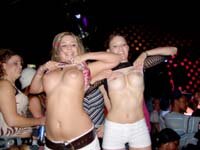 Free Sites:
Rate Nude Girls / Teen Rave Pictures / Drunk Video
Sponsored By:
Crazy Club Flashers
Time & Date:
December 30, 2005 @ 7:49 pm
Categories:
Those huge boobs must've really wanted to expose themselves to the public, because, not one, but both of her massive mammories are almost completely and accidentally exposed. One thing I'm positive about is those nipples have totally slipped out of her dress.
I think this chubby drunk chick has a little craving for some dark meat on this night, considering she appears to be the only white woman in what looks like a predominately black club. And with those huge knockers bouncing around freely, in front of her, I'm sure she will have no problem attracting any man; black, white or green. They say a lot of white women seek-out a black men with monster-size cocks, and I'm sure one of them dudes there proved to her if the myth is true or not, that night.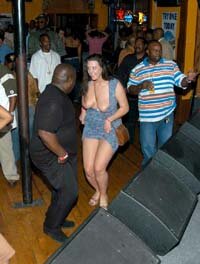 Free Sites:
Drunk Galleries / Peep Hole Cams / Dumpster Sluts
Sponsored By:
Easy Drunk Girls
Time & Date:
@ 1:52 pm
Categories:
I guess one doesn't think about flashing the public her thonged crotch when she's drunk, horny and humping the air. Plus she's on one of them dancing boxes, which gives just about everyone in the vicinty of her shaking her stuff, a great upskirt view.
You know a girl like this can't be all that classy. This tells me she's more than likely planning on having that same skirt hiked-up, around her waist, and her thong panties dangling around one ankle, as some lucky drunk stranger bangs the snot out of her. I can't say that I blame him though, I also jump at opportunties such as that.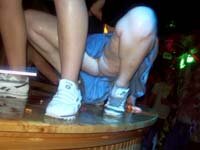 Free Sites:
Viva Voyeur / Amateur Made Videos / Nude Club Pics
Sponsored By:
Party Girl Upskirts
Time & Date:
December 29, 2005 @ 10:04 am
Categories:
Damn! It looks like either someone warned trhis drunk club girl, or she just noticed that her nice and natural boobies are slipping out of her blouse. Could they have at least waited until someone snapped a photo of her nipples and boobs slipping out first, before covering them beauties back up?
One thing I like about this club hottie is that she doesn't look like she would be the type to flash her tits once she gets a few cocktails in her. So, when you see a good-girl like that, slipping her nipples or titty, it's extra special. It's just unfortunate that I don't have a clearer photo for you. I cleaned it up as best as I could. I swear.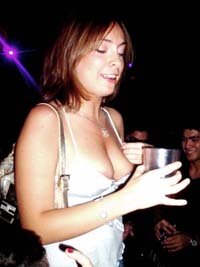 Free Sites:
Uncensored Drunks / Teen Rave Pictures / Drunk Girl Galleries
Sponsored By:
Wild Club Videos
Time & Date:
December 28, 2005 @ 9:03 am
Categories:
I never thought of a downblouse shot from the the sunroof angle. It's brilliant! Well, maybe that's giving a little too much credit, but it would have never crossed my mind. Of course, the downblouse victim would have to be at the right angle and have on a loose fitting blouse.
Here we have a couple of party girls, perhaps a little tipsy or drunk, being a couple of goofs. It appears the girl riding shotgun, bumped her head while messing around with whoever's snapping the photo. Girls with tiny tits can't hide them as well with a loose blouse, mainly because those little boobs have no where to go. It works out quite well for perverts like us.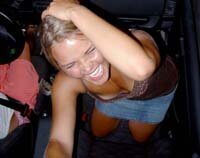 Free Sites:
Drunk Galleries / Home Made Videos / Downblouse.It
Sponsored By:
Girls Get Crazy
Time & Date:
December 27, 2005 @ 11:18 pm
Categories:
Here's a nice video of various clips of girls flashing their boobs in public. It's all done to a very heart-warming tune, as well. Awwww….

Boob Flash Video
Time & Date:
@ 6:38 pm
Categories:
Kim Cattrall is really showing her age here, but she's still sexy as hell, in my opinion. Who whould've thunk that the chick from "Mannequin" would also play a sex-starved, slut in "Sex in the City"? Apparently, Andrew McCarthy was one of a long line of men that Kim Cattrall's characters have slept with.
She also starred in other such 80's classics as: the original "Police Academy", "Turk 182″ and "Big Trouble in Little China", the flick that used to make my buddies and I drool over her. You didn't hear about Kim Cattrall for long time after that, until "Sex in the City" became a hit. Of course, every dude knew about Samantha Jones' very promiscuous lifestyle, and she was an instant hit with the men-folk. From my experiences, a lot of women can relate to the Samantha character too.
I would still that without hesitation, and that's because she's still a hottie. A sexual temptress with sexual maturity. In other words, I bet she'd rock my world.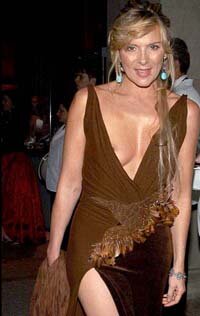 Free Sites:
Celebrity Nipples / Celebrity Movie Blog / Nude Celebrity Post
Sponsored By:
Nude Female Stars
Time & Date:
@ 6:49 am
Categories:
Ok, so I was originally going to post this on Christmas Eve, but I procrastinated on my my shopping and I figured I better get a move-on before it's too late. So, 3 days later I finally get to it. A little late, but it's still the 'holidays', so Santa is still in the mix.
It looks like this party girl lost her strap over her shoulder, resulting in a very nice titty/nipple slip. It looks like she's in lingerie already, so she was already dressing provactive. When I first saw this photo, I got this image in my head of what Santa does after he delivers all them toys in a 24 hour period. I figure, he's a man and he probably does what men do after a long-ass, hard day of work. We hit the titty bar for a few beers and some T & A before we go home to the wife, girlfriend, or whatever. Why wouldn't Santa do the same thing? He probably gets all FREE lap dances, not to mention that everyone wants to sit on his lap anyway, and when it's beautiful, naked women they can just talk about the first thing that comes 'up'.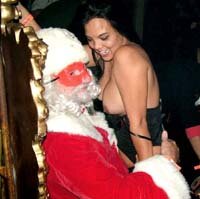 Free Sites:
Viva Voyeur / Exhibitionism / Home Made Videos
Sponsored By:
Hardcore Partying
Time & Date:
December 24, 2005 @ 2:28 am
Categories:
I can't seem to figure out if this wasted club girl's top slipped down, exposing both of her bare tits, accidentally. The guy just saw his opportunity and took it. Or maybe, this horny dude came up behind her and yanked down her top and started feeling her up. A stealth-move of sorts, where you can skip all the getting-to-know-you bullshit, and just go for what you're really after. Or perhaps, she's very horny and needed some sexual healing immediately, blocked out the people and public, and asked this dude to get to work on her tiny boobies right away.
Since her blouse is down, instead of the usual lifting their shirt to flash their tits, I'm going to guess it's somehow accidental. She also looks a bit surprised that her tits are suddenly getting an unexpected cool breeze of fresh air, and warm hands are cupping her cute, little breasteses.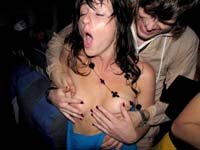 Free Sites:
Uncensored Drunks / Peep Hole Cams / Amateur Voyeurs
Sponsored By:
Sex In The VIP
Time & Date:
December 23, 2005 @ 5:13 pm
Categories:
Apparently, big, fake boobs also can not hold this style of blouse/dress closed. At least with this drunk party girl, because her tits are desperately trying to bust out of that top, and it's working. Either that, or we should be thanking the genius who came up with faulty nipple tape. He's made this world a better place. No sarcasm intended.
You have to look closely because of the horrible render job done by a previous party, but her nipple is slipping out of the blouse, loud and clear. I just wish I was at this party for ring-side seats to the nipple show.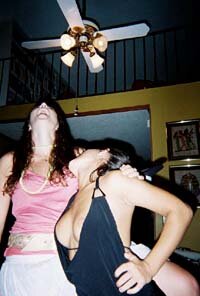 Free Sites:
Drunk Galleries / Amateur Album / Sexy, Drunk & Funny
Sponsored By:
Drunk Girls
« Previous Page | Next Page »