Time & Date:
March 6, 2006 @ 3:43 am
Categories:
Apparently, when a girl pulls another girl's top down (or up), revealing her boobs/nipples is like when us guys depants one of our buddies. Which is always a funny thing to do, except when you're the one being depantsed. Then it's kind of embarassing. It wouldn't stop me from doing to someone else again, though. It appears girls also think it's funny to expose another girl's boobs. I don't know how funny it is, but it's always nice to get a little peek.
The blonde in the little black cocktail number, doesn't appear to be trying too hard to stop her friend from pulliung her boob out. Well, maybe not her full boob, because it looks like her tits are too tiny to actually be pulled out of that top. Nonetheless, we still have have an exposed nipple. A slip by the girl who owns the boobs, but a forced slip, by her drunk friend.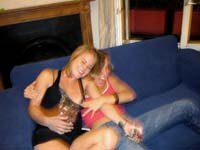 Free Sites:
Uncensored Drunks / Peep Hole Cams / Exhibitionism
Sponsored By:
Girls Get Crazy
Time & Date:
March 5, 2006 @ 12:46 am
Categories:
Over the years, I've noticed that girls with big, natural boobs have to be careful when they're wearing tiny bikinis. Somehow, those big funbags work themselves out of there and nipples are exposed very easily. I used to date this girl in college. She was this tiny Puerto Rican hottie, but she had these huge natural tits that just bounced and jiggled at all the right moments. I bought her a bikini for this trip to the Bahamas I was taking her on. The whole trip she was slipping nipples, left and right. It was great for me, because I would get so horny, I would have to keep taking her back to the hotel room and get a quickie in.
I'm not sure what these drunk party girls are up to in this photo, but I'm kind of wishing I was there. A couple of cuties in bikinis and I see some beer bottles in the background. That's all I need for my own little party. Whatever this chick is doing, it's caused her nipple to make a special appearance, and judging by the finger-pointing in the cornor of the photo, we're not the only ones noticing it.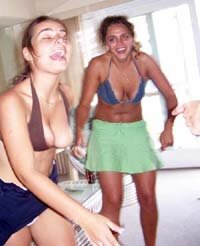 Free Sites:
My Drunk Teens / Dumpster Sluts / Home Made Videos
Sponsored By:
Girls Gone Wild
..:: Official Web Site
Time & Date:
March 3, 2006 @ 10:36 pm
Categories:
God bless the person who designed these kind of tops for women! Either it was a woman, who didn't count on perverted individuals such as us, or it was male designer, who knew exactly what he was doing. I think these tops have produced more nipple and titty slips than anything else out there, besides, maybe bikinis. That happens quite often in bikini tops, if they're not careful.
This chick has to be drunk. I can't think of any other explanation of why a girl in a top likes she's wearing, with no bra, would lay down on top of a bar, in a crowded night club. I know why belly shots are fun, but you would think that she wouldn't want her free and loose titties flopping all over the place, let alone exposed in a public setting. Thankfully, she's either completely shitfaced or clueless to a man's radar for such things. She looks like she has some pretty, tiny titties too. Actually, an all-around nice body, and a cutie to boot.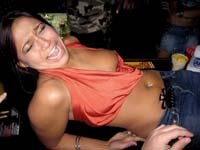 Free Sites:
Rate Nude Girls / Amateur Made Videos / Classic Voyeur
Sponsored By:
Sex in the VIP
Time & Date:
February 27, 2006 @ 2:53 am
Categories:
A little pre-party action always helps to kick-off the night. Have a few of your closer drinking buddies stop by your place to get primed and a little liquored-up for an evening of heavy partying and skirt-chasing. Of course, in this case it's a group of drunk and horny girls, dressed to show off their best assets. I don't think these party girls are going to be doing any skirt-chasing, but you never know these days. They may be looking for one lucky guy to bring home and use as their house sex slave.
There's no visible nipple in this photo, but this downblouse shot of most of her boob, was just too good not to post. Plus, she's in a cocktail dress, there's a glass of wine/champagne on the counter. I'm guessing she's cleaning up a spilled drink from one of her drunk girlfriends, while carelessly letting her blouse fall open, and almost let her tit pop out. I guess if she's among other woman, why would she care if her boobie accidentally makes an appearance?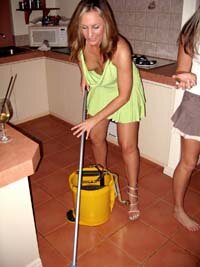 Free Sites:
Drunk Galleries / Rate Nude Girls / Peep Hole Cams
Sponsored By:
Drunk Girls' Night Out
Time & Date:
February 25, 2006 @ 2:28 am
Categories:
Does anyone remember Cindy Margolis? She was once known as the most downloaded woman on the internet, before Danni Ashe snagged her spot. Cindy held that title for something like 3 - 4 years, though, and she was the first person recognized as the most downloaded.
Cindy Margolis never did any porn or nude modeling, so that brief time in the spotlight was from nothing more than bikini and lingerie modeling. Quite an achievement, considering the 'most downloaded' women that followed her were nude models or porn stars. Then she got her own show, "The Cindy Margolis Show". Lots of people complained how horrible it was, but I think they missed the beauty of it. It was nothing but Tits & Ass of hot babes in skimpy attire. It was beautiful! Every friday night I stayed in from the clubs, I'd watch her show religiously. This nipple slip of hers looks like it happened during her former show. That's right. her show was cancelled. And I haven't heard much about her since. Her site says she was working on having a baby, so I'm sure we won't be seeing her anymore.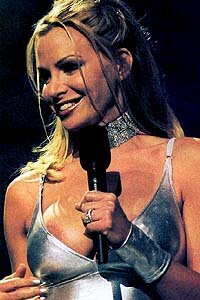 Free Sites:
Celebrity Nipples / Celebrity Movie Blog / Nude Celebrity Post
Sponsored By:
Mr. Skin's Nude Celebs
Time & Date:
February 22, 2006 @ 5:40 pm
Categories:
Mmm-mmm, sloppy-drunk college girls attemtping to be sexy in front of the boys. You gotta love it! I always wondered why it's acceptable for drunk girls to make-out and feel eachother up just because they're drunk, but if a girl does that with a man she's labeled a slut. I don't see what the problem is. I like drunk and easy women hanging all over me, as long as we're going to some place private shortly afterwards.
Not only are there booze bottles everywhere, but you can tell just by the looks on their faces that these college party girls are completely sloshed. What I like about this areola/nip slip is that she's not wearing something loose where her titty could easily escape the confines of clothing. This is a slip out of the bra AND her top. Which means it took a lot for her little boob to make a public appearance. The photographer wasn't the only one noticing her nipple slipping, because I see a finger in the corner pointing as well.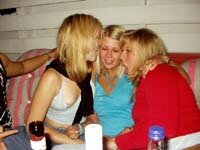 Free Sites:
Uncensored Drunks / Splinter Home Video / Exhibitionism
Sponsored By:
Drunk Girls
Time & Date:
@ 1:07 am
Categories:
Well, if this girl's blouse isn't an attention-getter, then I don't what is. She mine as well just pull her big ol' floppy knockers out of her top and walk around like that. It is kind of sexy, except for the fact that it looks like something her grandmother knitted for her for christmas. I guess, as long as she's flashing some skin, accidental or intentional, she can dress like a bag lady for all I care.
Judging by her heavy-metal wrist band, her messed up hair, and, of course, her overall outfit, I'm going to say she was doing some heavy duty partying that night. She's a bit on the 'chunky' side for my tastes, but she would be a great drunk sex partner. Once you get your buzz on, those big ol' titties are going to start to look mighty scrumptious, and something tells me she would greatly appreciate the attention; therefore she just might be willing to go that extra dirty distance.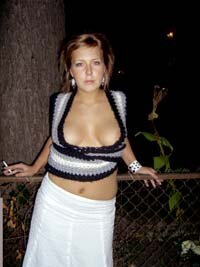 Free Sites:
Drunk Galleries / Home Made Videos / Sexy, Drunk & Funny
Sponsored By:
Girls Get Crazy
Time & Date:
February 20, 2006 @ 9:17 pm
Categories:
I wonder what these two club cuties are on? There have been many o' times when I've felt exactly how she looks. I just can't remember which concoction of which drugs and alcohol I did to feel that way. There were so many good ones, how could I possibly remember all of them? And using them didn't help my memory either. Sacrificing a few brain cells in exchange for a good time never killed anyone. It may turn you stupid, but not kill ya.
I can see how this nipple slip would happen. I'm sure she noticed a mili-second after this photo was snapped, the photographer just happened to take this shot at the right moment. But when a girl is a wearing a top like that (I think it's called a bustier), with her cute, tiny tits and suddenly throws up her arms in a burst of ecstatic euphoria, you can bet there's a good chance her tits/nipples are going to make a public appearance.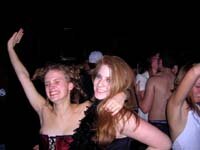 Free Sites:
Viva Voyeur / Dumpster Sluts / My Drunk Girls
Sponsored By:
Drunk Club Cuties
Time & Date:
@ 12:43 am
Categories:
That blonde-bimbo look can be really hot sometimes. Personally, I couldn't imagine myself have any kind of real relationship with a girl like that, but by all means, I'm still a man and I still love all the features a so-called 'bimbo' might have. The big blonde hair, big boobs, legs that would stop traffic, jacked-up cleavage, the tight ass, heavy make-up and a dainty fake laugh to top it all off. But this drunk chick has REAL boobs, which is al ways a plus in my book, and they're real nice boobs to boot.
I'm not sure if this cute party girl could've planned a titty slip this good, and she has the perfect boobs for a downblouse shot of this calibur. Her blouse being completely loose and open might have something to do with it, but sometimes when you're wasted you don't think of those sort of things. And as guys, we're relying on woman to be drunk, sloppy and forgetful just so we can exploit the situation.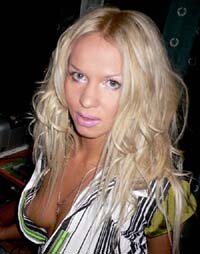 Free Sites:
Uncensored Drunks / Peep Hole Cams / Teen Rave Pictures
Sponsored By:
Real Drunk Girls
Time & Date:
February 18, 2006 @ 10:21 pm
Categories:
Two pretty party girls just hittin' the clubs. It seems innocent enough. They go out and have some drinks, maybe get some dancing in, and more than likely pick up a few horny studs while they're at it. And then it's back to someone's place for a night of hot, drunk sex. Sounds like my kinda night.
Though they look like a couple of hard partying girls, don't appear to be wearing anything particularly slutty, that would easily result in a nip slip. So, apparently, this is just a good old fashioned accidental nipple slip, unless, of course, she just had her titty out to let some passer-by suckle on her teat. Either way, that little sucker is out there, exposed in public.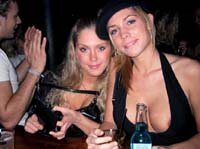 Free Sites:
Drunk Galleries / My Drunk Teens / Stile Project
Sponsored By:
Night Club Girls
« Previous Page | Next Page »