Time & Date:
April 12, 2006 @ 6:25 pm
Categories:
I like this girl's dark hair and dark eye make-up together. It gives her a real slutty look that I just love. Plus, you know a woman like this likes to get down and dirty, and she probably looks amazing completely naked. If that beautiful rack is real, I can only imagine how hot she is underneath it all.
I'm surprised this sexy club girl's boyfriend, or whoever's lap she's sitting on, hasn't noticed her exposed boob in front of his face, yet. If he bends down any further he's liable to poke his eye out on her nipples.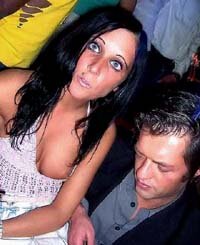 Free Sites:
Drunk Galleries / Teen Rave Pics / Nude Club Pics
Sponsored By:
Wild Club Videos
Time & Date:
April 11, 2006 @ 12:03 am
Categories:
I've been seeing more and more portable stripper poles at parties and bars these days. This is a relatively new phenomenon, probably in the last five years or so. I remember, because I was going to buy one just for show, but then I was told about how they're popping-up at parties. It's pretty good idea, if you think about it. I mean, you have a hell of a lot better chance of drunk girls getting naked with a stripper pole, than if you didn't have anything at all. If a girl wants to dance sexy and take off her clothes for everyone at the party, you mine as well give her the tools to do so.
This drunk coed probably isn't going to intentionally remove any of her clothing. She's giggling way too much for her to be serious about it. Girls like that, you just might get a quick, little titty flash, in a drunken haze, but I doubt she will be doing any strip teases. Of course, she probably doesn't have to, since her nipples and titty is already slipping out of her top on their own. That's an even better strip show; a girl dancing and getting naked without even realizing it.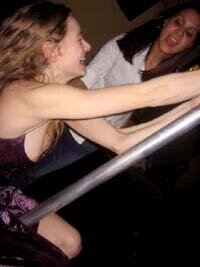 Free Sites:
Home Made Videos / My Drunk Teens / Drunk College Pics
Sponsored By:
Girls Get Crazy
Time & Date:
April 10, 2006 @ 4:33 pm
Categories:
Ok, so the ropes aren't really velvet, but more like canvas or nylon. They're still serving the same purpose as an actual velvet rope, though. Of course, for all I know this could be a marker at a bank, for the people that can't figure out how to stand in a line, but since our slipee and others, are wearing crazy outfits, I'm guessing it's more like a night club.
I'm not sure what the hell this chick is wearing. It looks more like a toga made from a ugly bed sheet than anything else. Lucky for us, she decided against wearing a bra underneath it. Looking closer, I'm betting that this isn't the only time that night, that her bare titty made a public appearance.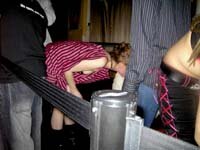 Free Sites:
Rate Nude Girls / Peep Hole Cams / Viva Voyeur
Sponsored By:
Party Pimps
Time & Date:
@ 12:12 am
Categories:
You got to love a girl who has a sense of humor about her tit(s) poipping out in a night club, in public. I can see where it would be embarrassing for some girls. I mean, I would be embarrassed if my dick was dangling in the wind without me realizing it. SO, the girls who take it with stride, you got to respect. Especially, when it's caught on camera!
Now that her titty slipped out in public, she doesn't seem so innocent in that white dress. Actually, she could be flashing her boobs, but it really looks like an accidental slip and it is common in those types of dresses. I think both of her tits popped-out, but we're catching her pulling it back up, while a rebellious boob doesn't quite want to go back in hiding. She was probably drunk dancing until those puppies worked themselves free.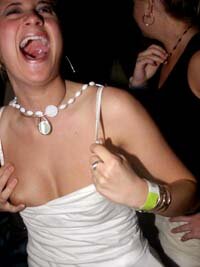 Free Sites:
Drunk Galleries / Amateurs Gone Wild / Night Club Galleries
Sponsored By:
Drunk Club Cuties
Time & Date:
April 9, 2006 @ 3:16 am
Categories:
I think Mandy Moore is gorgeous. I was waiting for her to finally turn 18, so I could drool over her and not feel guilty about it. Now that she's got some womanly shape to her, and more importantly, tits, she's just over the top, in my book. Of course, Mandy is posing with former Playboy Playmate and MTV gameshow hostess, Jenny McCarthy. A pseudo-celebrity well-know for exposing her boobs. Not necessarily in public, or anything, but who hasn't seen Jenny McCarthy's tits?
Ok, back to Mandy Moore and her own personal public exposure. I'm not sure where this photo is from, or what event, but it's not a bad nipple slip at all. Lucky for us, she's been persuing acting more, rather than singing, because we're a lot more likely to see Mandy nude in the movies than we are in a music video. Plus, I don't remember her music being anything new or spectacular, so she's probably better off.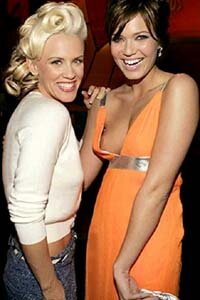 Free Sites:
Celebrity Nipples / Celebrity Movie Blog / Nude Celebrity Post
Sponsored By:
Nude Female Stars
Time & Date:
April 8, 2006 @ 1:58 am
Categories:
I love it when women go braless. Especially when they wear a tight tank-top/dego-tee. I'm not usually a fan of fake boobs, but girls with big fake titties look especially hot like this. Those, and girls with tiny tits, but long, pointy nipples where you can see those puppies almost poking through the thin material. Damn, now I can't wait until summer.
I can't figure out if this drunk club cutie is accidentally exposing her nipples, on the dancefloor, or if she's nonchalantly flashing for the camera. Maybe she lost something down there. Her firm boobs look real, though. Real nice, that is. If she need someone to show her nipples to, I'm game!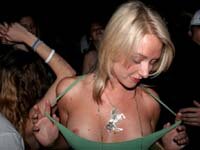 Free Sites:
Uncensored Drunks / Exhibitionism / Stile Projects
Sponsored By:
Sex in the VIP
Time & Date:
April 4, 2006 @ 3:44 pm
Categories:
I've always liked going to costume parties. It's kind of fun to dress up in a costume and be someone else for the night. I don't think you'd catch me dressing like one of the Village People, like the fruitloops below, but I usually dress up like something, or another. Plus, a lot of times, that's like a green light for girls to dress half-naked and like a slut, which always makes attending the party worth it to some degree. Especially, if you can finish getting her all-the-way naked.

This nipple slip looks like she's a victim of a loose clothing and small tits. If she made the costume, or rented it, it probably didn't fit right to begin with. She probably took a gamble, by wearing that loose-fitting costume, and once the alcohol started flowing, she lost that gamble. As a result, we get to see Pocahontas' nipple make itself visible.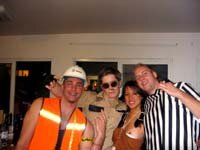 Free Sites:
Uncensored Drunks / Peep Hole Cams / Drunk Video
Sponsored By:
Drunk Girls
Time & Date:
April 3, 2006 @ 10:13 pm
Categories:
Sometimes I really miss those good ol' college days, with the wild parties, the easy girls and all around drunken revelry. I was always one of them guys that you would see at every party, every bar, every night club, ingesting some sort of scooby snacks or buying a round of drinks for everyone. Not only that, but my roommates and I always were the ones throwing huge after-hours parties. Gorgeous wasted women everywhere, and always giving special 'attention' to the host(s).
Evidently, this is one of them theme-parties, where the idea is to dres up in certain kinds of costumes, depending on the theme, of course. Some of the more popular themes I've heard of, are: Pimps & Hos, Underwear, Pornstars, etc. All of which I'm sure men, or fraternities, have come up with as an excuse to get as many half-naked (or almost naked) women to a party, and get them drunk as hell. Which, in opinion, is one hell of an idea. Create an atmosphere where it's required for good college girls to dress like a slut, get shitfaced and it's all completely accepted. This drunk coed got a little wild and carried away when jumping into this guy's arms, and let her nipple/titty slip out a bit, while giving us a beautiful downblouse peek. Perhaps a 'Pormstar' party?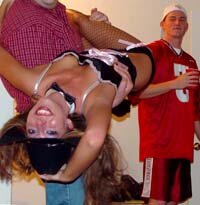 Free Sites:
Dumpster Sluts / Drunk University / Stile Project
Sponsored By:
Wild College Parties
Time & Date:
April 2, 2006 @ 9:54 pm
Categories:
I've been in love with, or at least fantasized about, Alyssa Milano since I've been a little kid, and she was only a kid back then, too. The first TV episode of Tony Danza's, "Who's The Boss?", where she played Tony's daughter from Brooklyn, Samantha. My eyes just lit up, like Christmas over this gorgeous Italian beauty. She probably had something to do for my attraction to Italian women as I got older. I watched her show religiously, for pretty much the whole time it was on, but eventually Alyssa Milano disappeared for a few years. When I ran across this cool, new hip magazine, called, "Bikini", I bought a the copy where Alyssa Milano posed nude! She was covered in mud, but that beautiful girl I grew up with was suddenly a woman. And a naked one, at that!
Obviously, Alyssa Milano grew into a beautiful woman, and still is, to this day. After she bared more of her big, fake boobies in a number of B-flicks, her stardom really went up. At least for all heterosexual men, 16-34. I haven't heard what anything about what Alyssa Milano is up to recently, but I do run across one of her many nipple slips, from time to time. Always a good way to stay in the public's eye; slip your nip for the paparazzi. Or you can take the more extreme route, and release your own porno, that some one "stole" from your house.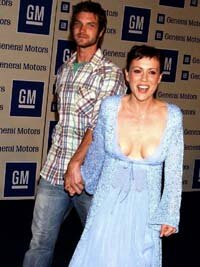 Free Sites:
Celebrity Nipples / Celebrity Movie Blog / Nude Celebrity Post
Sponsored By:
Nitro Celebrities
Time & Date:
@ 4:14 pm
Categories:
Aren't you suppoosed to both be naked when you're in this position? The ol' stand-up 69. A maneuver I've never tried, personally. Though, it looks like a lot of fun, it also looks like a lot of work for minimum satisfaction. If I'm going to be having sex while standing up, she'll be right side up with her legs wrapped around my waist, rather than around my neck. I think that position is more of a pornstar trick, than anything.
It's obvious this drunk party girl was grabbed and thrown into this position, unexpectedly. That doesn't automatically mean a guaranteed nipple slip, but in this case, it does. It's not a full nip slip, but there's definitely some areola making an appearance, and her nipple is right behind that. If the camerman would have just hung in there a milisecond longer, before he snapped the photo, we might have gotten a full slip.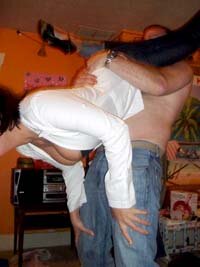 Free Sites:
Drunk Galleries / Amateurs Gone Wild / Drunk Teenies
Sponsored By:
Real Drunk Girls
« Previous Page | Next Page »