Time & Date:
April 28, 2006 @ 4:56 pm
Categories:
Besides her prgnancy and her marriage to white trash, wigger, Kevin Federline, Britney Spears hasn't been in the press for anything really important. No new albums (thank god), no attempts at acting, no major scandals; just Britney with a bun in the oven (I heard she was recently knocked-up with another kid) and her big, milk-filled boobs.
Most of the nipple slips of Britney Spears that you see around the Net are fakes. This isn't a full-on nip slip of Britney, but an areola slip is still kind of nice. I'm just still waiting out the death of Britney Spears' celebrity status, when her desperation to be in the lime light again, leads her into the world of porn, or at least B-movie, soft porn. Hopefully, she doesn't let herself go completely, by that time.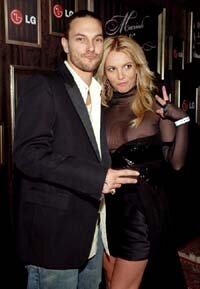 Free Sites:
Celebrity Nipples / Celebrity Movie Blog / Nude Celebrity Post
Sponsored By:
Celeb Tits & Nipple Slips
Time & Date:
April 20, 2006 @ 2:44 am
Categories:
I wish I had as much fun as this drunk party girl is having, while dancing. Don't get me wrong, I like to dance. I'm always out on the dancefloor at bars and clubs. For one thing, it's still kind of fun, and number two, women love to dance. It's always good to have a skill or two, that women dig, and dancing is the perfect opportunity to be close and dirty with a woman without her looking too slutty to the rest of the harsh-judging female public.
When women wear these types of tops, they usually manifest a nice downblouse view, whether it's only cleavage or the occasional nipple slip. Obviously, in this case, we have a partial slip. There's more of her areola visible, than a full nipple, but it's still nice to see even the slightest slipage. This drunk college girl has no idea her nipple/boob is slipping out while she's bouncing around to the tunes. A couple more hops to the beat, and we might've had her full titty popping out. If only the cameraman was there then. Damn Murphy and his law!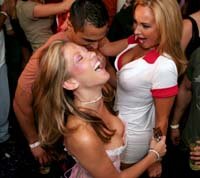 Free Sites:
Uncensored Drunks / Dumpster Sluts / Drunk Teenies
Sponsored By:
REAL College Girls
Time & Date:
April 19, 2006 @ 12:25 am
Categories:
These two chicks look completely shitfaced. They're so drunk that they're falling all over eachother and probably laughing uncontrollably. You know how it is when you you're on one of them rare, I'm-king-of-the-world drunks? When everything you do is a laugh-riot, you're on fire with the ladies and you can keep going at full speed until well into the next evening. If you're lucky, you also wake up the next morning, hangover-free and with about 50 phone numbers of all the dirty girls you met or made-out with, the night before..
At first, I thought this was a couple of wasted club girls, but they aren't girls-night-out drunk; those two cuties are wedding-drunk. It seems at weddings that people get way more drunk than they ever would, anywhere else in public. My theory is because you're around you're family and friends, so you just let loose. Evidently, these girls really let loose at this wedding. Our slipee hasn't even noticed her wasted girlfriend is accidentally pulling down her dress, revealing her nipple/areola. Meeting a drunk and single girl at a wedding is like money falling from the sky. It don't get much better.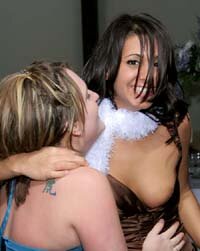 Free Sites:
Drunk Galleries / Peep Hole Cams / Stile Project
Sponsored By:
Party Pimps
Time & Date:
April 13, 2006 @ 6:17 pm
Categories:
Lately, it seems the Jessica Simpson buzz has died down. I'm guessing since "Dukes of Hazzard" has come and gone, and from what I hear is a horrible movie. The only reason you would catch me watching that flick is strictly to see Jessica Simpson in her Daisy Dukes, or in a string-bikini, like her video for, "These Boots". I'm still wondering if Johnny Knoxville got a piece of that.
This is more of a partial nip slip, or an areola slip, but her beautiful cleavage makes up for what we're lacking in the full nipple slip department. She has all-natural, big boobs, so I'm sure it's a task to keep those puppies under-wraps, which makes it all the more special when Jessica accidentally exposes her nipples. At least, she finally dumped Nick. Now it's finally my chance to make my move.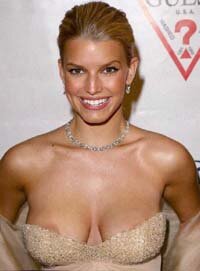 Free Sites:
Celebrity Nipples / Celebrity Movie Blog / Nude Celebrity Post
Sponsored By:
Mr. Skin's Nude Celebs
Time & Date:
April 11, 2006 @ 10:28 pm
Categories:
What can you say about a drunk coed thrusting her bra-covered boobs forward, for a picture. It's a normal pose for a lot of college girls these days, when they're drunk, horny and uninhibited. I see a lot more girls flashing their bare breasts to the public, though, rather than keep the bra covering the goodies.
My spidey-senses tell me that this drunk coed doesn't realize she's also flashing part of a stray nipple. I've noticed the girls with longer, harder nipples have a lot of areola slips. My theory is that, their long, pointy nipples are strong enough to hold the fabric above their whole nipple, thus only revealing the areola. So, now I'm imagining some hard, long nips portruding out of her busty chest and it's a beautiful site!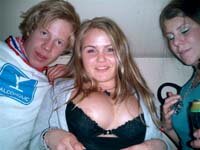 Free Sites:
Drunk University Girls / Exhibitonism / Light Teen Series
Sponsored By:
Girls Gone Wild
..:: Official Web Site
Time & Date:
April 10, 2006 @ 12:12 am
Categories:
You got to love a girl who has a sense of humor about her tit(s) poipping out in a night club, in public. I can see where it would be embarrassing for some girls. I mean, I would be embarrassed if my dick was dangling in the wind without me realizing it. SO, the girls who take it with stride, you got to respect. Especially, when it's caught on camera!
Now that her titty slipped out in public, she doesn't seem so innocent in that white dress. Actually, she could be flashing her boobs, but it really looks like an accidental slip and it is common in those types of dresses. I think both of her tits popped-out, but we're catching her pulling it back up, while a rebellious boob doesn't quite want to go back in hiding. She was probably drunk dancing until those puppies worked themselves free.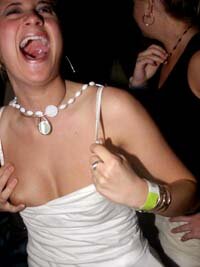 Free Sites:
Drunk Galleries / Amateurs Gone Wild / Night Club Galleries
Sponsored By:
Drunk Club Cuties
Time & Date:
April 9, 2006 @ 3:16 am
Categories:
I think Mandy Moore is gorgeous. I was waiting for her to finally turn 18, so I could drool over her and not feel guilty about it. Now that she's got some womanly shape to her, and more importantly, tits, she's just over the top, in my book. Of course, Mandy is posing with former Playboy Playmate and MTV gameshow hostess, Jenny McCarthy. A pseudo-celebrity well-know for exposing her boobs. Not necessarily in public, or anything, but who hasn't seen Jenny McCarthy's tits?
Ok, back to Mandy Moore and her own personal public exposure. I'm not sure where this photo is from, or what event, but it's not a bad nipple slip at all. Lucky for us, she's been persuing acting more, rather than singing, because we're a lot more likely to see Mandy nude in the movies than we are in a music video. Plus, I don't remember her music being anything new or spectacular, so she's probably better off.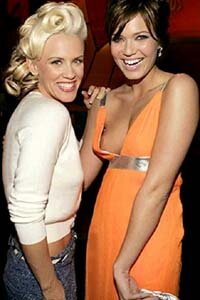 Free Sites:
Celebrity Nipples / Celebrity Movie Blog / Nude Celebrity Post
Sponsored By:
Nude Female Stars
Time & Date:
April 2, 2006 @ 9:54 pm
Categories:
I've been in love with, or at least fantasized about, Alyssa Milano since I've been a little kid, and she was only a kid back then, too. The first TV episode of Tony Danza's, "Who's The Boss?", where she played Tony's daughter from Brooklyn, Samantha. My eyes just lit up, like Christmas over this gorgeous Italian beauty. She probably had something to do for my attraction to Italian women as I got older. I watched her show religiously, for pretty much the whole time it was on, but eventually Alyssa Milano disappeared for a few years. When I ran across this cool, new hip magazine, called, "Bikini", I bought a the copy where Alyssa Milano posed nude! She was covered in mud, but that beautiful girl I grew up with was suddenly a woman. And a naked one, at that!
Obviously, Alyssa Milano grew into a beautiful woman, and still is, to this day. After she bared more of her big, fake boobies in a number of B-flicks, her stardom really went up. At least for all heterosexual men, 16-34. I haven't heard what anything about what Alyssa Milano is up to recently, but I do run across one of her many nipple slips, from time to time. Always a good way to stay in the public's eye; slip your nip for the paparazzi. Or you can take the more extreme route, and release your own porno, that some one "stole" from your house.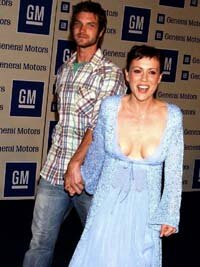 Free Sites:
Celebrity Nipples / Celebrity Movie Blog / Nude Celebrity Post
Sponsored By:
Nitro Celebrities
Time & Date:
@ 4:14 pm
Categories:
Aren't you suppoosed to both be naked when you're in this position? The ol' stand-up 69. A maneuver I've never tried, personally. Though, it looks like a lot of fun, it also looks like a lot of work for minimum satisfaction. If I'm going to be having sex while standing up, she'll be right side up with her legs wrapped around my waist, rather than around my neck. I think that position is more of a pornstar trick, than anything.
It's obvious this drunk party girl was grabbed and thrown into this position, unexpectedly. That doesn't automatically mean a guaranteed nipple slip, but in this case, it does. It's not a full nip slip, but there's definitely some areola making an appearance, and her nipple is right behind that. If the camerman would have just hung in there a milisecond longer, before he snapped the photo, we might have gotten a full slip.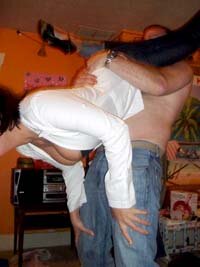 Free Sites:
Drunk Galleries / Amateurs Gone Wild / Drunk Teenies
Sponsored By:
Real Drunk Girls
Time & Date:
March 23, 2006 @ 1:58 pm
Categories:
I really prefer to get a face shot in these photos. I like to see the whole package, but the real reason why we're here is for the love of slippery nipples. And when I say, "slippery", I mean, nipples that easily escape the confines of a woman's blouse/bra, especially in public.

I think this downblouse view of this wild club girl's nipple about to slip, is classified as one of them lucky shots. Like, she just happened to be walking by as the photographer took the shot, and her "slippery" nipple wasn't noticed until later. Too bad the camera didn't follow her around the club that night, because those guns look very nice, and it appears they could pop-out of her blouse/dress at any time. That, I would've loved to see!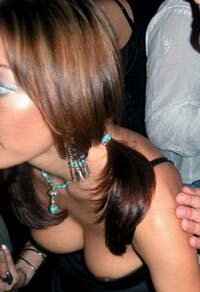 Free Sites:
Rate Nude Girlfriends / Exhibitionism / Splinter Home Video
Sponsored By:
Wild Club Videos
« Previous Page | Next Page »