Time & Date:
June 27, 2006 @ 8:42 pm
Categories:
I'm only guessing that this is some sort of formal event, and not a full-on bar or pub. I see a few tuxedos in the background and the lights are a bit bright for a dingy bar. More than likely, it's some sort of charity or auction, or some sort of function where rich people get dressed-up and spend a shitload of money for a dinner.
Definitely the cutest one of the bunch, the girl in the middle has one of her nipples slipping right out the top of her dress or blouse. She appears to have tiny tits, so I can easily see how her strapless attire can slip down over her little speed bumps without much trouble, drunk and careless, or not.
Free Sites:
Rate Nude Girls / Exhibitionism / Adult Ipod Videos
Sponsored By:
Drunk Girls in Public
Time & Date:
June 26, 2006 @ 10:18 pm
Categories:
Whoa! This is more of a double titty slip, than anything else. You rarely get an opportunity to witness a slip as big as this drunken club girl's. I mean, her blouse or halter top (whatever) has almost slipped completely down around her mid-section, almost completely exposing her big, fake boobs to the public.
She looks like she's glancing down, but it doesn't appear she's noticing her own boobs popping out of her blouse. Actually, I think she might be bustin' a move, and all them herky-jerky moves and bouncing to the beats, has worked them well-rounded funbags right out into the open. How come this never happens to women when I'm dancing with them?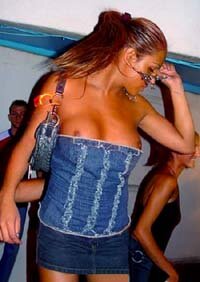 Free Sites:
Dumpster Sluts / Nude Club Pics / Light Teen Series
Sponsored By:
Sex in the VIP
Time & Date:
June 25, 2006 @ 11:00 pm
Categories:
Ah, yes. After club hours at a greasy-spoons. One of my favorite places to go after a night of wild partying and drinking at the night clubs. It's that greasy junk food that'll absorb all that booze. Don't get me wrong, I also love a good after-hours shindig, where the party continues and the wasted single girls start zeroing in on a dude she can shack up with, for the night. It's almost a necessity to score if you've been partying hard, so the men are equally on the hunt for any piece of ass that will satisfy and gratify.
This chick looks pretty wasted, and she was probably out at the bars/clubs, just like I mentioned. I'm not sure if her blouse is caught on something or not. At first, I thought she was pulling it down herself, but her arm is too far away. One thing I'm positive about, is those puffy nipples that are peeking out of her blouse look scrumptious. It's very tempting to stick my head thru my monitor screen and nibble and those nipples.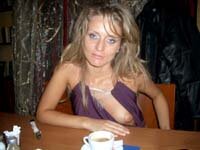 Free Sites:
Uncensored Drunks / Peep Hole Cams / Teen Rave Pics
Sponsored By:
Night Club Girls
Time & Date:
June 24, 2006 @ 10:27 pm
Categories:
Ok, obviously this isn't an accidental nip slip. I just think it's a cool photo, and after all, she is throwing-back alcohol and there is a a nipple or two, present. So, I figured you wouldn't mind if I posted a non-slip as long as it's a good, drunken photo that involves female nudity.
Anyway, enjoy the photo for what it's worth. I mean, she DOES have a very beautiful, all-natural rack that I wouldn't mind getting my mouth and hands on.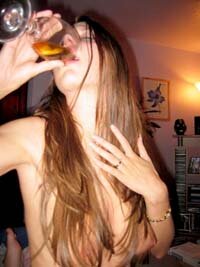 Free Sites:
Drunk Galleries / Home Made Videos / Exhibitionism
Sponsored By:
Hardcore Partying
Time & Date:
June 23, 2006 @ 5:23 am
Categories:
Don't you love it when girls drink so much booze that that their inhibitions go out the window and they will fool around, or make-out, with just about anyone, including one of their girlfriends? Yeah, I love it, too. I've been to a few parties where there have been a couple girls so wasted, that they ended up having actual sex with eachother, right before my very eyes.
This nip slip isn't easy to find, but it's there. Just follow the cleavage of the drunk college girl, on the bottom of her extremely sexy girlfriend. It's just barely poking over the top of her blouse. Now we just got to get the blonde to show some more skin and then we'd really have something to drool over.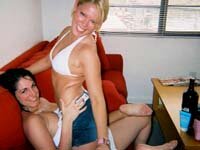 Free Sites:
Drunk University Girls / Party Galleries / Wasted Coeds
Sponsored By:
Easy Drunk Girls
Time & Date:
June 22, 2006 @ 2:58 am
Categories:
One of my favorite things about hitting the clubs is watching the girlies in their sexiest outfits, dancing and shaking their tail. There's this one club where they select the hottest of the hot women to dance in a cage, above the dance floor. I could sit their all night and watch all the drunk hotties wiggle their sexy little bodies. Of course, I would more than likely leave a puddle of drool where I was standing and watching them, but the mess would be worth it.
I always love the overzealous girls, that are dancing and boogying so hard that one of their titties/nipples slips out of their top. They're my favorite kind of dancers, besides strippers, of course. Obviously, this club girl has no idea that her nipple has worked itself out into the public's view, which makes a good nip slip all the better.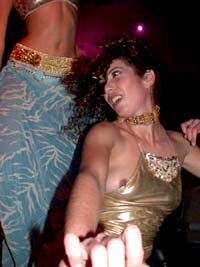 Free Sites:
Rate Nude Girls / Stile Project / Night Club Galleries
Sponsored By:
Wild Club Videos
Time & Date:
June 21, 2006 @ 4:15 am
Categories:
You know this chick is a real party girl. When a drunk girl straddles some dude, while in her loose bra and panties, on the beach, in front of a crowd, you know a girl like that doesn't fuck around when it comes to having a good time. I've dated a few girls that were really wild, like this and there were nights with them that I wanted to last forever.
To me, it appears they're playing some sort of drunken beach game, like something you would see on MTV's spring break. Either that, or they're with some chartered group of young couples on some tropical location, where they can be drunk and naughty and still show their face at their jobs or in public, when they return. But when you break it all down, who really gives a shit what they're doing? There's a young, drunk female accidentally letting her nipple(s) slip out in public. And that's what we're here for.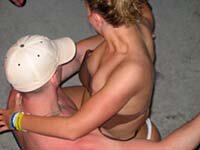 Free Sites:
Drunk Galleries / Dumpster Sluts / Adult Ipod Videos
Sponsored By:
Party Pimps
Time & Date:
June 20, 2006 @ 10:25 pm
Categories:
I think Jessica Alba is one of the most beautiful women walking on the face of this earth, right now. I've been a fan of hers since I saw, "Never Been Kissed", with Drew Barrymore. I believe she broke into stardom after appearing as the lead role in the television series, "Dark Angel", but her acting credits go back as far as 1994. Of course, I'd be lying if I said Jessica Alba is a great actress, but she's very easy on the eyes, so I can sit through just about anything she's in.
I just hope, one day soon, that Jessica Alba's career begins to tank, just so she'll be forced to go into softcore porn to keep the paychecks coming in. I mean, we have been seeing more and more of her lately. Unfortunately, looking her film schedule, she has a LOT of flicks coming out in the near future, so we're going to have to wait out her career to see her get naked. It's bittersweet situation; we get to see more of Jessica Alba, but not "MORE" of Jessica Alba. At least, not yet.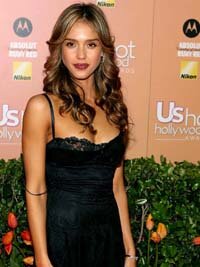 Free Sites:
Celebrity Nipples / Celebrity Movie Blog / Nude Celebrity Post
Sponsored By:
Paparazzi Filth Exposed
Time & Date:
June 19, 2006 @ 6:53 pm
Categories:
Sometimes girls get really goofy and silly when they're drunk. Especially, when they're with other girls. Usually, if they're wasted around a bunch of drunk men, they end up on their back with their legs in the air. The only problem with that is, who's going to be the lucky guy that gets to lay on top of her. There's a lot of intense competition when there's very few women at what would normally be considered a sausage fest, as I'm sure you already know.
I'm not sure what's going on in this photo, but it's obvious this college cutie has tripped and fallen, only for her little, tiny titty and nipple to slip out of her dress, making a public appearance. She looks like she's in some sort of cocktail dress, so I'm assuming she was having an evening out, where she was more than likely getting tanked. If she's falling-down drunk already, this would be the perfect time for a man to make his move.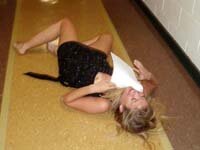 Free Sites:
Drunk University Girls / Peep Hole Cams / Wild Amateurs
Sponsored By:
Real College Girls
Time & Date:
June 17, 2006 @ 6:52 pm
Categories:
Ok, so they're not completely naked, yet, but they're well on their way. It looks like the wasted coed, in the blue panties, couldn't get her clothes off fast enough. As luck would have it, she has a super-cute, little bod on her, and judging by the the hand gesture of the guy behind her, I'd say she has an equally nice ass.
I've never been able to figure out what compels certain girls to get naked or have some form of sex, in front of a crowd of people. I mean, I know the alcohol has a lot to do with it, but I've been really shitfaced many times in my life and never has the thought of getting naked in front of everybody, cross my mind. That's lucky for everyone else, though. Don't get me wrong, I love drunk naked coeds, dancing around and making out in front of me! And, of course, I welcome any of them to jump under the covers with me. I'll take advantage of it, but I just don't understand why they do it. Attention, I guess.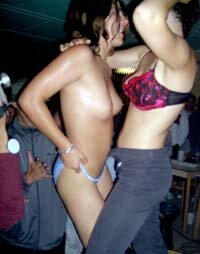 Free Sites:
Uncensored Drunks / Exhibitionism / Drunk College Pics
Sponsored By:
Girls Gone Wild
..:: Official Web Site
| Next Page »