Time & Date:
June 7, 2007 @ 10:01 pm
Categories:
I don't think she's intentionally bending over to flash her uncovered ass and pussy to the masses, but this drunk club girl evidently forgot she had no panties on underneath her skirt before she went dancing on the box/platform. Sometimes girls get too drunk and they are completely unaware that their nipples, or in this case, her ass is hanging out, giving us an upskirt shot that we won't soon forget!
I would think that a woman would take into consideration the fact that she's not wearing panties underneath her short skirt, when she goes out clubbing. I actually believe that deep-down these girls know exactly what they're doing when they dress like this. It turns guys on thinking that they're getting a free peep show and if it's an "accident" it doesn't make the woman seem as trampy as she really is, or wants to be. I mean, her pussy IS shaved. She had to be planning to let someone see it that evening.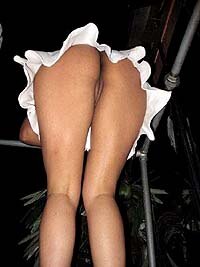 Free Sites:
Drunk Galleries / Dumpster Sluts / Sexy, Drunk & Funny
Sponsored By:
Party Girl Upskirts
Time & Date:
January 16, 2007 @ 3:58 am
Categories:
It's been a while since I've posted a nice upskirt shot of some party girl's barely thong-covered clam. Of course, if she were wearing no panties at all underneath her skirt, it would be much better, but I think you would agree that this is still a very sexy photo. I mean, I know I wouldn't mind poking my head up her skirt and let her gyrate and grind on my tongue.
I think it's the invention of the camera-phone, or other small, palm-sized cameras, that have led to the influx of upskirt photos of cute girls, both with panties and without any panties. Especially from club girls dancing, because they're all caught up in the moment and aren't watching for perverts, like us, sticking their camera-phone up her skirt and between her legs, snapping photos of her puss. God bless all you sneaky photographers!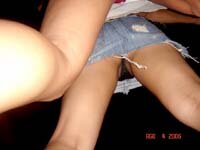 Free Sites:
Rate Nude Girls / Nude Club Pics / Buck's Voyeurs
Sponsored By:
Party Girl Upskirts
Time & Date:
September 28, 2006 @ 1:33 am
Categories:
Isn't it lovely when women dress all trampy? Especially when they have long, beautiful legs that lead up to a mini-skirt that's heavy on the "mini". It's a rarity, but I think I have a enough photos posted on this site to prove it, that sometimes we're even lucky enough to catch an upskirt view of hottie without any panties on, underneath her skirt. As you can see, this is one of those times.
I know it's not the clearest pantyless crotch-shot you've seen here, but they ARE pantyless, nonetheless. From what I can see, those are two exposed crotches that I wouldn't mind looking up at, right now. Besides giving the boys something to smile about, a girl in a skirt and no panties is also easy access, if you just MUST have it right then and there.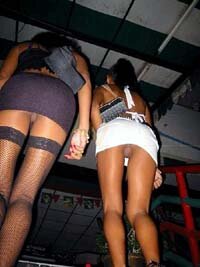 Free Sites:
Rate Nude Girls / My Drunk Girls / Maximum Nipples
Sponsored By:
Party Girl Upskirts
Time & Date:
August 13, 2006 @ 11:22 pm
Categories:
I don't know about you, but I love watching hot chicks, in skimpy attire, dancing all sexy (on a pole), while drunk. They always love to take it a step further, whether they plan to or not, to get more of the attention from the men-folk. That's okay, though, because it totally works. I know one thing that will work even better, and that's if their nip slips out of their blouse/top. Of course, someone would have to actually catch that stray nipple to get the attention, but once in a while someone's smart enough to whip-out a camera and snap a photo.
It looks like one one of those pole dancers is actually supposed to be up there, entertaining, while the girl who is inadvertantly exposing herself, is just another club girl who thinks she bust-a-move better. Personally, I don't give flying hootenany who can dance better, because once I start seeing little titties accidentally exposing themselves, that girl has my full attention, in more ways than one.
Free Sites:
Exhibitionism / Nude Club Pics / Teen Rave Pics
Sponsored By:
Wild Club Videos
Time & Date:
July 24, 2006 @ 7:27 pm
Categories:
It cracks me up, seeing these dudes, with ring-side seats, just staring up the skirt of this drunk dancing, club girl. Then again, how could she not realize that her miniskirt is practically draped over one guy's head. It's possible it's her boyfriend with his head up her skirt, but he's not the only one getting a sexy, upskirt show. I mean, her skirt IS pulled-up a bit, in the front.
I used to have a roommate who was a (female)go-go dancer, at several of the local night clubs. She, and other girls who are allowed to dance on the platform for the masses, just love the attention they get from all the horny dudes, watching them. I don't know if it's a turn-on for them or they just feel like the center of attention, but they usually don't care if you stand and drool over them, as they dance. It's part of the reason they're up there, flaunting their stuff.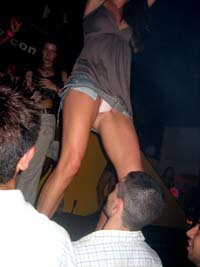 Free Sites:
Rate Nude Girls / My Drunk Girl / Nude Club Pics
Sponsored By:
Party Girl Upskirts
Time & Date:
July 6, 2006 @ 8:25 pm
Categories:
Is this just a cruel tease, or what? I know she's not purposely flashing her thong, by way of an upskirt view. Actually, it's not even really her thong, it's just the very small amount of materieal covering her pussy lips. That makes it even more of a tease, because I just want to slowly lift her denim skirt, slide that panty material off to the side, and sink it into home.
It seems like she's literally falling-down-drunk, so she might not have a problem with me getting a quickie in from behind, or anyone else, for that matter. She has a nice pair of legs on her, and usually with a nice pair of legs, comes an equally great ass. From the looks of it, the way she's bent over, she definitely has a beautiful heart-shaped hiney.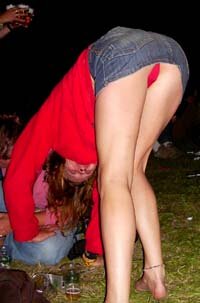 Free Sites:
Drunk Galleries / Peep Hole Cams / Teen Rave Pics
Sponsored By:
Hips and Thongs
Time & Date:
May 31, 2006 @ 6:09 pm
Categories:
Yes, it's true. I do love a woman's nipples, but I double as a legs-and-ass man, as well. When I first saw this photo, I was reminded why I love those appendages on women, so much. I couldn't (and still can't) stop drooling, and rom what we can see, she's flawless, from the waist–down. I bet she looks absolutely amazing in a mini-skirt and high heels.
I'm sure some women intentionally put on a show for the boys, by shaking their uncovered ass, but I really believe most of the upskirt photos, including this one, is drunk party girls, forgetting that their sexy, little ass is exposed. I don't see any evidence that she's wearing a thong, either. Too bad this picture wasn't taken at a different angle, where we could see more than just her ass. I'm cool with this angle too, though.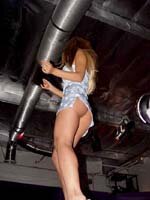 Free Sites:
Drunk Galleries / Peep Hole Cams / Night Club Galleries
Sponsored By:
Party Girl Upskirts
Time & Date:
May 15, 2006 @ 5:50 pm
Categories:
This drunk cutie is showing a bit more than we usually show here, but those natural boobs are just too perfect not to post! And the fact that she's so wasted and caught up in the moment, that she rips her wet t-shirt off is also a major contributing factor to posting her topless, rather than a nip slip.
I'm guessing that this drunk and wasted coed won the wet-t-shirt contest. Not just because she's the only one topless, or that she has a perfect set of tits, but for the near-sexual activity as she's straddling another drunk college girl, who has a beautiful pair of legs on her, by the way. I saw one video where the girl was surrounded by drunk, horny men as she stripped for the crowd, from a boat. Before she was done, the men were holding her up by her arms and legs, while other dudes fingered her, and one even penetrated her pussy with a drilldo. The hot thing about it was, that she was enjoying every minute of it. It even looked like she had an orgasm.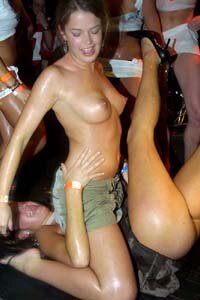 Free Sites:
Drunk Galleries / Exhibitionism / My Drunk Teens
Sponsored By:
Girls Gone Wild
..:: Official Web Site
Time & Date:
May 6, 2006 @ 7:23 pm
Categories:
It's always a good day (or night) when you catch a glimpse upskirt on just about any cutie, with a nice pair of stems and ultimately, a great ass. Even when they ARE wearing panties/thong! But it's one hell of a lucky day when you peek up a girl's skirt and she's completely pantyless. No underwear at all. If she's dancing on a box/platform (where you see a lot of upskirt shots), all you see is her bare pussy and ass, gyrating to the beats.
Apparently, this drunk club girl completely forgot that she's not wearing any panties, under her short skirt. Alcohol tends to do that to people, sometimes. It's a lucky break for the rest of us, though. How often do you get a upskirt view of a drunk girl dancing and shaking, without any panties on? Not often at all! But now that I've seen it, I definitely want to see more.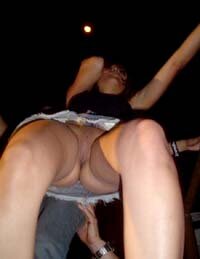 Free Sites:
Drunk University Girls / Nude Club Pics / Accidental Voyeur
Sponsored By:
Party Girl Upskirts
Time & Date:
April 27, 2006 @ 6:06 pm
Categories:
Ok, so she's more-than-likely not drunk or partying at this moment, but she's damn cute! In fact, I wouldn't kind seeing more of her whethger she's fully dressed or not, because she's one of them types of girls who would look hot no matter what she wore, or what she didn't wear. Judging by the fact that her exposed little boob has no tan lines, I'm guessing that beautiful dark skin is all-natural, unless, of course, she sunbathes in the nude.
You can tell she has tiny, but cute, little titties. And judging by what I can see on her, the rest of that bod ain't too shabby, either. I would love to get them long, smooth legs wrapped around my neck, and if they're any indication of what her backside looks like, I'm betting she has a spectacular, sexy ass, as well.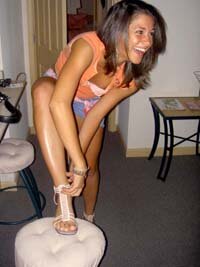 Free Sites:
Uncensored Drunks / Peep Hole Cams / Max Nipples
Sponsored By:
Candid City
| Next Page »