Time & Date:
June 25, 2007 @ 5:25 pm
Categories:
I would say it's fairly normal to see a couple of drunk chicks making-out at a party, these days. I used to think they were just putting on a show to get us guys all wound up, but I recently heard a girl say that that's not necessarily the case. She said that's how her lust for women started, by making-out with other girls for her boyfriend(s) at parties, that turned into threesomes, and then into full-on lesbianism.
Although this public display of exhibitionism is obviously not accidental, it never ceases to amaze me how far girls will go with other chicks while drunk and in front of other people. If these two party girls claim that they are 100% straight, they're only fooling themselves. I realize girls are a bit more flexible on same sex intimacy, but dropping trou and getting your box chowed at a party is a little more than just being drunk, horny and wild. Don't get me wrong, though. I ain't complaining.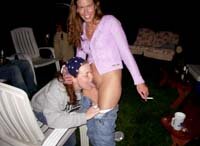 Free Sites:
Drunk Galleries / Chowing Teen Box / Indie Nudes
Sponsored By:
Crazy Party Girls
Time & Date:
December 4, 2006 @ 11:10 pm
Categories:
Getting naughty in the night club is always a lot of fun. It's dark, not many people are paying attention or are just too drunk too notice. Best of all, the thrill of actually getting caught be someone really makes it even hotter. Several years ago, I was taking pictures with an ex girlfriend of mine in one of them instant photo booths. Before we knew it, we were just going with the flow when she removed her top. This, of course, led to some nipple play, which led to us TRYING to have sex in there. BUT…we got caught by the bouncers. We had to hurry home, after that, and finish the job.
I haven't been able to figure out if this girl realizes her skirt has ridden-up, exposing her pierced pussy lips yet, or not. It definitely appears she's teasing some dude by giving him a booty-rub over over his jeans, but does she notice that cold draft going between her legs? Obviously, someone noticed this drunk and horny girl's pussy exposed to the public, and it looks like it's with a married man, too.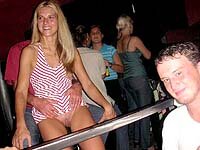 Free Sites:
Exhibitionism / Wild Amateurs / Accidental Voyeur
Sponsored By:
Sex in the VIP
Time & Date:
October 22, 2006 @ 5:48 am
Categories:
This is a bit more hardcore than I normally get here, but how could I pass up a photo of chick finger-fucking her girlfriend in the butt, in front of a group of party people? I mean, it's not often a girl drops trau in a middle of a party, let alone let her friend ream her butthole with a couple fingers, in the process.
I can tell by the drinks and that there are several people standing around, so it's at least some kind of party. And either these girls are super wasted or they're full-on, hardcore exhibitioists; but I think even practicing exhibitionists show some restraint, in normal socitety. I'm just wondering if anyone else got to take turns sticking something of theirs in her a butthole, after her friend was done. I dare to dream.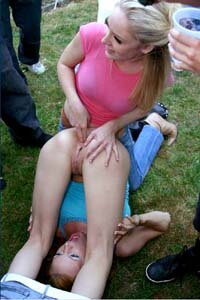 Free Sites:
Exhibitionism / Stile Project / Drunk Girl Galleries
Sponsored By:
Crazy Party Girls
Time & Date:
October 12, 2006 @ 6:15 pm
Categories:
Apparently, a nip slip is the last thing on this party girl's mind, as she carelessly rolls around on the bed with her two drunk girlfriends. I don't think she's wearing the right dress/blouse to be mixing it up with a couple of girls and to walk away with out accidentally flashing some part of her body that was meant to be unseen by the rest of us. Especially, since she's braless and has some big, all-natural boobs to contain.
I wish I knew what it was that makes girls get all sexual with eachother once they had a few cocktails. I mean, it's obviously the booze doing a lot of it, but does that mean that they already had lesbian tendencies? Or are they just being little, sexual playthings for all the boiys, merely for the extra attention they will most definitely be getting? Maybe I'm putting too much thought into it and I should just let girls be girls…with other girls.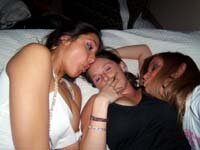 Free Sites:
Uncensored Drunks / Platinum Voyeur Videos / Drunk College Pics
Sponsored By:
Hardcore Partying
Time & Date:
July 18, 2006 @ 7:53 pm
Categories:
Once in a great while, you attend a wild party where the booze is flowing and the cute girls are horny. Just mixing those two ingredients (alcohol, horny girls) can equal one hell of a party. It's rare, but it does happen, and that's when a couple of the more loose women get so drunk that they start putting on a little lesbian sex show, for both themselves and all the boys cheering them on. As you can see, these two wasted coeds are about to go the distance. One girl's boob is about to pop right out of her bra, as she's fingering her girlfriend's pussy.
I used to live in a very well-known party house, in my city, and on a number of occasions, both straight and lesbian couples would break into some sort of sexual performance, right in front of the whole party. The strange thing was it became such a regular thing amongest our circle of friends and party pals, that no one cheered them on. No one gawked as they gratified eachother. They just went along and did there thing, as if no one was in the room.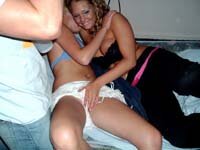 Free Sites:
Home Made Videos / Peep Hole Cams / Drunk College Pics
Sponsored By:
Wild College Parties
Time & Date:
July 1, 2006 @ 5:13 am
Categories:
Awww, yeah! It's one thing to see your buddies sucking the whip cream off some drunk coed's nipples, but it's quite another when it's another girl cleaning off her nipples. I don't know if they do it for the attention or because they genuinely want to suck on another girl's tits/nipples, and they're using the alcohol as an excuse, so she's not judged. Maybe it's more acceptable for women, if another girl sucks on their titties, rather than a man.
You have to look closely to catch this drunk coed's exposed nipple(s). It appears another wasted coed is licking whip cream from her tits, while the lickee is exposing her boobs more and more, so her friend laps it all up. Meanwhile, if it wasn't for her hair, she's completely exposing her tits/nipples to the whole party. Always one of my favorite party games to play!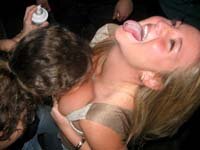 Free Sites:
Drunk Galleries / Home Made Videos / Sexy, Drunk & Funny
Sponsored By:
Wild College Parties
Time & Date:
June 8, 2006 @ 2:23 am
Categories:
I can never figure out why when girls get drunk, they flash their tits and/or a couple of their girlfriends will either grab their tit or suck on their nipples. Of course, I enjoy seeing it as much as they next guy, but women's thought process just baffles me, sometimes. I mean, when I get shit faced, I don't pull down my pants and have a couple of my buddies start juggling my nuts in their mouth, let alone in front of a camera!
Case in point, this busty, drunk blonde lifts up her shirt/bikini for the camera, her two drunk girlfriends start sucking on her nipples. It's the perfect setting. A vacation warm, tropical island with just the girls. Their whole trip consists of drinking on the beach all day, hitting the clubs at night, getting laid by some random guys, and slipping in a few hours of sleep, here and there. Sounds like a great trip to me! Especially if I'm one of the lucky dudes that gets to go home with them.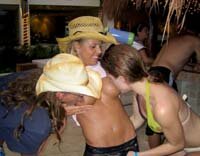 Free Sites:
Drunk Galleries / Dumpster Sluts / My Drunk Girls
Sponsored By:
Girls Gone Wild
..:: Official Web Site
Time & Date:
June 3, 2006 @ 6:33 pm
Categories:
I love it when I'm at some wild party and a couple of the drunk hotties are so far gone that they're already becoming lesbians, for all the male attention. I've had a few crazy bashes, where some of the girls actually go as far as having full blown sex with eachother! It's beautiful! The only problem is, that you better make sure you have a woman around , because you're going to be so horny after that, that you'll have no other choice, but to bust a nut anyway you can. If you're really lucky, maybe one of the drunk lesbos will be so horny that they just MUST have you right then and there! That's wishful thinking, of course.
In this photo, it's actually the nipple sucker, rather than the suckee, that's slipping her nipple, as she's bending down to suck on her girlfriend's nipple/titty during some drunken revelry. If you notice in the background, that there's a lot of booze bottlews, and what looks to be a group of drunk and horny frat dudes, cheering the girls on. A typical scene during some of the wildest parties you will ever see.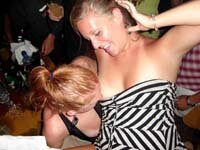 Free Sites:
Drunk University Girls / Sexy, Drunk & Funny / Drunk College Pics
Sponsored By:
Wild College Parties
Time & Date:
April 30, 2006 @ 3:36 am
Categories:
I know, I know, this is another one of them posts where the girls are super sexy, but there's not any real nudity, even though there kind of is. We just can't see it, unfortunately. I wonder if the girl's arm was strategically over the middle girl's exposed tits? I mean, what are the chances that she just happens to be blocking what we all really want to see at the exact moment the photographer snaps the photo? Unless, of course, the photographer was just a moron.
Nudity or not, I just think these three drunk and horny club girls, feeling eachother up, is sexy as hell. I wish there were some way I could get myself into the middle of that mix. After all, these are my favorite type of clubber girls; hot, horny, wasted and ready to go for a few rounds between the sheets.
Free Sites:
Drunk Galleries / Teen Rave Pics / Nude Club Pics
Sponsored By:
Sex in the VIP
Time & Date:
April 5, 2006 @ 9:12 pm
Categories:
This is what I like to see! You always know that the party is heading in the right direction when you have a few drunk coed cuties, naked in your motel room. Somewhere through-out the night, you did the right things, or made the right moves to get drunk girls, willing to get completely naked in your room. And not just one, but at least, two.
The only thing I can think of, as to why everyone's naked in this photo, is either strip poker (or some sort of drinking game) or it's one of those parties of drunken debauchery. I like to think of it as the latter, since drunken sex orgies sounds way hotter. The kind of get-togethers that I've always been a big fan of.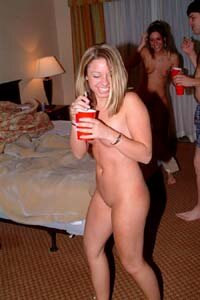 Free Sites:
Dumpster Sluts / My Drunk Girls / Drunk College Pics
Sponsored By:
Spring Break Sex Adventures
| Next Page »