Time & Date:
June 24, 2006 @ 10:27 pm
Categories:
Ok, obviously this isn't an accidental nip slip. I just think it's a cool photo, and after all, she is throwing-back alcohol and there is a a nipple or two, present. So, I figured you wouldn't mind if I posted a non-slip as long as it's a good, drunken photo that involves female nudity.
Anyway, enjoy the photo for what it's worth. I mean, she DOES have a very beautiful, all-natural rack that I wouldn't mind getting my mouth and hands on.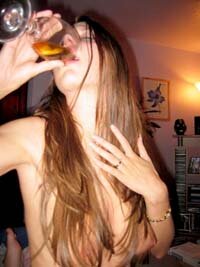 Free Sites:
Drunk Galleries / Home Made Videos / Exhibitionism
Sponsored By:
Hardcore Partying
Time & Date:
June 17, 2006 @ 6:52 pm
Categories:
Ok, so they're not completely naked, yet, but they're well on their way. It looks like the wasted coed, in the blue panties, couldn't get her clothes off fast enough. As luck would have it, she has a super-cute, little bod on her, and judging by the the hand gesture of the guy behind her, I'd say she has an equally nice ass.
I've never been able to figure out what compels certain girls to get naked or have some form of sex, in front of a crowd of people. I mean, I know the alcohol has a lot to do with it, but I've been really shitfaced many times in my life and never has the thought of getting naked in front of everybody, cross my mind. That's lucky for everyone else, though. Don't get me wrong, I love drunk naked coeds, dancing around and making out in front of me! And, of course, I welcome any of them to jump under the covers with me. I'll take advantage of it, but I just don't understand why they do it. Attention, I guess.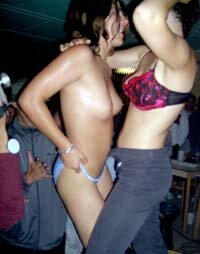 Free Sites:
Uncensored Drunks / Exhibitionism / Drunk College Pics
Sponsored By:
Girls Gone Wild
..:: Official Web Site
Time & Date:
April 5, 2006 @ 9:12 pm
Categories:
This is what I like to see! You always know that the party is heading in the right direction when you have a few drunk coed cuties, naked in your motel room. Somewhere through-out the night, you did the right things, or made the right moves to get drunk girls, willing to get completely naked in your room. And not just one, but at least, two.
The only thing I can think of, as to why everyone's naked in this photo, is either strip poker (or some sort of drinking game) or it's one of those parties of drunken debauchery. I like to think of it as the latter, since drunken sex orgies sounds way hotter. The kind of get-togethers that I've always been a big fan of.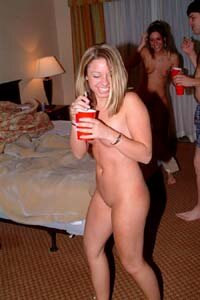 Free Sites:
Dumpster Sluts / My Drunk Girls / Drunk College Pics
Sponsored By:
Spring Break Sex Adventures
Time & Date:
March 28, 2006 @ 4:55 pm
Categories:
I just love a couple of drunk and wild girls, without a care in the world, who just decide to walk around topless, drink beer and be merry. Plus, a girl who walks around topless, in America, at least, is a pretty good sign of her character, and better yet, her sexual restrain. In other words, with a couple of drunk coeds, like these two, you have a pretty good chance that they are going to be easy.

In a way, this is kind of the opposite of a nipple slip. As you can see, only their nipples are covered by the Playboy insignia, while they are both completely topless in public. Apparently, if a woman's nipple isn't visible, she can let her tits bounce and jiggle as freely as they want. Like, when girl paint their nude bodies. They can walk around nude and/or topless in public, and it's consider acceptable. In some places, at least. I don't see that happening anywhere along the Bible Belt.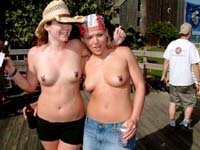 Free Sites:
Rate Nude Girls / Home Made Videos / Stile Project
Sponsored By:
Girls Gone Wild
..:: Official Web Site
Time & Date:
March 10, 2006 @ 6:02 pm
Categories:
I love them drunk and horny babes at the bars, with absolutely no inhibitions. They have no qualms about being naked in public, or even being sexual in public, for that matter. I'm always so amazed how easily they givce it up, and put on a show for everyone else, in the process.
Obviously, this chick is giving that guy a huge thrill. I can't tell if she's into him or if she's just letting him cop a real good feel off of her. She's almost completely naked now, but it's making me fatasize about other things she will do in public. Either way, this older dude is going home with a big smile on his face, and for good reason. I'm sure his wife got some action when he got home from the bar.
Free Sites:
Drunk Galleries / Rate Nude Girls / Stile Project
Sponsored By:
Sex in the VIP
Time & Date:
February 6, 2006 @ 10:40 pm
Categories:
I always knew that DJs got a lot of action from the ladies, but this ridiculous! Well, not really. It actually pretty hot to have a sexy naked women standing by your side as you perform. I used to perform in a rock band, but I never had naked girl at my side. After the show, the 'naked ladies' situation was a different story.

I can't seem to figure out what a naked club girl is doing in the DJ booth. It's not a strip club and everyone else around her is full dressed and minding their own business. Amazingly, not even the DJs are paying any attention to her. She's just hanging out, completely nude, except for her high-heels, and snapping her fingers to the beat. Maybe she's sucking off the DJs and they had to take a quick time-out to change the record. She's just waiting for them to finish so she can get back to the business of sucking. I think I'll take a number and get in line.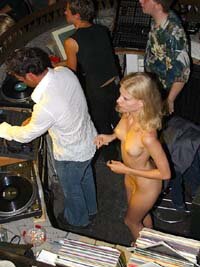 Free Sites:
Drunk Galleries / Viva Voyeur / Exhibitionism
Sponsored By:
Sex in the VIP
Time & Date:
November 26, 2005 @ 6:59 pm
Categories:
I'm not sure if this chick is in some sort of bikini contest, or if she just got a wild bug up her ass and ripped off her bikini just for the hell of it. Just for the sake of being wild and uninhibited, the center of attention and to be naked in public. I mean, she looks like she's having one hell of a time.
Obviously, she worked herself up to being completely nude, because a crowd of party-goers has gathered around her, of both men and women. Of course, everyone likes to see drunk people being wild and getting naked. I used to date this girl that anytime she got fuckered-up she couldn't keep her clothes on. It was funny and kinda hot at first, but after a while it started to get embarassing for me. She was a wild one though.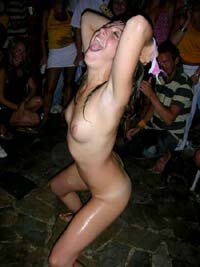 Free Sites:
Amateurs Gone Wild / Viva Voyeur / Exhibitionism
Sponsored By:
Drunk On Camera
Time & Date:
November 9, 2005 @ 12:53 am
Categories:
Now this is the type of activity I like to see at a party. Drunk girls getting nude for all the men! Cute and sexy playthings giving in to their sexual urges.Well, maybe not completely giving in to their urges, but enough to get all the men going.
It's a rare occasion when the girls actually let you touch the goods. So she m ust be really wasted. Something tells me that she wouldn't be on the table, topless and letting dudes feel her up if she were sober.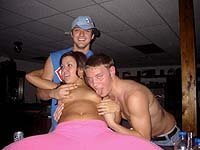 Free Sites:
Amateurs Gone Wild / Home Made Videos / Drunk College Pics
Sponsored By:
Wild College Parties
Time & Date:
October 17, 2005 @ 10:31 pm
Categories:
Forget about being a tease, this girl went right for the nudity! I guess when you're drunk-dancing in front of big crowd at a night club, the pressure is on to start removing your clothes. Judging by this photo, she didn't even hesitate!
It's interesing, becasue she's the only one getting naked in public. If there were a row of drunk women, half naked, naturally I would assume it's some sort of wet t-shirt contest. She's the only one, though, and she's putting on one hell of a show for everyone in the night club. You go, girl!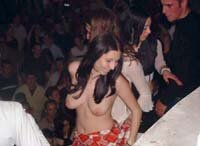 Free Sites:
Teen Rave Pictures / Dumpster Sluts / Exhibitionism
Sponsored By:
Crazy Club Flashers
Time & Date:
October 10, 2005 @ 1:38 am
Categories:
I just love drunk college coeds. I think it's because they're so naive still and want to be as wild and crazy as they can, while they can. This usually means they like to party hard, get naked in public and stay nice and loose. Not to mention the tons of attention from drunk and horny frat guys everywhere!
You know two drunk coeds like this are just attention-hounds. And god bless 'em! Doing nude body shots in public, in front of the whole party will get them the attention they seek, I'm sure. Plus, it will get them nice and primed for some lucky dude at the party. Good girls don't do this sort of thing. Score!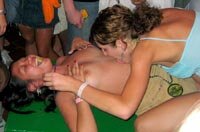 Free Sites:
Drunk Galleries / Drunk College Pics / Wasted Coeds
Sponsored By:
Frat Party Fuck Fest
| Next Page »