Time & Date:
October 4, 2007 @ 12:13 am
Categories:
Although, not as voyeuristic as catching a nip slip, any nipple (from a woman, of course) making a public appearance, or private for that matter, is a-okay with me! Especially, when there's another drunk cutie's tongue wrapped around it. Actually, it doesn't look like she meant to expose her girlfriend's nipple, so maybe it is an official "slip".
I'm still wondering what it is about alcohol that turns so many girls into instant lesbians. I'm not complaining, or anything. I mean, I much rather have them drunk, horny and alone with me, but if not, the next best thing is them with another woman. As long as I get to watch, of course.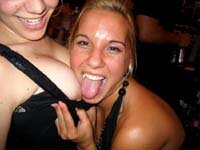 Free Sites:
Exhibitionism / Party Galleries / Hometown Sex Tapes
Sponsored By:
College Girls Rule!
Time & Date:
June 25, 2007 @ 5:25 pm
Categories:
I would say it's fairly normal to see a couple of drunk chicks making-out at a party, these days. I used to think they were just putting on a show to get us guys all wound up, but I recently heard a girl say that that's not necessarily the case. She said that's how her lust for women started, by making-out with other girls for her boyfriend(s) at parties, that turned into threesomes, and then into full-on lesbianism.
Although this public display of exhibitionism is obviously not accidental, it never ceases to amaze me how far girls will go with other chicks while drunk and in front of other people. If these two party girls claim that they are 100% straight, they're only fooling themselves. I realize girls are a bit more flexible on same sex intimacy, but dropping trou and getting your box chowed at a party is a little more than just being drunk, horny and wild. Don't get me wrong, though. I ain't complaining.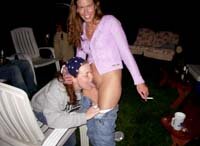 Free Sites:
Drunk Galleries / Chowing Teen Box / Indie Nudes
Sponsored By:
Crazy Party Girls
Time & Date:
January 5, 2007 @ 12:50 am
Categories:
Ah, yes. Another great blouse design, making sneaky nipple slips a common occurrence. Of course, having tiny tits that could easily be exposed with the slightest movement the wrong way(or 'right way' for us), help those hard, little nips make a public appearance. Being a little hammered and wrapping her arms and legs around her girlfriend, while wrestling around on the sofa, I'm sure also helps this nip slip quite a bit.
Our slipee, if you will, appears to be really getting into hugging and straddling her girlfriend. I always wish I could spy on a couple of drunk coeds when they're horny and think no one's watching or will ever find out what they really want to do. I'm convinced they would at the very least experiment with their drunken bi-curiosity and what man wouldn't want to witness that?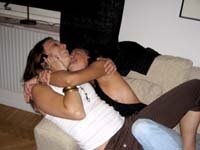 Free Sites:
Exhibitionism / Drunk College Pics / Titty Sexpert
Sponsored By:
Private College Videos
Time & Date:
October 24, 2006 @ 11:02 pm
Categories:
I would have to say that this runs more in the 'forced' nip slip category. In other words, her nipple(s) being exposed to the public, like that, probably wasn't intentional, but it's definitely not accidental, either. In fact, it's her drunk and aggressive lesbian girlfriend that is taken advantage of her horniness and her need to be touched. But she's not the only one. If you look in the background, another drunken club girl has her blouse pushed-up, over her bra.
I used to be a big part of the club scene in my city, and seeing a couple of hotties go at it, nudity and all, was part of the norm. Don't get wrong, it never got old, but it was usually at the after-hours parties (usually at my pad) is where it got really hot. A lot of strippers hung-out in the scnene and they were not shy about getting naked in front of people, and even go as far as having lesbian sex in front of party people. Those visions has kept me company many lonely nights.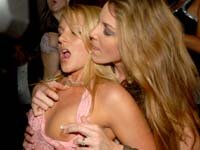 Free Sites:
Uncensored Drunks / Nude Club Pics / Wild Amateurs
Sponsored By:
Sex in the VIP
Time & Date:
October 22, 2006 @ 5:48 am
Categories:
This is a bit more hardcore than I normally get here, but how could I pass up a photo of chick finger-fucking her girlfriend in the butt, in front of a group of party people? I mean, it's not often a girl drops trau in a middle of a party, let alone let her friend ream her butthole with a couple fingers, in the process.
I can tell by the drinks and that there are several people standing around, so it's at least some kind of party. And either these girls are super wasted or they're full-on, hardcore exhibitioists; but I think even practicing exhibitionists show some restraint, in normal socitety. I'm just wondering if anyone else got to take turns sticking something of theirs in her a butthole, after her friend was done. I dare to dream.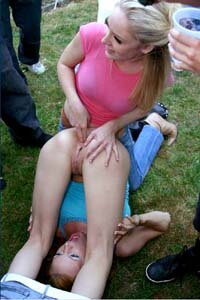 Free Sites:
Exhibitionism / Stile Project / Drunk Girl Galleries
Sponsored By:
Crazy Party Girls
Time & Date:
July 18, 2006 @ 7:53 pm
Categories:
Once in a great while, you attend a wild party where the booze is flowing and the cute girls are horny. Just mixing those two ingredients (alcohol, horny girls) can equal one hell of a party. It's rare, but it does happen, and that's when a couple of the more loose women get so drunk that they start putting on a little lesbian sex show, for both themselves and all the boys cheering them on. As you can see, these two wasted coeds are about to go the distance. One girl's boob is about to pop right out of her bra, as she's fingering her girlfriend's pussy.
I used to live in a very well-known party house, in my city, and on a number of occasions, both straight and lesbian couples would break into some sort of sexual performance, right in front of the whole party. The strange thing was it became such a regular thing amongest our circle of friends and party pals, that no one cheered them on. No one gawked as they gratified eachother. They just went along and did there thing, as if no one was in the room.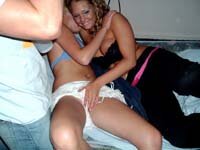 Free Sites:
Home Made Videos / Peep Hole Cams / Drunk College Pics
Sponsored By:
Wild College Parties
Time & Date:
July 1, 2006 @ 5:13 am
Categories:
Awww, yeah! It's one thing to see your buddies sucking the whip cream off some drunk coed's nipples, but it's quite another when it's another girl cleaning off her nipples. I don't know if they do it for the attention or because they genuinely want to suck on another girl's tits/nipples, and they're using the alcohol as an excuse, so she's not judged. Maybe it's more acceptable for women, if another girl sucks on their titties, rather than a man.
You have to look closely to catch this drunk coed's exposed nipple(s). It appears another wasted coed is licking whip cream from her tits, while the lickee is exposing her boobs more and more, so her friend laps it all up. Meanwhile, if it wasn't for her hair, she's completely exposing her tits/nipples to the whole party. Always one of my favorite party games to play!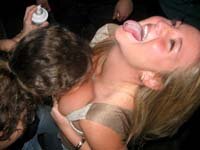 Free Sites:
Drunk Galleries / Home Made Videos / Sexy, Drunk & Funny
Sponsored By:
Wild College Parties
Time & Date:
June 17, 2006 @ 6:52 pm
Categories:
Ok, so they're not completely naked, yet, but they're well on their way. It looks like the wasted coed, in the blue panties, couldn't get her clothes off fast enough. As luck would have it, she has a super-cute, little bod on her, and judging by the the hand gesture of the guy behind her, I'd say she has an equally nice ass.
I've never been able to figure out what compels certain girls to get naked or have some form of sex, in front of a crowd of people. I mean, I know the alcohol has a lot to do with it, but I've been really shitfaced many times in my life and never has the thought of getting naked in front of everybody, cross my mind. That's lucky for everyone else, though. Don't get me wrong, I love drunk naked coeds, dancing around and making out in front of me! And, of course, I welcome any of them to jump under the covers with me. I'll take advantage of it, but I just don't understand why they do it. Attention, I guess.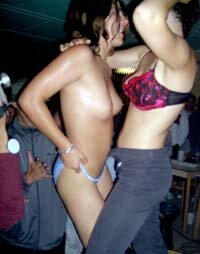 Free Sites:
Uncensored Drunks / Exhibitionism / Drunk College Pics
Sponsored By:
Girls Gone Wild
..:: Official Web Site
Time & Date:
June 12, 2006 @ 1:17 am
Categories:
Don't you just love it when cute college coeds, desperate for attention, get shitfaced drunk? This is what happens! They start playing around with eachother and start getting some male attention, which leads to kissing, then partial nudity and finally, an all-out drunken lesbian lick fest, right there, on the coffee table! Not to mention that every dude at the party are crowding around them getting very horny, and egging them on to take things further.
These two drunk coed cuties appear to be taking their lesbo show pretty far. There's not much more they can do besides get completely naked and possibly, maybe even a little bit of some sixty-nine action, and if you're lucky; double-dildo, ass-to-ass, fuck show action! But I think they'd have to be REALLY drunk to let it go that far, and in front of a group of dudes, all snapping pics with their cell phones.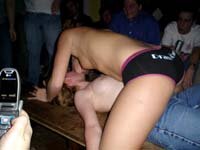 Free Sites:
Rate Nude Girls / Exhibitionism / Home Teen Series
Sponsored By:
Frat Party Fuck Fest
Time & Date:
June 3, 2006 @ 6:33 pm
Categories:
I love it when I'm at some wild party and a couple of the drunk hotties are so far gone that they're already becoming lesbians, for all the male attention. I've had a few crazy bashes, where some of the girls actually go as far as having full blown sex with eachother! It's beautiful! The only problem is, that you better make sure you have a woman around , because you're going to be so horny after that, that you'll have no other choice, but to bust a nut anyway you can. If you're really lucky, maybe one of the drunk lesbos will be so horny that they just MUST have you right then and there! That's wishful thinking, of course.
In this photo, it's actually the nipple sucker, rather than the suckee, that's slipping her nipple, as she's bending down to suck on her girlfriend's nipple/titty during some drunken revelry. If you notice in the background, that there's a lot of booze bottlews, and what looks to be a group of drunk and horny frat dudes, cheering the girls on. A typical scene during some of the wildest parties you will ever see.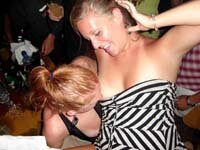 Free Sites:
Drunk University Girls / Sexy, Drunk & Funny / Drunk College Pics
Sponsored By:
Wild College Parties