Time & Date:
June 25, 2007 @ 5:25 pm
Categories:
I would say it's fairly normal to see a couple of drunk chicks making-out at a party, these days. I used to think they were just putting on a show to get us guys all wound up, but I recently heard a girl say that that's not necessarily the case. She said that's how her lust for women started, by making-out with other girls for her boyfriend(s) at parties, that turned into threesomes, and then into full-on lesbianism.
Although this public display of exhibitionism is obviously not accidental, it never ceases to amaze me how far girls will go with other chicks while drunk and in front of other people. If these two party girls claim that they are 100% straight, they're only fooling themselves. I realize girls are a bit more flexible on same sex intimacy, but dropping trou and getting your box chowed at a party is a little more than just being drunk, horny and wild. Don't get me wrong, though. I ain't complaining.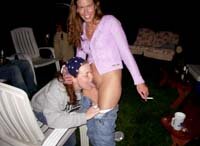 Free Sites:
Drunk Galleries / Chowing Teen Box / Indie Nudes
Sponsored By:
Crazy Party Girls
Time & Date:
June 21, 2007 @ 12:46 am
Categories:
You have to look closely, but we have a nice downblouse view of this cute club girl's bare nipple. Well, actually I don't know if she's cute, but her girlfriend is pretty sexy, and from what I can see, she also has a cute pair of tits. That's a good start in my book! Just add alcohol and you're in business.

This nip slip wasn't necessarily due to her being drunk and careless. I mean, she might be drunk, but the camera was at the right place, at the right time. Being that guy at the club who carries around the camera, snapping photos of everyone really does pay-off, sometimes.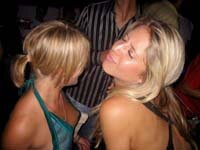 Free Sites:
Uncensored Drunks / Drunk 365 / Stile Project
Sponsored By:
Drunk Club Cuties
Time & Date:
June 18, 2007 @ 7:17 pm
Categories:
As some of you may already know, I've posted several nip slips of Mischa Barton here, before. But she's just so damn cute and sexy, and the paparazzi is always catching her with her beautiful boobies, braless, unconfined and flying free. What's a man with a website specializing in nipple slips to do?
I think I've said just about all I can say about Mischa Barton that I haven't already said in previous posts of her, so I'll just let you get to the photo(s) and enjoy.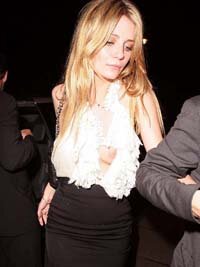 Free Sites:
Celebrity Nipples / Celebrity TGP / Real Celebrity Sluts
Sponsored By:
Mr. Skin's Nude Celebrities
Time & Date:
June 13, 2007 @ 5:12 pm
Categories:
I've always thought that sexually aggressive girls is kind of a turn-on. Especially when it's happening to me! It's even hotter when a girl is aggressive towards another woman. That little blonde party girl knows exactly what she's after, and the tall brunette is letting her have it. I just wish we got to see the rest of the photos of what happens after she exposes her girlfriend's nipple/boobs.
Hardcore party girls are really like this, though. I used to throw a lot of after hours parties and it never ceased to amaze me how naughty these drunk club girls would get with other girls. And in public, right in front of everyone! Guys never stood around and watched them, though. They were too busy trying to find their own piece of ass to bring home with them, or doing the same thing in the corner with some loose, little honey.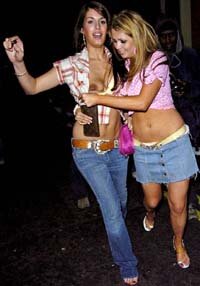 Free Sites:
Rate Nude Amateurs / Nipple Post / Night Club Galleries
Sponsored By:
Real Party Girls
Time & Date:
June 9, 2007 @ 11:26 pm
Categories:
A nipple/titty slip, like this one, could easily happen to any girl, drunk or sober. But it's a-helluva-lot more likely to happen after some wild college coed chugs a few beers from the keg, and starts getting frisky with her girlfriend. It looks like she's wearing a bra, too, so she must be really shitfaced not to notice that her boob has come out for a breath of fresh air.
These two drunk coeds probably wouldn't be the first girls I would hit-on at a party, but it's always nice to have girls like this around at the end of the night, after you already struck-out with your first choices. Experience has also taught me that a girl with pierced nipples likes to show them off. So, her titty slipping out, exposing her pierced nipple might be a good indicator to start with her first.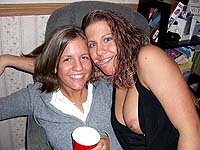 Free Sites:
Nipple Pics / Party Galleries / Accidental Voyeur
Sponsored By:
Frat Party Fuck Fest
Time & Date:
June 7, 2007 @ 10:01 pm
Categories:
I don't think she's intentionally bending over to flash her uncovered ass and pussy to the masses, but this drunk club girl evidently forgot she had no panties on underneath her skirt before she went dancing on the box/platform. Sometimes girls get too drunk and they are completely unaware that their nipples, or in this case, her ass is hanging out, giving us an upskirt shot that we won't soon forget!
I would think that a woman would take into consideration the fact that she's not wearing panties underneath her short skirt, when she goes out clubbing. I actually believe that deep-down these girls know exactly what they're doing when they dress like this. It turns guys on thinking that they're getting a free peep show and if it's an "accident" it doesn't make the woman seem as trampy as she really is, or wants to be. I mean, her pussy IS shaved. She had to be planning to let someone see it that evening.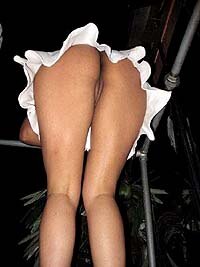 Free Sites:
Drunk Galleries / Dumpster Sluts / Sexy, Drunk & Funny
Sponsored By:
Party Girl Upskirts