Time & Date:
December 27, 2006 @ 10:17 pm
Categories:
Don't you just love when cute girls go out in scantily-clad attire; loose fitting and wearing no under garments? Not only do they usually look amazing, but there's always a helluva better chance for nip slip, or quick upskirt shot, while on the dance floor, wiggling and jiggling without a care in the world. It's during these times that they don't notice that their titty has bounced right out of their blouse, or they forgot they went pantyless, while platform dancing.
It's obvious that this club girl cutie doesn't have a clue that her nipple, and almost her full boob, has worked itself out the top of her blouse/dress, as she dances at the night club. Lucky for us, there was an observant and quick photographer at the scene to catch this girl accidentally slipping her nipple in public. She's pretty cute, too, and what appears to be possessing a very nice rack. I would love to see the rest of her, now.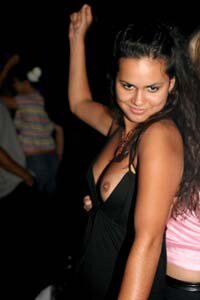 Free Sites:
Rate Nude Girls / Nude Club Pics / Drunk 365
Sponsored By:
Wild Club Videos
Time & Date:
December 21, 2006 @ 3:41 pm
Categories:
Ah, yes. Cute, drunk coeds running around in just their bras. This way, they can be a little naughty, but not necessarily regret it the next morning. The only avenue they forgot to cover was the horny dude with the camera, snapping downblouse photos, or down-bra, in this case. Actually it looks like a self-shot, so we can even blame some drunk pervert of this downblouse/nipple slip.
Yes, you do have to look closely to see her exposed nipple/areola, but it is visible. Plus, I like the fact that she doesn't seem like the type of girl that would get drunk and naked in front of a group of horny frat dudes, so it makes it hotter that she's accidentally exposing herself, even though it is really only a partial nip slip. But a nipple's a nipple.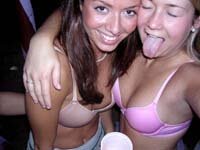 Free Sites:
Drunk Galleries / Buck's Voyeur Links / My Drunk Teens
Sponsored By:
Silly Drunk Coeds
Time & Date:
December 19, 2006 @ 6:56 pm
Categories:
I really do enjoy a good downblouse shot, especially when I also get a glimpse of her nipple, in the process. I actually prefer to look at a photo of this, though, because I can actually look and study it. In reality, if you stare down a woman's blouse for more than a mili-second, you're risking a right hook. Pow! Right in the kisser!
I couldn't tell you if these two girls are drunk or not, but it's evident that they are attending some sort of celebratory event, and those events usually have a lot of booze and party girls. She's at least distracted enough where the thought of her blouse falling open, exposing her boob(s), while posing for pictures, is most definitely not on her mind. It's always better when the girl is completely clueless that she's exposing herself.
Free Sites:
Exhibitionism / Peep Hole Cams / Party Galleries
Sponsored By:
Party Pimps
Time & Date:
December 15, 2006 @ 5:28 pm
Categories:
You you really have to look to catch this nip slip, but it's there. The drunk, cute coed, in the pink, has accidentally pulled her blouse/bra down a bit too much, while flashing her cleavage. That's not the only reason I wanted to post this photo, though. I absolutely love how the other drunken cleavage flasher has a big ole hickey on her boob, out in plain view. That's a classy babe, right there. That doesn't mean that she wouldn't be a great one night stand, though.
Wild, party girls, like these two, are always so much fun. I used to throw big after-hours parties all the time, and it was always these types of girls that stayed after the party was over, whether it was slipping into the sack with you, or continue partying and getting even more wild, and naked. I probably wouldn't bring a girl like this home to momma, but I'd definitely bring her home.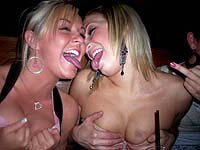 Free Sites:
Uncensored Drunks / Drunk College Pics / Couples Home Vids
Sponsored By:
Wild College Parties
Time & Date:
December 6, 2006 @ 10:29 am
Categories:
I don't know if this is some kind of jello wrestling, or what, but I've been seeing quite a bit of college girls in bikinis wrestling in a pool of something wet, while drunk frat dudes cheer them on. This isn't the first time, or the last time, that we have seen a nip slip from a drunken coed in her bikini. It doesn't surprise me, though, because big, natural boobs like hers can hardly be contained in a skimpy bikini, while wrestling and drunk.
Obviously, this is some sort of afternoon drinking fest. The only time it's fun to start partying at that time of the day, is if you plan on continuing throughout the night. Usually by that time, any half-naked, bikini-clad party girls are going to be bombed and horny. The problem is that if you wait too long, they will be too drunk to legally partake in any sexual activity. There's nothing worse than a girl passing-out right in the middle of some hot sex.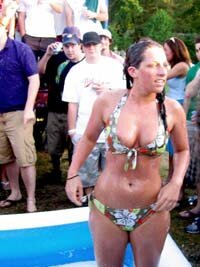 Free Sites:
Drunk Galleries / Stile Project / Dirty Sex Party
Sponsored By:
Girls Gone Wild
..:: Official Web Site
Time & Date:
December 4, 2006 @ 11:10 pm
Categories:
Getting naughty in the night club is always a lot of fun. It's dark, not many people are paying attention or are just too drunk too notice. Best of all, the thrill of actually getting caught be someone really makes it even hotter. Several years ago, I was taking pictures with an ex girlfriend of mine in one of them instant photo booths. Before we knew it, we were just going with the flow when she removed her top. This, of course, led to some nipple play, which led to us TRYING to have sex in there. BUT…we got caught by the bouncers. We had to hurry home, after that, and finish the job.
I haven't been able to figure out if this girl realizes her skirt has ridden-up, exposing her pierced pussy lips yet, or not. It definitely appears she's teasing some dude by giving him a booty-rub over over his jeans, but does she notice that cold draft going between her legs? Obviously, someone noticed this drunk and horny girl's pussy exposed to the public, and it looks like it's with a married man, too.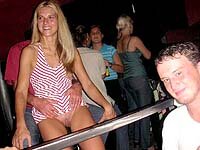 Free Sites:
Exhibitionism / Wild Amateurs / Accidental Voyeur
Sponsored By:
Sex in the VIP
Time & Date:
@ 10:47 pm
Categories:


One of the reasons I don't particularly enjoy surfing thumbnail gallery posts is, because when you click on the link, or thumbnail, you never know what you are going to get, or where you are going to go. In most cases, you just end up being sent to another thumbnail gallery post, and you never quite get to see the porn you really want to.
Along with eonpal technology, I have a new site up called, Your Porno Space, that indexes almost 2,000,000 (that's two million for you non-math folk) free video and picture galleries, in just about every niche and fetish imaginable. No blind links to other sites. What you click-on is what you get. You will definitely find something you'll like there. It's a great site to bookmark and save for a rainy day, or any other day, really.
Time & Date:
December 3, 2006 @ 9:41 pm
Categories:
I'm not exactly sure what's going on in this photo, but it appears that a shot-girl, or Jager-girl has accidentally let her big, bare boob plop right out of her top, as she leans over. It doesn't seem like she realizes her boob is out, in the open yet, either. Which probably means she had to stand upright, exposing her boob(s) to the entire bar, before she or someone even noticed. Now, that's hot!
I used to party with a few Jager-girls, and one thing I know for sure, they get pretty freakin' wasted while they're working. For one thing, they are all usually drop-dead gorgeous, have amazing bodies and dress very scantily. I can see how one of these drunk shot-girls could easily, inadvertently expose themselves, while working. They do shots with their male customers, wear revealing clothing, and make more money, the more skin they show. It's a nipple/titty slip in the making.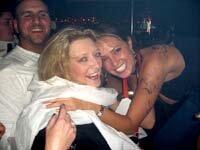 Free Sites:
Uncensored Drunks / Nude Club Pics / Buck's Voyeur Links
Sponsored By:
Drunk Club Cuties