Time & Date:
June 25, 2007 @ 5:25 pm
Categories:
I would say it's fairly normal to see a couple of drunk chicks making-out at a party, these days. I used to think they were just putting on a show to get us guys all wound up, but I recently heard a girl say that that's not necessarily the case. She said that's how her lust for women started, by making-out with other girls for her boyfriend(s) at parties, that turned into threesomes, and then into full-on lesbianism.
Although this public display of exhibitionism is obviously not accidental, it never ceases to amaze me how far girls will go with other chicks while drunk and in front of other people. If these two party girls claim that they are 100% straight, they're only fooling themselves. I realize girls are a bit more flexible on same sex intimacy, but dropping trou and getting your box chowed at a party is a little more than just being drunk, horny and wild. Don't get me wrong, though. I ain't complaining.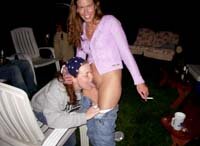 Free Sites:
Drunk Galleries / Chowing Teen Box / Indie Nudes
Sponsored By:
Crazy Party Girls
5 Responses to "Drunk and Horny Party Girl Licking Box"
Leave a Comment