Time & Date:
October 4, 2007 @ 12:13 am
Categories:
Although, not as voyeuristic as catching a nip slip, any nipple (from a woman, of course) making a public appearance, or private for that matter, is a-okay with me! Especially, when there's another drunk cutie's tongue wrapped around it. Actually, it doesn't look like she meant to expose her girlfriend's nipple, so maybe it is an official "slip".
I'm still wondering what it is about alcohol that turns so many girls into instant lesbians. I'm not complaining, or anything. I mean, I much rather have them drunk, horny and alone with me, but if not, the next best thing is them with another woman. As long as I get to watch, of course.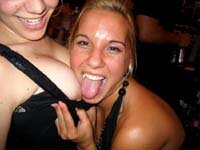 Free Sites:
Exhibitionism / Party Galleries / Hometown Sex Tapes
Sponsored By:
College Girls Rule!
7 Responses to "Drunk Girl Gets Her Nipple Licked"
Leave a Comment